Collision Claims The Top Of The Australian Sires Ranks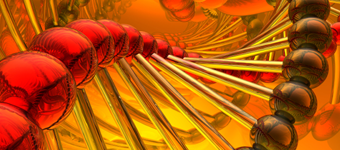 Collision has for the first time claimed the the top of the Australian national sires rankings for the year to the end of June 2009.
Always handy in the rankings to the end of May 2009 and always in the top 10 sires, Collision has done enough to dethrone Bombastic Shiraz who has been Australia's leading sire since March 2009.
While Bombastic Shiraz could only add 57 sires points to his May total of 499 points, Collision had a stellar June, ramping up 148 points to claim the ltitle of Australia's leading sire to the end of June 2009.

Collision's rapid improvement came largely courtesy of High Earner's Group 2 Queensland Derby heat and final win, but other progeny to impress were Devine Road who both his heat and final of the Group 2 Peter Mosman Classic at Wentworth Park; and Hanify's Impact who won her Group 2 Tweeds Heads Galaxy heat and then ran second in final.
A quick look at top 10 show there been no change at all in the gryhounds sires that make up the top 10 rankings in the last past three months, with Collision, Bombastic Shiraz, Hallucinate, Big Daddy Cool, Pure Octane, Brett lee, Where's Pedro, Bond, Primo Uno and Token Prince; a class above the others. Surf Lorian is about the only sire outside the top 10 with any chance of breaking to the esclusive list.
The highest ranked import sire is Premier Fantasy, in 14th rank, who has enjoyed good success with greyhounds the calibre of Bordain, Joanne Monelli and Premier Moment. The next highest is Spiral Nakita in 18th and Sonic Flight in 19th.
Listed below are the full greyhound sires rankings for the year to the end of June 2009. The ranked positions are determined by a points system applied to group races on a sliding scale of points first to eighth.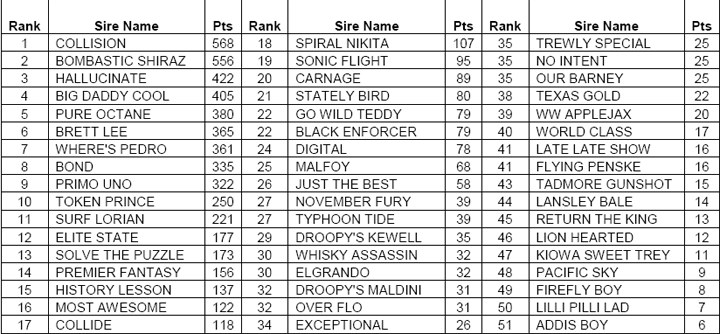 Similar Greyhound Racing News