Collision Australia's Top Greyhound Sire To August 2009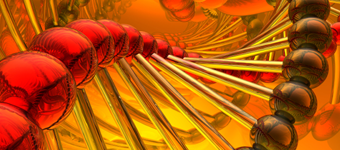 As was the problem with the AGRA rankings for racing greyhounds, the Australian greyhound sire rankings haven't changed since July 2009 due to a lack of group racing finals.
Again, we hope that while the AGRA enjoy their annual junket at Cannington this week, they might sit down and talk about some of the shortcomings of their current system regarding how they ackowledge the best in the country. Under the current system, the State National Distance Championship and State National Sprint Championship winners weren't even recognised, nor their sires or dams.
So, as the rankings are unchanged from July 2009, all we can really do is compare them to June 2009 to get some idea of emerging trends in the sires ranks.

Collision, who claimed the mantle as Australia's leading sire for the first time in June 2009, solidified that position during July/August, opening up a break over Bombastic Shiraz, due mainly to the efforts of High Earner (~Double Guess), and litter mates Zambola Bale and Dentax Bale (~Maple Bale).
Bombastic Shiraz managed to comfortably hold second with Velocette's (~Texan Lady) Group 2 Gold Coast Cup win the best performance of his progeny.
Brett Lee made huge in roads in to the rankings, jumping from sixth to third, largely due to the form of old marvel Trew Millions (~Chloe Jones) and his stellar Group 1 Winter Carnival Cup win at Albion Park.
As a result of that move, Hallucinate drops from third to fourth and Big Daddy Cool drops from fourth to fifth.
In the congested bottom half of the top 10, Primo Uno gained ground to hold down sixth spot, up from ninth in June, and Where's Pedro found enough group race finalists to go up one rank to seventh. Pure Octane couldn't add a single point in 2 months and dropped to eighth, while Bond added just 2 points to drop from eighth to ninth.
Despite Queen Lauryn's (~Cheeky Sprite) Darwin Cup win, the now deceased 14 year old, Token Prince, could only hold his ground in tenth.
The highest ranked import sire is still Premier Fantasy in the same spot at fourteenth, but the big mover was Sonic Flight, who jumps from nineteenth to seventeenth due largely to Amity Bale's (~Evonne Bale) emergence as a genuine group class stayer.
Special mention needs to go to little known sire Wild Voodoo (Go Wild Teddy ~ Voodoo Princess), who debuts in the rankings for the very first time due to the amazing efforts of improving sprinter Voodoo Prince (~Lady Grove).
Listed below are the full greyhound sires rankings for the year to the end of August 2009. The ranked positions are determined by a points system applied to group race finals on a sliding scale of points first to eighth.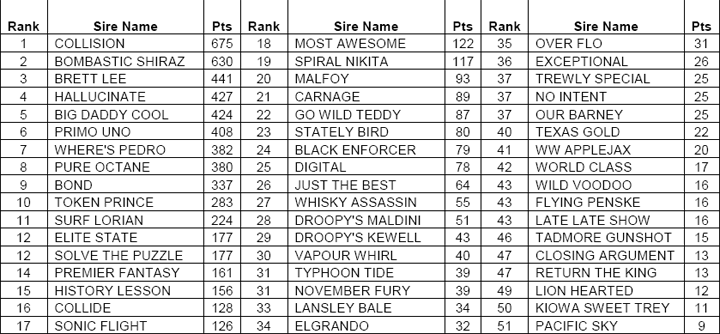 Similar Greyhound Racing News