Can Alpha Georgiou snatch the dollars in Molly Campbell final?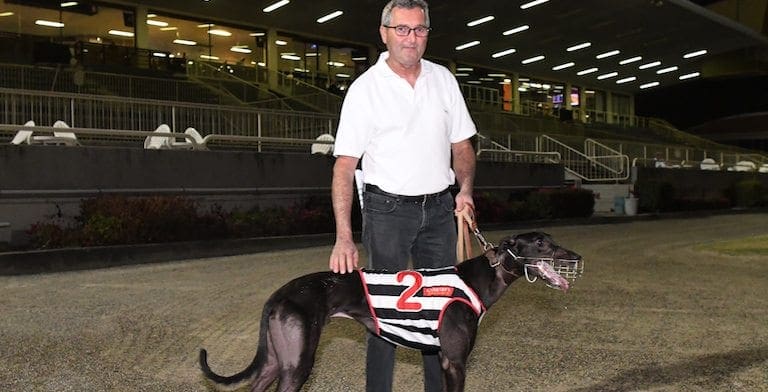 MICK Zammit is hopeful his talented greyhound Alpha Georgiou (Magic Sprite x Queen Of Cyprus Jul '15) can claim his second feature race success this Thursday night when he heads to Albion Park to contest the $15,200 Molly Campbell Silver Dollars final.
The black greyhound, which is owned and bred by Chris Georgiou, bounced back from two unplaced efforts when winning his heat last week, overcoming a fair beginning off box six to find the lead around the first turn.
Once he got clear room out in front, Alpha Georgiou put the paw to the floor, racing clear to defeat Wise Misty (Paw Licking x Wise Forecast Jan '16) by eight and three quarter lengths in a fast 29.96.
Zammit said box six posed a problem in his heat, but was thrilled to see his promising pup overcome the tricky draw.
"He only came out average but he got a good run through and once he found the front he was too good," Zammit told Australian Racing Greyhound.
"He is a pretty smart pup. He can clock good times and he runs the 500 out very nice."
Alpha Georgiou has won 11 of his 21 starts with three minor placings, his prize money earnings already in excess of $31,000.
Although he is only young, Alpha Georgiou has held his own against some top-class greyhounds in the state. He is already the winner of the $10,450 Publicans Cup and has qualified for the Group 2 Queensland Derby, the Mick Byrne Memorial and the Michael Miller Memorial throughout his short career.
Zammit says the 30-kilogram chaser has a big motor, but has been let down in some big races by his poor box manners.
"His one fault is that he is very ordinary in the boxes – he plays up and jumps up and down.

"He is as good as gold until the lure starts – but when he hears it all he wants to do is go.
"You can tell him not to do it, but he doesn't listen and when you get up in grade you can't give the better dogs any start."
Alpha Georgiou meets a talented field this Thursday including fellow heat winners Richmond Road (Oaks Road x Mercy Rule Aug '15) and Spring Time Girl (Spring Gun x Just Itchin' Sep '15) which clocked 30.08 and 30.03 in their heats respectively.
Zammit says his charge will have to be on his best behaviour when he goes into the boxes this week to have a chance of winning.
"It's a very good race. A couple of the others have broken 30 or gone close to it, so he has to be at his best.
"It definitely is a handicap coming out behind them, but he is a good competitive chaser and he always puts himself in the race.
"Although he doesn't begin all the time, he is a very consistent dog and you know what to expect from him – he is the type of dog which will come out every week and run you around the 29.90 mark.
"If he does begin on terms with them he has the speed to lead from most boxes and if he happens to come out in the final he will be hard to beat."
2017 Molly Campbell Silver Dollars final
1 – Hay Cyndie
2 – Wise Misty
3 – Alpha Chaos
4 – Richmond Road
5 – Spring Time Girl
6 – Kealoah
7 – Alpha Georgiou
8 – Pure Vengeance
Reserves
9 – Brittany Talks
10 – Red Vee
Similar Greyhound Racing News