Cutlack warns prong-collar ban could impact greyhound racing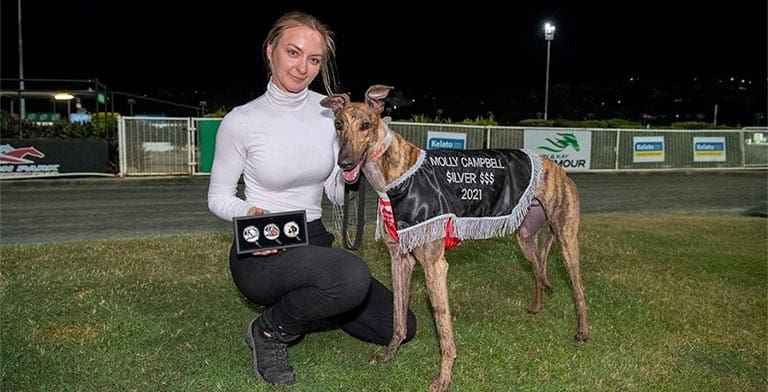 Young gun Queensland trainer Jedda Cutlack admits they look terrible, but she is concerned about possible flow-on effects from her state's proposed ban on prong collars.
And the 2021 Young Achiever of the Year for greyhounds in the Sunshine State – who has a background in dog obedience training – has issued a warning for her peers in the racing industry.
We could be next in the firing line.
Cutlack's caution comes after Queensland Premier Annastacia Palaszczuk in May announced her government would introduce legislation into parliament to end the use of pronged dog collars.
The RSPCA describes prong collars as follows:
"Pronged collars are made of metal and are designed to tighten around a dog's neck whenever pressure is applied. These collars have a series of fang-shaped metal links, or prongs, with blunted points which pinch a dog's neck when pulled.
"These collars are used to correct unwanted behaviour through punishment.
"Unfortunately, some dog trainers recommend these collars, even though more humane training methods are available, including rewards-based training."
But Cutlack is adamant a responsible dog handler who knows what they are doing will never have to answer to any allegations of pet mistreatment if they use a prong collar responsibly.
"The main issues with that piece of legislation are twofold," she told Australian Racing Greyhound.
"On one hand, the collars they brought the legislation in for are not bad.
"I wouldn't put one on a greyhound, just because I don't have the need to do it.
"But I come from a working-dog background and they're not painful. They look terrible.
"But if you put one on and you understand the mechanics and how it works – it's actually a lot safer for the dogs than a lot of collars people are using everyday."
Cutlack also has an issue with what she believes was a lack of consultation from the Queensland government towards responsible dog owners across the state.
"The second issue with the way they introduced that legislation was it did not follow process at all," she said.
"They put out the submissions on proposed changes to the Animal Welfare Act, and nowhere in their proposed changes did they suggest banning that type of collar.
"So, a lot of professionals in the pet-training industry and police-dog trainers didn't make any submissions about prong collars because it wasn't in the proposed changes.
"Then afterwards the government came out and said 'due to overwhelming feedback, we're going to introduce this piece of legislation'.
"And I thought 'hang on, you didn't ask for our opinion on this'. So during the whole parliamentary review process on it, I know a lot of people who had private meetings with politicians and they presented at the public committee.
"Every politician accepted what they were saying, but would then say 'OK but they don't look good. The optics aren't good'.
"So you're thinking 'OK, do you care about the facts or do you care about votes?'"
Premier Palaszczuk is adamant the prong collars are cruel on pet dogs.
"BREAKING: These pronged dog collars will be banned," she posted to Facebook on May 8.
"We're passing legislation to crack down on the inhumane treatment of animals in Queensland.
"That includes banning the use and possession of pronged dog collars like this one (pictured with her post).
"We know the majority of Queenslanders support tougher penalties and regulations against cruelty to animals.
"That's why this week we'll be debating animal welfare laws in the Queensland Parliament – an issue close to the hearts of so many Queenslanders."
Palaszczuk also said many people in her state were consulted.
"We heard from thousands of Queenslanders (2,300 responses from rural residents), and the overwhelming majority supported tougher penalties and regulations against cruelty to animals," she wrote.
"We've taken that feedback and used it to develop a package of recommendations to toughen animal welfare laws that will be debated in the Queensland Parliament."
The reactions to Premier Palaszczuk's announcement were mixed.
"So what additional resources are being provided to the Queensland dog community to assist if responsible, well educated guardians can not use tools while being guided by knowledgeable trainers to assist them to work on their dogs reactivity?" Kylie Black posted, drawing 388 likes and 71 loves.
 
"The amount of misunderstanding of these tools on this post & in the wider community is appalling."
 
To which Nicole Delaney replied, with 89 likes and 12 loves:
 
"I don't care who you are or what you do this thing shouldn't be used on a dog. If a trainer needs one then they don't know what they are doing".
 
Cutlack said these proposed changes could very quickly have a flow-on effect to an already heavily regulated greyhound racing industry.
 
"A lot of the submissions that people put in – we went 'OK, they want to ban it – we probably won't win on trying to argue that they shouldn't ban them. We'll just follow the point that they didn't follow parliamentary process'," she said.
"We still lost – it's going to happen.
"But if you read that section of legislation, it says they're prohibiting the use of prong collars. And they have a clause in there saying they can include any other restraint device.
"For example, slip leads and harnesses. So they don't have to go through a law change to outlaw putting a harness on your dog, or a slip lead.
"And if it's that easy for them to do that, forget about greyhounds – think of anyone who owns a dog.
"The over-reach there is insane."
Cutlack, who won her first race as a 25-year-old in August 2020, wants to see more young trainers get involved in greyhound racing.
But she feels the looming prong-collar ban will only give anti greyhound racing activists more ammunition in their efforts to have the disciplined banned.
"As a pet training community we're trying to get more people on board by saying 'even if you hate prong collars and you think they're cruel and you don't want anyone to use them – you should still be worried about how this legislation was introduced'," she said.
"And everyone thinks it's not going to be them – like people involved in dog sports but they don't race greyhounds.
"They'd say 'I don't care if they're trying to ban greyhound racing because it's not us'.
"But they're on the list. At the end of the day they (anti greyhound racing activists) don't want anyone to (train) pets."
Similar Greyhound Racing News