Ebby Ripper the dark horse heading into National Distance final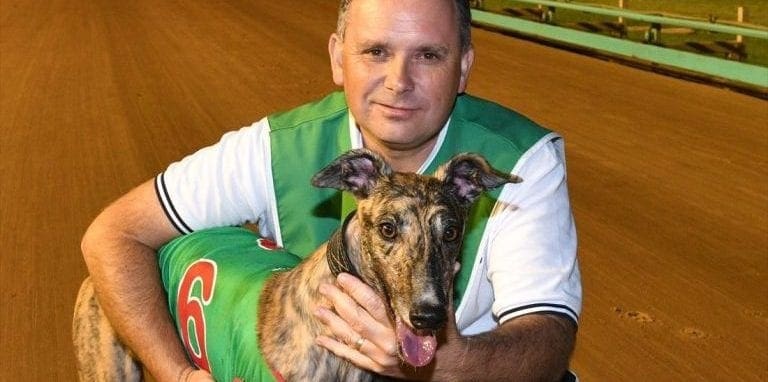 MICHAEL Eberand believes his young gun stayer Ebby Ripper (Sh Avatar x Ebby Miss Feb '15) is good enough to win this year's Group 1 National Distance Championship at Albion Park.
The brindle bitch will represent NSW in the $75,000 to the winner feature, qualifying with an all the way victory at Wentworth Park on Saturday night where she clocked a best of night 42.32 over the 720m trip.
It was an uncharacteristic performance from the talented bitch, which generally drops out in the early stages and runs on, however Eberand says he knew she had it in her to do so.
Ebby Ripper will be the NSW rep on August 25 @BrisGreys for the Nationals. Winning in 42.32. Midnight Treat finishes 2nd, Lovelace 3rd
"She led all the way at Gosford a while back but hasn't done that since, so I've been trying to get her to come out of the boxes better for a long time," Eberand told Australian Racing Greyhound.
"It wasn't working and I came to the realisation that she was going to do what she wanted to do – next thing you know she comes out in front and leads all the way.
"It just goes to show they aren't robots, you can't program them to do what you want, you've just got to keep them happy and hope they can put it together on the track."
Ebby Ripper has now won 13 of her 46 starts with 16 minor placings, with her prize money earnings closing in on $100,000.
While she is yet to break through at the highest level, the two-and-a-half-year-old has plenty of experience racing the best – having already made five group race finals including the Group 1 Association Cup.

Ebby Ripper will meet a star-studded line up for the final including three group 1 winners; Burn One Down (Buck Fever x Fancy Jaffa Jan '14), Fanta Bale (David Bale x Ucme Typhoon Aug '14) and Bogie Bekim (Bekim Bale x Bogie Skye Apr '14). However, the Oakville conditioner believes his charge is good enough to bring home the title.
"She has always shown she has the ability – she has had a few purple patches throughout her career and I think a lot of people have been waiting for her to mature and may have been a bit frustrated with how long it has taken," he said.
"With that being said I have been very happy with her and I think she is finally starting to put it all together.
"She is good enough to win it – a lot of it is just going to come down to luck in running. She has run 41.80 at Albion Park and she was only beaten a length in the Listed Super Stayers behind Burn One Down.
"That night she bumped with Big Easy Red down the back but was still able to take ground off Burn One Down in the run home."
Ebby Ripper will represent NSW in the Gr1 National Distance Champs after blowing away her rivals. Replay: https://t.co/UOPYiJ8kOR
With the final not set to be run until August 25, Eberand says he will give Ebby Ripper another hit out prior to heading to Queensland, although at this stage he is not sure whether she will contest a race or just trial in the lead up.
"She will need a run between now and the final but I haven't decided whether I'll race her or trial her – she has been to Albion Park three times so I don't need to go back there," he said.
"I'll stay home with her until the final and give her a run here somewhere – but I am just going to wait a couple of days before deciding what I do because she had a hard run so I just want to see how she recovers."
Eberand, who is a member of the recently appointed Greyhound Racing NSW board, says it would be a massive thrill to win the feature for his home state, especially given he bred, reared and owns Ebby Ripper.
"I'm under no illusion how hard this race will be – there are some great dogs in the final from right across the country.
"It is one of the best races to be in and it is very special to have a dog representing NSW after what we've all been through.
"It would be very special to bring it home."
Similar Greyhound Racing News