Good News' 2017 Irish Derby win a fairytale in more ways than one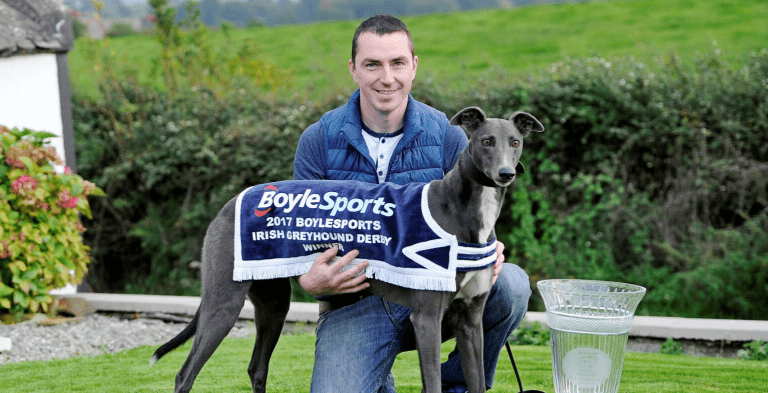 IRISH school teacher Pat Guilfoyle captured the biggest prize in UK greyhound racing over the weekend when his tenacious greyhound Good News (Definate Opinion x Pippy Nov '14) won the 2017 Irish Derby at Shelbourne Park.
Starting as the joint 7/4 favourite, the blue dog jumped brilliantly from trap two and never looked in doubt, stretching out to defeat Black Farren (Droopys Cain x Ballycowen Moll Apr '15) and Sonic (Knockglass Billy x Vickis Dream Jun '14) in 29.37 over 550 yards (503m).
Speaking exclusively to Australian Racing Greyhound from his Moneygall property, Guilfoyle said it was still hard to comprehend actually winning the race.
"It was fantastic – and a bit surreal," Guilfoyle said.
"Over here the Irish Derby is our biggest race by a long way on the greyhound racing calendar – it is the one race which every owner, trainer and breeder aspires to win.
"I work full time and greyhound racing is only a hobby for me – so to be able to win the holy grail of the Irish and English greyhound racing scene is a dream come true."
The Irish Derby is a tough six-week series which has been run since 1928 and won by some of the best greyhounds to have ever graced the track.
Guilfoyle said this year's contest was one of the toughest he has seen, but said he went into the €150,000 to the winner final confident he had a greyhound capable of capturing the title.
"It's a gruelling and tough competition. Good News is a dog who loves racing and thankfully he takes his racing really well – he is always fresh after his race and could run again," he said.
"It was a high quality Derby this year. There were some fantastic dogs in it such as Clares Rocket, Sonic, Buckos Dream and Jaytee Jet who was already an English Derby winner.
"But Good News is a very good dog too. He had already made the final of the Scottish Derby and the Race of Champions at Tralee where he holds the track record.
"The thing that makes him so special is that he is a dog which has suffered two bad falls in his career, both of which knocked his confidence a fair bit, so to come back from that and win the Derby with him just shows how determined he is."

Good News has now won 14 races since starting his career just over a year ago, having also run 11 placings from a total of 29 race track appearances.
The blue superstar was bred by John Kennedy from his talented race bitch Pippy (Shaneboy Lee x Fahrenheit Belle) which was raced throughout her career by Guilfoyle, as was his sire Definate Opinion (Surf Lorian x Josiva Jul '07) which won the Irish Cesarewitch two years running as well as the Dundalk International.
Guilfoyle, who planned to take a two-year break from training in 2016, said he is pleased he cut his holiday from the sport short to train the son of two of his previous kennel stars.
"The two-year break turned into just 10 months because John Kennedy – a good friend of ours – asked me to have a go with a blue dog which he liked," Guilfoyle explained.
"That dog turned out to be Good News and I knew at a very early stage that I would have to cut my break short because the chances of coming across a dog like him again would be very slim."
Good News was so impressive early on that Guilfoyle decided to buy his sister Sandra a share in the 33-kilogram powerhouse.
"When Good News showed potential he was here in training and shortly afterwards my sister was diagnosed with cancer so we bought a half share in the dog.
"We said we'd keep him for fun and as a bit of a distraction for her. He was racing in a lot of the big competitions whilst she was going through her surgery and chemotherapy so it was a great sort of comfort and joy for her and she now has a great relationship with the dog.
"She wasn't in a good place when he first started racing but now she is in recovery and she has won a Derby with the dog – it's a fairytale story really."
In fact, Good News was so freakish from a young age that Guilfoyle and Kennedy knocked back some huge offers to buy the dog at a racing auction – with connections refusing to sell him for anything less than his €150,000 reserve – a move which raised a lot of eyebrows at the time.
"He impressed us straight away – he was doing very fast trials as soon as we got him. We sent him to the race sales at Shelbourne Park and there was a record €43,000 bid for him but we decided not to sell and to keep him and race him.
"We pondered selling him briefly but we thought we'd take the chance. Many people thought we were mad to refuse such a price, but it was never about the money for us – we love racing and we love this dog – we wanted to enjoy him and look after him the way he should be.
"Even when we had the misfortune and bad nights with him we've never regretted not selling him so it just goes to show sometimes patience and perseverance pays off."

Guilfoyle, who has a team of a dozen in work, credits his family for much of his success – with his mother Alice at home with the dogs full time. He is also assisted by his father Dan, who runs the family dairy farm, as well as sisters Sandra, Laura and Emer and brother Donal.
"There are lots of large kennels over here in Ireland and England – everyone has their way of making things work but for us we enjoy having our small team and our dogs seem to love the attention – they all have their own personalities.
"It's not easy balancing work and the dogs, but we have a good routine and we love what we do so it's a great distraction from everyday life."
As for the future of greyhound racing in Ireland, and around the world, Guilfoyle is optimistic that the sport can overcome the challenges it has been faced with in recent years.
"Greyhound racing world wide is in a turbulent state at the moment and Ireland is no different.
"We were hit hard by a recession and the attendance dropped which had a knock on effect – there was no money there to fuel the industry.
"On top of that the anti-racing lobby over here is growing quite strong as it is in Australia, so it is a tough one.
"Over here we recently sold the very popular Harolds Cross Stadium and the money made from that has resulted in our industry being debt free which is one positive to come out of its closure.
"But things are starting to look positive over here – prize money was recently increased by 25 per cent so we are hoping that the game might take off again.
"As a young trainer I am hoping it can survive and I am prepared to do what it takes to promote the industry the best we can."
More Greyhounds News