Greyhound racing in time: El Grand Senor winning everything, Murray's upset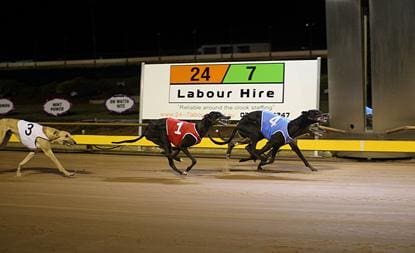 2013
Trainer Jason Thompson says Burn One Down is cherry ripe for the Victorian National Distance Championship heats after winning the Destini Fireball Stayers.
The days of non TAB greyhound racing in New South Wales look numbered according to participants.
Seona Hood and Jason Thompson are feeling confident about the hope of Invictus Rapid as they search for their first Group 3 Darwin Cup win.
Angela Galea outed over a positive swab to a beta blocker in one of her greyhounds.
2016
The NSW Labor Party call on NSW National politicians to stand up and be counted ahead of the NSW greyhound ban legislation being rushed though parliament.
West Australian greyhound Miracle wins the the Group 3 Darwin Cup in an upset.
NSW Labor leader Luke Foley continues his support for the NSW greyhound industry with legislation to enact the ban set to be passed through government within days.
2014
Bruce Teague takes aim at the structure of the National Sprint and Distance Championships and the lack of nominations and lack of competitive racing that it ensures.
West Australian greyhound trainer Dan Biddle cops a lengthy disqualification over the care and housing of 61 greyhounds and their association with a disqualified person.
Rob Sheeley previews the Queensland National Sprint Championship heats at Albion Park including Flash Reality, Yogi Blue and Cyndie's Special.
2013
Jacob Flaherty previews the Queensland National Sprint and Distance Championship heats that include Bogie Dawn, Benarkin, Top Story and Glen Gallon.
Bruce Teague argues state greyhound bodies should be doing more to engage media interest in greyhound racing particularly in rural areas.
Father and daughter training team Bruce and Jaime Lloyd train a double at Bulli greyhounds.
2012
Peter Oliver takes a look at the startling fact that Wheeler family owned greyhounds are winning 335 of all races at The Meadows and wonders if that is good for the either sport or the Melbourne Greyhound Racing Club which runs the track?
2011
El Grand Senor collects a $50,000 bonus for winning three provincial cups in one year by winning the Group 2 Shepparton Cup.
2010
Pre post favourite Minnie and Jinn Finn's Winsome Gunn has drawn box one in the Group 3 Laurie Healion Memorial final.
Bacardi Breeze wins the top graded free for all race from Casino greyhounds Friday meeting.
The Darren Murray trained greyhound Wednesday Beers stages a miraculous form reversal to win the Group 3 Darwin Cup final at odds of over 30/1.
El Grand Senor looks the dog to beat in the $50,000 to the winner Group 1 Maturity Classic after drawing box one in the final.
2009
GRNSW plead with greyhound owners, trainers and breeders to bombard the NSW Racing Minister Kevin Greene with requests to act on the recommendations put by the Cameron Report.