Group 2 Maitland Cup winner Aussie Infrared to stand at stud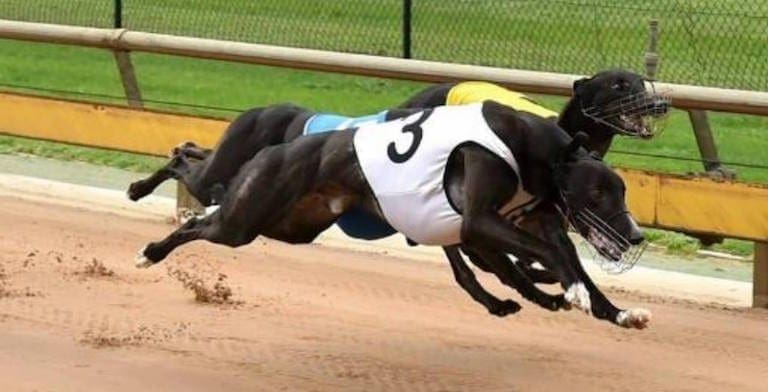 THE best local son of boom American sire Bella Infrared (Kiowa Mon Manny x Bella Iconic Jul '09) will soon be available at stud following the announcement that Aussie Infrared (Bella Infrared x Ebby Miss May '14) has been retired.
The Group 2 Maitland Cup winner has been plagued with a re-occurring chest muscle injury throughout the year after a mishap in a trial at Sandown Park. The same injury later caused him to be withdrawn from the Group 2 Bendigo Cup in July after winning his heat brilliantly.
He made it back to the track for two starts, including a fast win on debut at Goulburn in preparation for the Goulburn Cup, however his return was to be short-lived with the speedster now having injured his stopper bone tendon.
Co-trainer Geoff Collins, who also owns the greyhound with his breeder Michael Eberand, said the latest injury has been a real blow after the black chaser was nearing his brilliant best once again.
"The last half of the year has been very disappointing," Collins told Australian Racing Greyhound.
"We had four or five country cups in mind – and he made the final of the Bendigo Cup, but he had to be scratched due to that chest muscle playing up again.
"If he had of stayed sound, I think he would have been a big chance in all of those races – but that's racing."
Aussie Infrared was always bred to run. His sire was described as a 'once in a generation' greyhound which dominated America's top track, Southland, winning 71 of his 100 starts including 19 in a row.
He broke the track record three times and was voted the Captain of the 2012 All American Team, which is the equivalent of being selected as the US Greyhound of the Year.
His dam Ebby Miss (Head Bound x Senza Nome Apr '09) was a handy stayer which made multiple group race finals throughout her career.
She has been a terrific brood bitch, having produced Group 2 Gosford Cup winner and multiple group finalist Barking Bad (Bella Infrared x Ebby Miss May '14), track record holder and top class stayer Ebby Ripper (SH Avatar x Ebby Miss Feb '15) and Group 2 Launching Pad winner Suffragette (SH Avatar x Ebby Miss Feb '15).
"He was a fast dog with a great pedigree – he is by Bella Infrared which is a highly sought after American sire and he is by Ebby Miss who is one of the top-producing group matrons in the country," Collins said.

"He has got a lot going for him breeding wise – plus he has strong form, he holds a track record and has won a group race."
Aussie Infrared is sure to attract plenty of interest from breeders, with his sire Bella Infrared no longer available in Australia.
Collins, who is based in Victoria, sold his semen in Australia prior to his passing in 2015.
"It has been very difficult to get his semen – even before he died – and it is impossible to get now," he said.
"Basically as far as accessing Bella Infrared now it is only going to be through one of his sons of daughters."
Aussie Infrared is the top-rated son of Bella Infrared in Australia, winning 22 of his 37 starts with a further seven placings.
Despite being raced primarily on one turn tracks, Collins says he has no doubt Aussie Infrared would have made an impact at tracks such as Sandown Park and The Meadows if given the chance.
He believes Aussie has everything it takes to make it as a successful stud dog, with brilliant box speed and a breeding line which boasts plenty of strength.
"I think he would have run the 500 out well – but his best distance was the 450 because he was such a high speed dog and he loved the one turn tracks.
"His acceleration was tremendous and that's what I find so appealing, but I believe he will also throw strength through his damline.
"He is a half brother to Ebby Ripper, his sister Trending runs ground and Barking Bad is a very strong dog too."
Collins said he is excited to get the ball rolling with Aussie Infrared and is hopeful breeders around the country will have access to his semen before the end of the year.
"We still have to go through the process of checking his semen and registering him at stud, so it will be around a month before he is readily available.
"But I am keen to stand him – I have a couple of my own bitches which I will put to him because I know how good the dog is – you couldn't get a dog with a better temperament or a harder chaser."
More Greyhounds News