Hickman thrilled with Punter's Bandit ahead of Rookie Rebel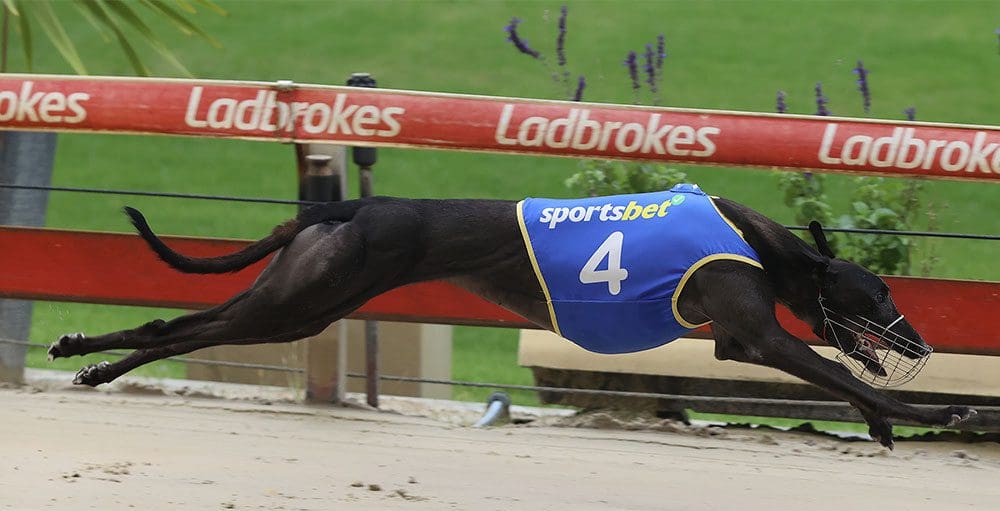 Sydney thoroughbred trainer Greg Hickman says he has happily caught the greyhound racing bug, and he has high hopes for Punter's Bandit heading into the Rookie Rebel at The Meadows on Saturday night.
The talented two-year-old bitch showed outstanding courage and racing nous last start to win the Summer Six-Hundy Final at Gosford.
Starting from barrier six, Punter's Bandit brushed off a check from some early carnage and was back in fifth spot after the first turn.
She was at least a dozen lengths behind leader Coast Model, but her focus never wavered, going on to beat eventual runner-up Grim Madara by three-quarters of a length.
2023 Summer Six-Hundy Final – Punter's Bandit (1st)
Hickman – a part-owner of the bitch through the Punters HQ Syndicate – is confident his chaser will show the same tenacity from box eight in the Group 1 feature worth $108,000 on Saturday night.
"She nearly fell at Gosford in her last win, and gave the winner six lengths start or more and ran it down," he told Australian Racing Greyhound.
"Her will to win and just how she's learnt to chase harder as she's got older – it's just amazing.
"Her win the other night was just incredible."
With 11 wins from 29 starts, Hickman's investment in Punter's Bandit has been a sound decision.
Her brilliant last-start win suggests she is developing into a competitive Group 1-level chaser.
"Just how she started off and wasn't strong enough, and the more racing she got she just got stronger and stronger, and faster and faster," Hickman said.
"They (trainers Andy and Jodie Lord) have always had a nice wrap on her, but this is my dream – to have a dog running in Group 1 races.
"They're soft when they're babies – same with race horses.
"But the more knowledge they get, the harder they get. Same as horses – when they know where the winning post is, it's a big advantage."
It appears the $7 at offers good value for Punter's Bandit to win on Saturday night, despite the fact she will start from box eight.
French Martini for Peter Lagogiane is the $3.50 favourite with online bookmakers.
Hickman knows his emerging star bitch will be challenged in a strong field and from her starting lane.
But he is delighted at her condition after she got through the physicality of her last start.
"Her last run was pretty impressive. But going to Melbourne, they tell me Melbourne's a lot harder," he said.
"We've got a bad box. So it depends what the dogs inside of her do.
"It comes down to the luck of the gods as they come out of the barriers.
"She's well and she's happy. We've got a great trainer and he'll have her in the best position for the race."
Hickman – who trains talented New South Wales horses Eleven Eleven and Rondino – has thoroughly enjoyed his time as a greyhound part-owner.
He loves the escape it gives him away from the high-pressure Sydney racing scene.
"It's good to see the other side of the page in being part-owner of a dog that's given us a lot of pleasure," he said.
"I've met some new people in the industry and they've come into horses as well."
The Rookie Rebel Box Draw & Field

The Meadows600mGroup 1$110,000Saturday, February 11, 2023

1

French Martini

T: Peter LagogianeF: 34161Career: 28: 14-0-3Prizemoney: $160,315

2

Aston Velvet

T: Michelle MalliaF: 22181Career: 65: 21-15-7Prizemoney: $324,907

3

Jarick Bale

T: Mark DelbridgeF: 1121TCareer: 92: 36-19-9Prizemoney: $551,293

4 El Dorado

T: Daryl HolmesF: 78423Career: 40: 17-8-3Prizemoney: $155,720

5

Amplified

T: Krystal ShinnersF: 11161Career: 51: 31-7-3Prizemoney: $198,235

6

Black Sail

T: Ned McDonaldF: 51131Career: 35: 14-4-4Prizemoney: $68,415

7

Dookie Devil

T: Glenn DaintonF: 81112Career: 25: 11-5-3Prizemoney: $117,195

8

Punter's Bandit

T: Jodie LordF: 61121Career: 29: 11-8-3Prizemoney: $127,305

Reserves

9

Wheel And Go

T: Tim BrittonF: 23135Career: 34: 10-7-9Prizemoney: $94,330
Similar Greyhound Racing News