Wow She's Fast raises furious finish to win 2023 Group 1 Temlee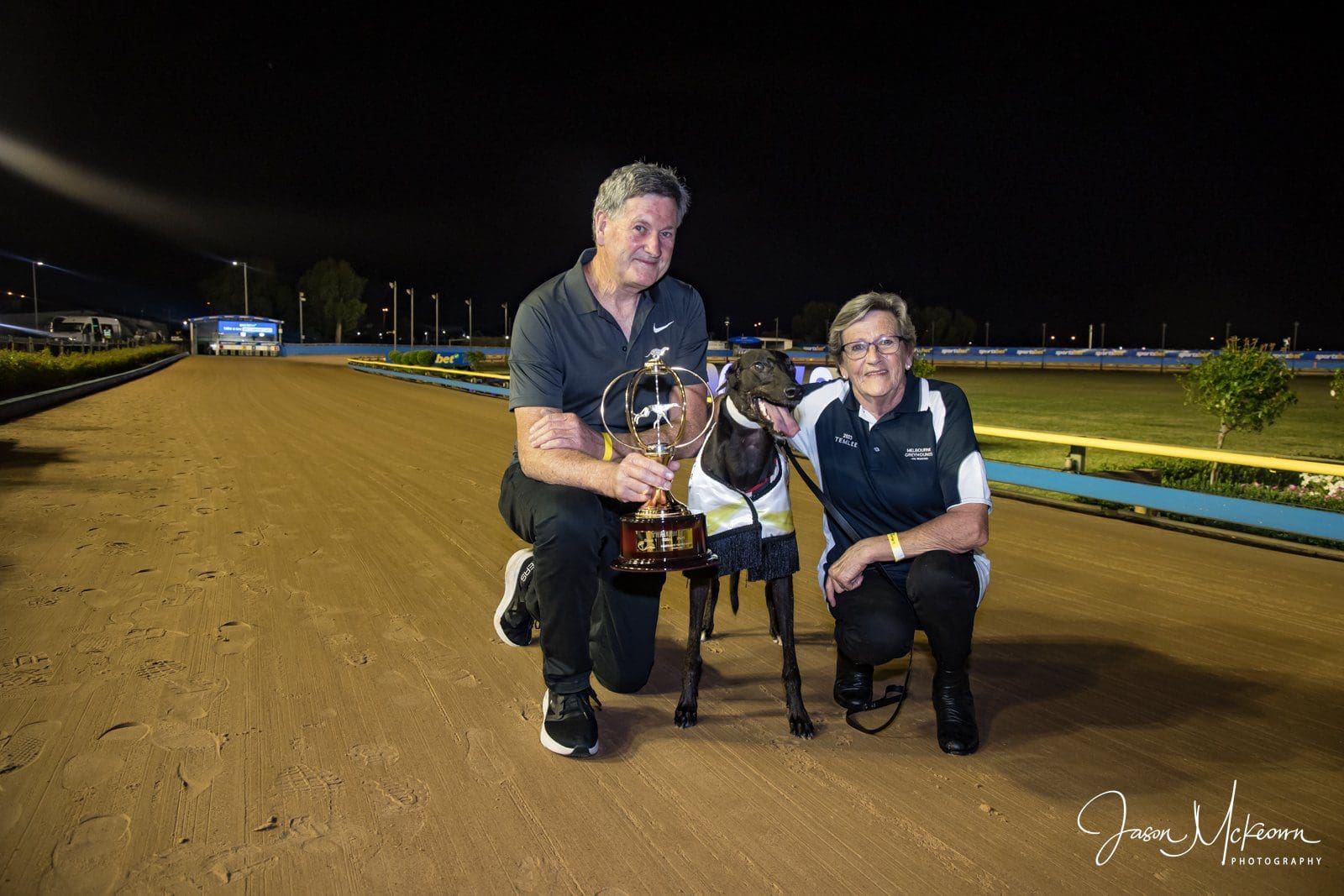 Wow She's Fast, the champion female greyhound sprinter, continues to make waves in the Australian greyhound racing world.
On Monday, the 32kg black bitch with the kennel name of 'Sharni' will celebrate her third birthday with a world record career prizemoney haul thanks to her 2023 Group 1 Temlee win on Saturday night at The Meadows.
Last Saturday, the fast and furious greyhound added the 2023 Group 1 Temlee (525m) race at The Meadows to her impressive resume, bringing her career earnings total to an astonishing $2.361 million.
With several important events coming up, including the $300,000-to-the-winner Group 1 Australian Cup, it's clear that Wow She's Fast is well on her way to reaching her goal of $3 million in stake profits.
But it's not just the prize money that sets Wow She's Fast apart.
This greyhound is a future Hall of Famer, the best of her generation, and a true champion on the track.
Race for just the second time in 2023 and first-up for over a month between runs, Kel and Jackie Greenough had Wow She's Fast in top form, and she didn't disappoint.
Kelsey Bale set the eqrly pace, while Wow She's Fast recovered from some early difficulties to find second place, with Amron Boy following close behind in third.
Heading toward the post in the home straight Kelsey Bale seemed to be in control, but Wow She's Fast and Amron Boy had other plans.
The two fast finishers launched devastating finishing blasts, with Wow She's Fast ultimately winning the race by a half-length in 29.65.
Amron Boy finished second just 0.31 lengths away from the winner.
This victory makes five wins from six starts at The Meadows for Wow She's Fast, adding to her impressive list of victories in 2021 and 2022 The Phoenix, the 2022 Group 1 Maturity Classic, and now the Group 1 Temlee.
With 19 wins in 28 races overall, Wow She's Fast is a deserving favourite entering the 2023 Group 1 Australian Cup series, and her minimal workload this year only adds to her appeal.
For leading Victorian greyhound trainers Kel and Jackie Greenough, it was their third Temlee win, having trained the winner in 2004 with Hotline Hero and 2011 with High Earner.
While retirement plans must surely be a consideration for Wow She's Fast's owner Greg Sprod, a tilt at the Group 1 Golden Easter Egg or West Australia's new slot race The Sandgroper must be highly tempting given the form 'Sharni' is currently racing in.
2023 Group 1 Temlee (The Meadows 525m) – Wow She's Fast (29.65) T: Jackie Greenough
Similar Greyhound Racing News