Lizrene: the pocket rocket queen of stayers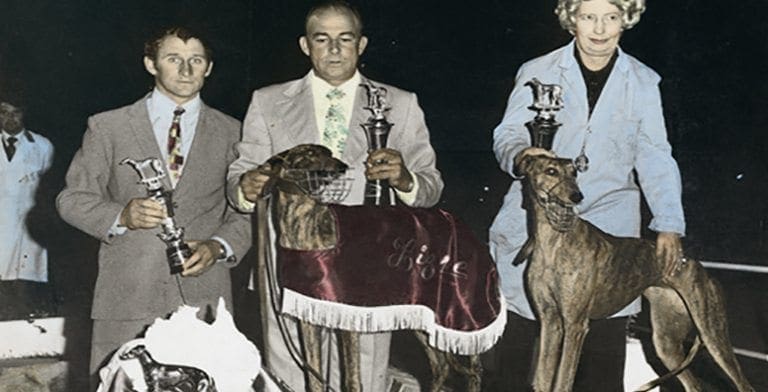 IN a career which stretched between 1971 and 1974, Lizrene etched her name indelibly in Australian, and particularly Victorian, racing history as one of the greatest and most consistent stayers of all time.
By the ill-fated sire Prince Kua out of Joanne Lu, Lizrene was a brindle bitch whelped in April 1970. Owned by Mrs Roma McGuinness and her sister-in-law Mrs Ann McGuiness, Lizrene was trained throughout her long career by Peter McGuinness, one of Victoria's foremost mentors.
Cindy, as she was known around the kennels, never tipped the scales above 24.8 kilos. Yet her light build did not stop her becoming one very determined chaser.
Her first start was on July 22, 1971 in a maiden at Sandown Park over 507m. Despite drawing box one, Lizrene found trouble and finished sixth.
Turned out for two months, Lizrene resumed with a second in a maiden at Sandown but on October 9 she broke through, scoring by five lengths over 525 metres at Wangaratta in 32.0, the best of the night.
On October 18, Lizrene debuted out of box one over 512 metres at Olympic Park and scored by nine and a half lengths.
After a second placing behind the smart Which Opal at Olympic Park, Lizrene scored at Sandown Park and was entered for the heats of the Melbourne Cup.
With only six starts under her belt Lizrene found herself opposed to National Sprint Championship winner King Miller and former champion stayer on the comeback trail Roman Copy.
In a sensational race, Lizrene flew home from box five to overwhelm King Miller and score by a head with Roman Copy storming into third place a half length away.
In the Melbourne Cup final, Lizrene ran a tremendous third behind star local sprinter Gerard The Gent and champion NSW bitch Shapely Escort.
Peter McGuinness gave Lizrene her first middle-distance test on November 27, running her over 621m at Wangaratta. She scored by six lengths in the best of the night.
That was her last race for 1971. From nine starts she had recorded five wins, two seconds and one third.
Lizrene commenced 1972 with victories at Olympic Park on January 17 and Sandown on February 3. These were to be her last sprint successes.
After running fourth in a semi-final of the Australian Cup, Lizrene was brought to Harold Park where she could only run fifth in a top-grade event over 457m. Back home, she was beaten a head into second place at Sandown at what was to be her second-last run in a sprint race for her career.
On March 9, Lizrene embarked on her distance career in a heat of the prestigious Sandown Cup, run over 718m at Sandown. Drawn in box six, Lizrene led from the first turn and went on to score by four lengths in a fair 44.6/16. Saki Dasher, the reigning National Distance Championship winner, was only fifth.
Lizrene made a one-act affair of the Sandown Cup final, leading almost all the way from box seven to down Vista Haydale by seven and a half lengths in a fast 43.15/16. The win earned her $3,000.
Contesting a handicap over 732m at Olympic Park, Lizrene was checked twice early before finishing third, beaten a length and a half.
She quickly redeemed herself, winning by a length at Sandown before being taken to Sydney to contest the Wentworth Park Gold Cup, run over 722m.
Cindy liked to use plenty of the track, so drawing box eight for her heat was perfect. Although slowly away, Lizrene soon took the lead and raced away to defeat the classy Mangrove Boy by six lengths in a sensational 43.1, just 2/10ths outside Zoom Top's track record. It was the fastest time ever run by a greyhound having its first look at the track.
In the final, champion stayer Ragsie, a former Victorian, was sent out favourite, slightly ahead of Lizrene. A crowd of 13,000 witnessed a sensational race which saw Ragsie take the lead 150m from home and just hold off a fast-finishing Lizrene to score by a head in 43.3, equalling the race record.
Lizrene returned to Melbourne and won a heat of the Olympic Park Distance Championship by 11 lengths before taking the final on May 8 by nine and a half lengths, earning connections $3,400.
After a short break, Lizrene resumed at Sandown on June 1 and won by three and a half lengths. Surprisingly, she was beaten at six of her next seven outings.
The first of these defeats occurred at Wentworth Park when she was only third behind the smart Fantasy Lady (Ragsie finished fifth after striking interference).
After winning a heat of the Sandown Distance Championship on June 22, Lizrene could only finish fifth behind Binica in the final, her first unplaced run in 13 distance starts.
Lizrene then finished fourth over 592m at Geelong before finishing second to Vista Haydale in a heat of the John McKenna Memorial at Sandown. In the final, Lizrene failed to gain a clear run and finished third behind Binica and Vista Haydale.
Binica defeated Lizrene again at Sandown on July 29, but then Cindy gained her revenge and bounced back to her best, scoring by nine lengths in a heat of the Anniversary Trophy at Olympic Park. Binica finished fourth. Lizrene's time of 44.0/16 was just 2/16ths outside Miram Miss' track record.
The final proved a close affair but Lizrene managed to overhaul the leader Vista Haydale to win by half a length in 44.1/16, a new race record.
After winning a handicap at Olympic Park by 12 lengths, McGuinness took her to Sandown where she won a heat of the NCA Charity Cup in a fast 43.11/16 and annexed the final by four lengths from Vista Haydale.
Returning to Wentworth Park, Lizrene contested a Free For All (top grade) but was beaten three lengths by Fantasy Lady with Shapely Escort a strong third. Then, on October 7, she ran over 732 metres at Harold Park but ran a faltering sixth. After the race Cindy was found to be injured and was stood down for 10 days.
She resumed at Sandown on October 19 and scored by seven lengths in a heat of the NCA Cup before making it seven wins on end in Victoria by taking the NCA Cup final from Nulla's Idol.
Brought back to Sydney for the Summer Cup series at Harold Park, Lizrene ran a fair second in her semi-final behind the high-flying Dynabolt, who scored by seven lengths in a slashing 43.0, just 3/10ths outside Bunyip Bint's track record.
Lizrene drew badly in box one for the Summer Cup final and lost all chance when she veered right soon after box rise, coming home a well-beaten sixth behind Dynabolt. She was again found to be injured and was spelled for a month.
During 1972, Lizrene had raced 32 times for 17 wins, six seconds and three thirds, winning five major races and being placed in two others.
Lizrene resumed on January 4, 1973 in a heat of the Roy Maidment Memorial Trophy at Sandown but was beaten just over a length by boom stayer He's Some Boy in a fast 43.88. Lizrene had to be content with running second in the final behind He's Some Boy.
On January 18, she found herself in a 508m Invitation Stake at Sandown, finishing strongly to run third. That was her 14th and final race in sprint events, finishing with the good record of seven wins, three seconds and two thirds.
Lizrene then contested three successive Olympic Park handicap races over 732m, defeating arch rival Vista Haydale by five lengths in the first, gaining revenge on He's Some Boy in the second to down him by six and a half lengths and making it eight wins in a row at Olympic Park by annexing the third, coming off five metres.
Back at Sandown on February 8, Lizrene scored by 10 lengths in 43.74, but just four days later she came off four metres in a handicap at Olympic Park, found early trouble but was beaten nine lengths into second place by Darville Court.
Cindy rebounded quickly, scoring by 11 lengths from Vista Haydale and He's Some Boy at Olympic Park on February 19, then winning by 14 lengths over 621m at Wangaratta in 37.06 (a length outside the track record).
After winning a top-grade race at Sandown, Lizrene won her heat of the Sandown Cup by nine lengths in 43.63, the second-fastest ever registered by a bitch at the track.
Sent out a 1/4 ($1.25) favourite for the final, Lizrene flew out of box five and raced away to win by nine and a half lengths in a track record 43.24. Sensationally, after the race it was revealed the race had been hand-timed and would not be recognised. Nonetheless, Lizrene had now earned $29,455 in Victoria, a record at the time.
Just four days later, McGuinness drove from Dandenong to Gawler for an Invitation event run over 750m. In a field of five, Lizrene ran a long neck second behind former Victorian stayer Ricca Donna. NSW stayer Smarty Pants was 11 lengths away third. Ricca Donna ran 45.50, smashing the track record by 9/10ths.
On March 22, Lizrene had her third race in a week, finishing a tired six and a half lengths second behind South Australian champion Yodel High in a race over 731m at Angle Park.
Back home, Lizrene contested her last two handicap races at Olympic Park, winning the first before running second in the next, coming off three metres.
After scoring again at Olympic Park, Cindy was injured when third at Sandown and was out of racing for almost two months.
Lizrene resumed on June 14 with a hard-fought victory in a heat of the Sandown Distance Championship on a heavy track. In the final, Lizrene came from well back to score by three lengths and take her earnings past $37,000, the second-highest in Australian history.
Sadly, she contracted a virus which saw her race below her best, running third at Olympic Park and then second in a heat of the John McKenna Memorial Trophy at Sandown.
McGuinness had her right for the final and Lizrene, drawn perfectly in box eight, began well and scored by four and a half lengths over Thurmiss.
After winning over 621m at Wangaratta, Lizrene won at Sandown and then made her way into the final of the Anniversary Trophy at Olympic Park with a tough head victory over Thurmiss in her heat.
The Anniversary Trophy final was run on a bog track and despite being drawn badly in box one, Lizrene showed plenty of fight to win from NSW stayer Winged Gemini with Thurmiss third. The victory was her 28th successive win or placing.
On August 30, Lizrene was unplaced for the first time in nine months when she was severely checked at the first turn and finished fourth in a top-grade race at Sandown.
Back at Olympic Park, Lizrene won a heat of the Centenary Trophy but was beaten just over a length in the final by Proud Clay. The winner ran 43.84, only 3/100ths outside He's Some Boy's track record.
On September 29, Lizrene contested the Golden Diamond Classic over 686m at Newcastle. From box three she tracked wide but hit the front before the home corner and won by five lengths in a fast 41.68. McGuinness later said the ovation he received at Newcastle was the greatest he ever heard for Lizrene.
McGuinness later said, "In the catching pen I put the lead around her neck and all she wanted to do was get to the dais. People were clapping and cheering her, and the more they cheered the prouder she walked, and her tail was wagging ecstatically. Fair dinkum, I was waiting for her to start bowing to her admirers. We walked up and down the track and by this time the next race was eight minutes late. It was a TAB meeting too, but not a soul would leave the grandstand. It was a record crowd…"

Back at Olympic Park, Lizrene won a heat of Radio's Golden Anniversary Trophy by eight lengths from Corcoran and Thurmiss and then recorded a solid win in the final, defeating Salala and Thurmiss.

On October 18, just three days later, Lizrene could finish only third in a heat of the NCA Centenary Cup at Sandown. This made her first reserve for the final, but Cindy obtained a run when Fair Deceit was scratched.

Lizrene, wearing the reserve rug, blitzed the field, winning by 10 and a half lengths in a fast 43.71.

Lizrene's next four races were all at Olympic Park, and she recorded four fine wins, the latter pair being a heat and the final of the Spring Cup. Lizrene was at the height of her career.

On December 6, she was beaten a length by Dimpled Dianne at Sandown and then finished only third behind Proud Clay and Bubble's Moss at Olympic Park in a heat of the Harper's Dog Chow Trophy. Proud Clay had again run 43.84, only 3/100ths outside the track record.

In the final, Bubble's Moss streaked away to defeat Lizrene by six and a half lengths in 43.81, equalling the track record. Proud Clay was third.

Lizrene competed in her last race for 1973 on December 22 in a special Invitation race over 640m at Wangaratta. The field included NSW star Miss High Lo, but Lizrene defeated Garner Bin by two and a half lengths to register her 50th race victory. Miss High Lo ran a fair fourth.

From 44 starts in 1973, Lizrene had won 28 times, run second on 10 occasions and third five times. With eight major final wins and three major final second placings it was no surprise that Lizrene was announced as the inaugural Victorian Greyhound of the Year, narrowly edging out the mighty sprinter Half Your Luck.

The rising four-yer-old began 1974 by finishing second to Rellareena in a heat of the Roy Maidment Memorial Trophy at Sandown. On a heavy track, Lizrene ran home solidly to finish third behind Rellareena in the final.

Cindy returned to Sydney for the seventh and last time on February 2 to contest a match race against Miss High Lo at Wentworth Park. A crowd of 13,000 turned out to watch the event, but Miss High Lo made it a procession, downing the game Victorian by four lengths in a fast 43.14.

Back at Olympic Park, Lizrene won a top-grade race and then, on February 14, she scored by a head in a top-grade event at Sandown. It was her 52nd victory and propelled her prize money to $59,170, a new Australian record, eclipsing Zoom Top's mark of $59,032. Sadly, the victory was also her last.

McGuinness set Lizrene for her third Sandown Cup, but in her heat she found trouble early and had to be content with third placing behind Darville Court, thereby missing the final.

On March 18, Lizrene took on the Sandown Cup winner, Corcoran, in a top-grade race at Olympic Park. Again she finished third, beaten six lengths, but Corcoran ran 43.79, clipping 2/100ths off the track record.

After the race, Lizrene was found to have split the webbing near her hind centre toe and was stood down for a mandatory 10 days. She had won or been placed at her previous 22 starts.

Lizrene resumed in the first round of heats for the National Distance Championship, at Sandown. After being checked early, Cindy flew home from last to finish a two-lengths fifth.

On May 6, Lizrene contested the second round of heats, at her favourite course, Olympic Park. Clearly past her best, the brindle bitch struggled into seventh place, her worst ever finishing position.

Immediately after the race, Peter McGuinness announced Lizrene's retirement.

Her nine starts in 1974 had resulted in just two wins, two seconds and three thirds.

All told, Lizrene raced 94 times for 52 wins, 20 seconds and 12 thirds, earning $59,400 in prize money. In Victoria she won 50 of 82 races.

Her 46 city wins (23 at Olympic Park, 22 at Sandown Park and one at Wentworth Park) is an Australian record.

Lizrene contested 23 major race finals, winning 14, running second in four and third in three. Her average winning margin was 5.1 lengths. Although a wide runner, Lizrene raced 10 times out of box two for seven wins and three seconds. From the more suitable box eight, Lizrene recorded eight wins, one second and one third from 10 outings.

As Peter McGuinness later remarked, "She always used her brains. Even as a young puppy she'd sneak up behind her two brothers, nip each on the backside, and while they were squabbling, she'd slip between them and clean up the feed dish."

He also stressed that the champion bitch was a bit of a snob. "She always refused to ride in the dog trailer with the other dogs when we went to a meeting. She had to sit in style on the back seat of my car. I remember driving into a petrol station once and could see the admiring glances of the garage attendant as he sized up my expensive limousine. When he saw little Cindy sitting in stately splendour on the back seat he couldn't help remarking that it was rather a posh car to be taking a dog for a ride. He was quite taken aback when I explained that the dog had bought the car for me, so she was entitled to ride in it."

This Thursday night, the Group 3 Lizrene will be held over 715m at Sandown Park, featuring some of the best stayers from across Australia.


Warning: count(): Parameter must be an array or an object that implements Countable in /home/australianracinggreyhoundzzz/webapps/app-australianracinggreyhound/wpress/wp-content/plugins/Odds-Compare/vendor/guzzlehttp/guzzle/src/Handler/CurlFactory.php on line 67