Manzu's connections staying cautious despite Darwin Cup win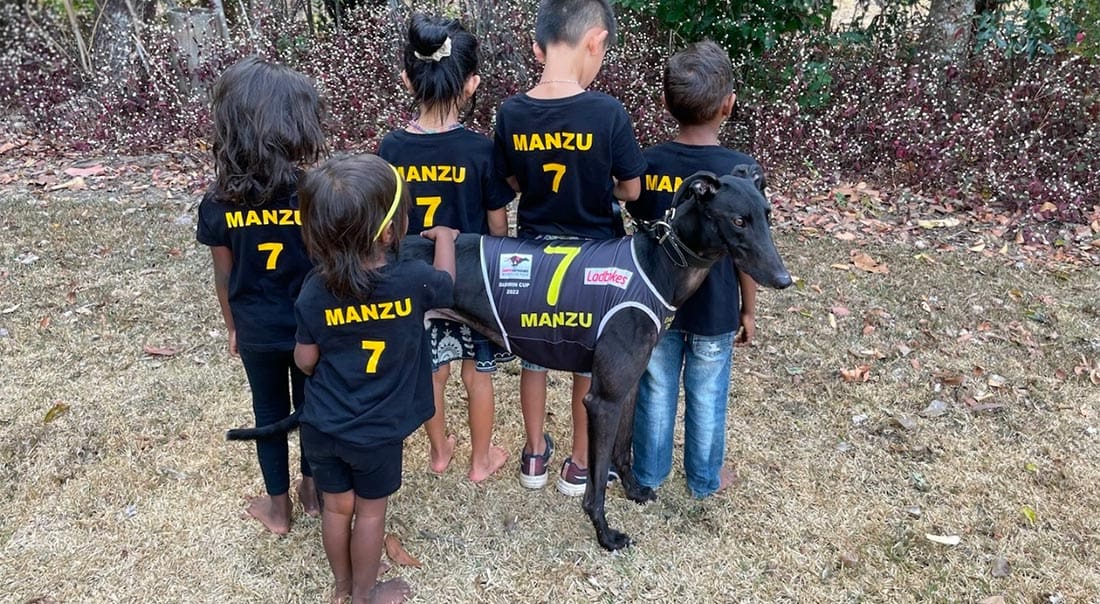 Perth handler Tayla Rollings oversaw a gutsy and professional win from Manzu in the Darwin Cup on Sunday night, but she's not yet getting carried away with his WA Sprint Championship hopes.
The star three-year-old – who was sidelined for nine months after breaking down with a serious stopper injury last July – has drawn box two for the $10,925 heat at Cannington this Saturday night.
But, with that recent history causing Rollings to doubt if he would be back racing, she and her grandparents – trainers Peter and Margaret Hepple – will take a cautious approach.
"We have a lot of good dogs back home," Rollings told Australian Racing Greyhound from the Top End.
"He is getting on in age as well. He did miss the prime of his career, but I think he's still up to the feature races we have, and we have a fair few.
"I'd like to see him go well on Saturday. But we fly home (today), and if he's not right or he doesn't handle the flight, then we won't race him.
"We're not too sure because he might be sore. He'll get checked and we'll see what happens.
"Hopefully he can be competitive."
Manzu was super competitive and too classy in taking out the $34,000 Group 3 Darwin Cup on Sunday night.
He crossed over from box seven despite some early congestion and found himself in second spot after the first turn, before patiently running down Lucky Lance from box one late on the straight.
It was still enough to comfortably salute by almost two lengths.
Despite the relative ease of victory, what should not be forgotten is Manzu's recent injury record, which is why Rollings and her grandparents will take a cautious approach with his preparations this week.
The winner of last year's WA Derby needed an operation to take out chips from his stopper last July.
It led Rollings, 23, to question whether Manzu would return to racing.
"The fact he had so long off – he was no certainty to come back again and race," she said.
"So he's come back and is still performing well. It still hasn't really sunk in that he won (the Darwin Cup). I keep watching the replay and enjoying the moment.
"He had a trial at Cannington and hurt himself in his last race. He had a couple of trials after that, and every time he would trial he would pull up sore.
"So we sent him to Adelaide, where he had scans because we don't have any greyhound vets in Perth.
"He had chips removed. There were thoughts like 'is he going to hold up when he races?' and 'will he be fine to run this weekend?'"
But with experienced trainer Tim Mullany helping her in Darwin, any doubts Rollings had about how Manzu would perform on Sunday night were quickly dispelled.
"It was really good with Tim helping me. He's from Perth. To be completely honest I didn't think he (Manzu) would come back," she said.
"But he's come back as good as I could've hoped for.
"I don't have my trainer licence, so up here I was like a mini-trainer.
"Having Tim was good. I definitely couldn't have done it without him.
"I can check basics, but to have someone who knows what they're doing and who can confirm what I'm thinking was really helpful."
Before the Darwin Cup, Peter Hepple told Australian Racing Greyhound he thought Manzu was "a real gentleman".
And after a start which could have rattled him, Manzu again showed his presence of a calm mind when placed under pressure.
"He doesn't really care what box he steps out from. He just needs room," Rollings said.
"He's a very smart race dog and he can navigate through a field quite well.
"But I think he just needs room early, so if you give him box one – no worries.
"If he gets crowded he won't pull out of a race, but he does need room to muster and go.
"On Sunday he jumped quite poorly, but he had room to take off and show what he can do.
"But if the eight (Starlight Gina, who ran fourth) came across him and he didn't get the room to go, then it would've been a different story."
Rollings had no shortage of support before and after Manzu's Darwin Cup triumph.
"One of the trainers I used to work for was actually up here – Shayne Williams. It's good because I've learnt a fair bit of different people," she said.
"He sent me a message before the race saying he was proud of how much I've achieved, and how much I'm learning and how much I've grown.
"Tim said 'you've done all you can and now it's the dog's turn'. And Shayne with his comment about how much I've grown – it was nice.
"My aunty (Deb Hepple) is a local up here, so all of her friends and family were here watching. It was good to have people there who you knew, instead of travelling somewhere without knowing anyone.
"I come up to Darwin a fair bit, so a lot of the trainers here were very good congratulating me and wishing me well.
"It was nice."
Rollings would love to one day follow her grandparents into the training ranks, but right now she's just happy learning as much as she can from them.
"I would eventually. (But) if I was a trainer right now, I wouldn't be here in Darwin because I'd have my dogs to look after," she said.
"So the fact I can take off and do this kind of thing is good because I'm not tied down at the moment.
"But definitely one day. I think I'd prefer focusing on breeding first and I own Manzu's little sister, Lady Minx.
"So I'll breed with her and that'll be my first litter that I invest in. I'll probably just start with that and see what happens."
Similar Greyhound Racing News