Melbourne Cup greyhounds runner by runner guide 2021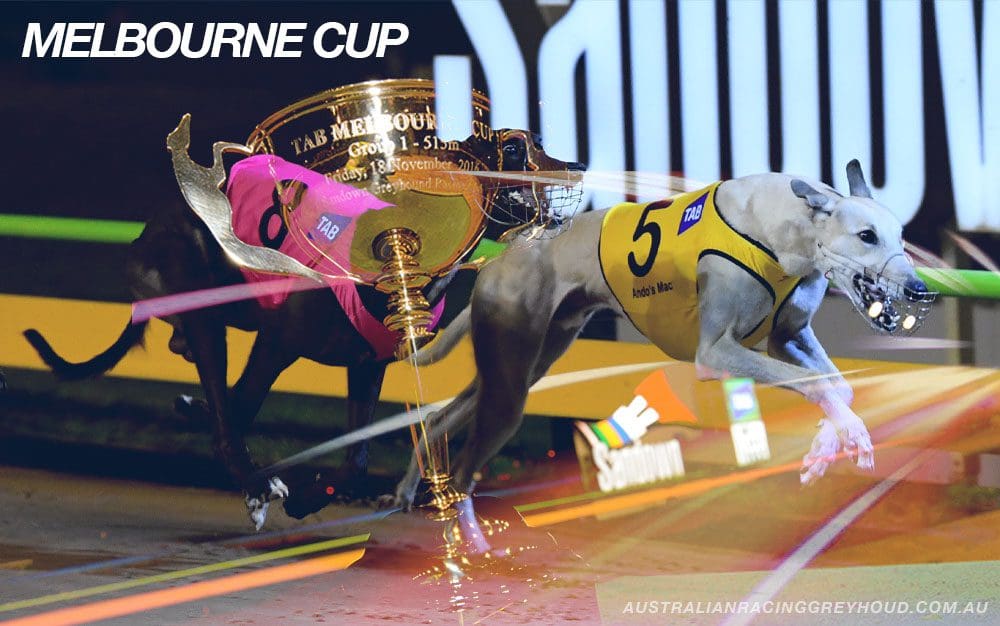 The Group 1 Melbourne Cup will feature eight of the best greyhounds in Australia and our runner-by-runner guide will give you insight into the contenders, including the emergencies for the 515m feature due to be run at Sandown on Friday night.
1 AUSSIE SECRET
Trainer: Jason Thompson (Pearcedale VIC)
Breeding: October 2018 Bernardo x Sunset Believer
Record: Won 31 from 60. Sandown PB: 29.37sec.
Comment: One of the most consistent sprinters in Australia, prepared by three-time Cup- winning trainer. Likes to race off the rails but has strong Box 1 (6 from 10) and Sandown 515m (5 from 9) credentials. Will be prominent from the outset and with early luck could prove hard to catch.
2 JEPARA
Trainer: Angela Langton (Anakie VIC)
Breeding: February 2019 Fernando Bale x Tarks Nemesis
Record: Won 17 from 50. Sandown PB: 29.31sec.
Comment: Returned to form when dead-heating with Koblenz in heat. Chances could be determined by whether he misses Aussie Secret on his inside in the opening exchanges but if he avoids early trouble has the ability to surprise at odds.
3 KOBLENZ
Trainer: David Geall (Lara VIC)
Breeding: May 2019 Fernando Bale x Up Hill Jill
Record: Won 25 from 38. Sandown PB: 29.16sec.
Comment: Superbly-bred speed machine, faultless beginner with sensational strike rate. Has an excellent record from inside three boxes – beaten only twice in 16 starts from Boxes 1, 2, and 3. Has broken 5 seconds early on several occasions at Sandown and will take a power of catching if he finds the front. Koblenz is paying just over the $3 mark with online bookmakers.
4 ASTON RUPEE
Trainer: Glenn Rounds (Devon Meadows VIC)
Breeding: April 2019 KC And All x Aston Miley
Record: Won 19 from 32. Sandown PB: 28.79sec (Track Record)
Comment: Sandown track record holder and deserved favourite. Has proven almost unstoppable in winning 8 of his last 9 starts, including the two fastest times ever recorded at Sandown, the G1 Topgun and G3 Shootout. Overcame difficulties in barnstorming heat victory and is clearly the one to beat with a clear run.
5 LALA KIWI
Trainer: Andrea Dailly (Anakie VIC)
Breeding: May 2019 Aussie Infrared x Lala Shim
Record: Won 16 from 37. Sandown PB: 29.24sec.
Comment: Only female in the race and fastest qualifier after taking advantage of Box 1 in dominant 29.24sec heat victory, boosting her imposing Sandown record to 4 from 6. Draw makes her task a tough one but with luck in running will be competitive and shouldn't be overlooked.
6 LAKEVIEW WALTER
Trainer: Monique Whelan (Metung VIC)
Breeding: April 2019 Fernando Bale x Lakeview Maisey
Record: Won 11 from 29. Sandown PB: 29.15sec.
Comment: Winner of the G1 Silver Chief in January and has made a timely return to his best, winning G3 Silver Bullet followed by impressive 29.26sec heat victory, the second quickest qualifying performance. Made every post a winner from Box 1 in heat success but will find it tough to repeat from awkward alley. Knockout chance with luck in transit.
7 TIBERIA BALE
Trainer: Andrea Dailly (Anakie VIC)
Breeding: November 2018 Barcia Bale x Folio Bale
Record: Won 11 from 58. Sandown PB: 29.64sec.
Comment: Upset heat winner when turning around average recent form from inside draw in Box 2 and likely to go around at big odds again from wide alley. Difficult to see him getting into the race from out here.
8 KINSON BALE
Trainer: Samantha Grenfell (Anakie VIC)
Breeding: August 2019 Barcia Bale x Hae Allen
Record: Won 12 from 44. Sandown PB: 29.47sec.
Comment: Talented type facing biggest test to date but has been highly competitive in elite company recently. Won't find it easy to get across in such esteemed company but a repeat of his 5.02sec heat split will put him right in the early picture. Each way prospects.
Melbourne Cup 2021 Reserves
9 TYPHOON SAMMY
Trainer: Jason Thompson (Pearcedale VIC)
Breeding: January 2019 Aston Dee Bee x Zabaleta
Record: Won 19 from 28. Sandown PB: 29.65sec.
Comment: Prodigious talent that's been airborne since relocating to Victoria. Very unlucky not to be in final field after winning heat but being squeezed out on times due to dead-heat in earlier runoff. Will have taken great benefit from two Sandown runs and should be treated warily if gains a start.
JAX BALE
Trainer: Andrea Dailly (Anakie VIC)
Breeding: January 2018 Allen Deed x Helma Bale
Record: Won 17 from 73. Sandown PB: 29.14sec.
Comment: Veteran sprinter with impressive Sandown statistics but minor claims would be best if he snuck into the field.
More Greyhounds News