NSW greyhound racing clutching at straws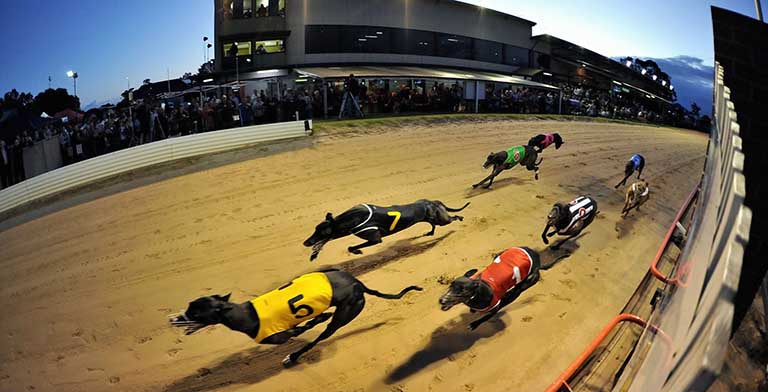 One of the wonders of the greyhound industry is that any old town could sponsor a greyhound club/track and, with the arrival of the TAB, it could mount a racing operation of some sort, sometimes weekly, sometimes fortnightly.
The entire NSW north coast plus the Hunter region probably leads the mob. It has a big history because Newcastle, Maitland and Cessnock launched in 1927, not long after mechanical hare racing opened up in Sydney. Monkeys on greyhound backs were paraded down the main street of Newcastle while newspaper advertising was heavier than that from the big stores. Track entry cost one shilling and sixpence, less for ladies.
In that Hunter-Coast region, the only significant centre that missed out was the well-populated Coffs Harbour (whose history I am not sure about). Of all those, the only dropouts have been Singleton, Cessnock and Tweed Heads, although you could add Parklands on the nearby Gold Coast.
Singleton should never have been eliminated as it was well placed geographically and possessed the highest-earning population in the entire region (due to mining wages). It needed refurbishment but the potential was there. Sadly, the NCA was its funder and they decided to pursue dates at Newcastle instead. (Not that they were very good at that either). Cessnock always duplicated what the nearby Maitland had to offer and so one had to go and the then-GRA chose to leave Cessnock as a training venue only. Mind you, moving over to the coast, the same could be said today of Casino, a few kilometres down the road from the much larger university centre of Lismore where most people lived.
All of the benefit or prosperity was based on, initially, the unique attractiveness of racetracks as betting venues, and much later by achieving full TAB status. The once popular Border Park at Tweed Heads (now defunct) also gained from its utility for horse punters using the club's "auditorium" licence, aided by Infobet terminals giving them Australia-wide electronic access.
In that context, the recently promoted pair of Wauchope (ie Port Macquarie) and Taree might be said to be the straw that broke the camel's back. Too much of a good thing? Their fields are small and ordinary and they race primarily over short distances.
All this is occurring in the light of two medium to long term trends.
First, clubs achieve success only when they are underpinned by strong local support from volunteers and the like. Payments from HQ or the TAB just keep the fires burning. But beware in future as budgets will be tighter once covid-induced activity dies down (yes, all gambling ventures have been doing well during Covid but other pursuits will re-emerge soon).
Second, dog numbers are under serious threat as breeding is no longer as popular as it was – ie some 50% to 60% of pre-2015 levels. Hence today's short fields, lower average dog quality and ultra-short races to better suit the runts of the litter.
In total, it's become a bit like the major footy codes. If you add more clubs to the competition costs can rise faster than any extra revenue and good players will be spread too thinly – thereby reducing the attractiveness of the product. In NSW that is exacerbated because it gains only a tiny share of TAB surpluses for races above the 590 p.a. level – the rest goes to the gallops and trots as windfall income.
I have no doubt that a case can be made for a club between Newcastle and Grafton – but only one, not the current three. The arithmetic will not stand up for any more than that and it will still need strong promotion to make it contribute properly. On the basis of commercial/population/tourism factors, Port Macquarie (ie Wauchope) would lead the way. So drop the others.
GRNSW has fresh ideas
While it is flush with cash, the NSW authority is keen push forward with a not very common idea – talking to the public. As its latest media release says, "Everyone in our industry has known for a while that we are in the midst of some very exciting times for greyhound racing in NSW, now we want to let the rest of the general public know."
Fair enough. It's good to see some action on that front (whatever it might be).
Even so, they have missed a vital first step. That "general public" don't much like the greyhounds in the first place. Consequently, marketing programs would do better if they were preceded by PR campaigns to educate and inform people about the nature of the breed and its unequalled history over millennia. Any advertising would then fall on more receptive ground.
Help for intending punters.
I don't much like getting into the tipping game but it seems necessary to try to better educate some of our existing gamblers.
There will be better or worse examples than this but I was particularly struck by a recent Sale meeting where seven races jumped with odds-on favourites. Here is how they went.
| | | |
| --- | --- | --- |
| SP | Career | Result |
| $1.30 | 3/1-2-0 |   WON |
| $1.40 |  28/4-8-6 | Lost |
| $1.30 | 5/1-1-2 | Lost |
| $1.60 |  6/2-0-2 | Lost |
| $1.70 |  51/17-12-3 | Lost |
| $1.50 |  55/13-13-6 | Lost |
| $1.50 |  18/8-4-2 | WON |
So a punter placing $1 on each favourite would have lost 63% of his bank. Not a good policy.
The trick is to do some simple arithmetic and consider the likelihood of success when your target has career records like those. For the moment, forget about boxes or last start wins, the state of the opposition or up and down grade movements. Just assess whether your target has a reasonable likelihood of repeating its best performance in today's race, everything else being equal.
If you have a good feeling about the dog you have chosen, then check the price (or what is likely to be the price). If it is odds-on, forget it and go and get a cup of tea. None of the above runners justified such a short quote – none. The corollary is that other runners will be at "overs" so may be worth a second look – especially any that are good beginners.
Your first choice may well justify being favourite but no favourite is a worthwhile bet at the wrong price.
None so Deaf as …
Did you notice the heats of the Devonport Cup last Tuesday? Top Tasmanians and a few Victorian dogs competed in this premium event over 452m. The first heat illustrated the point when Blackpool Flash (V) went hammer and tongs against the brilliant local Sacred Stance (T). They gave the sectional time to the local dog (7.76) although Blackpool did have its head in front for most of the race.
But that is standard for what passes for record keeping in the Apple Isle. Whatever wins the race is assigned the sectional and Sacred Stance did win by a head (I think). Tasracing records show no winning margin but Ozchase reckons it was 0.13 lengths.
Tasmanian policy is that no matter what dog actually leads, the sectional time is given to the winner – on both Ozchase and on the local Tasracing files. That is, possibly half of them are wrong. That info then gets copied into Victorian and NSW career records. Sectionals for other runners are ignored.
But there's more. In the 10-race Devonport meeting every single race had the winner running exactly 8.00s for the first sectional. Every runner in the entire meeting ran an overall time of 25.00, 26.00 or 27.00 seconds, regardless of where it finished, according to most official Tassie results. However, there was one exception when Sacred Stance was assigned a 7.76/25.48 set of times. Take your pick. (The track record is 24.95).
Sacred Stance paid $3.80 on Tastote (pool $492), $4.50 in Victoria ($2437) and $3.10 in NSW ($2902). Fixed Odds was $2.50 everywhere (presumably from Tabcorp). Taken as a whole this is not much to bet into but individually it is a joke.
Unprofessional performances like these are unacceptable for an ordinary race, let alone a feature series. It's a disgrace to the industry.
(These anomalies have been brought to Tasracing's attention, in writing and in person, several times over the last decade. Nothing ever changes. Any thinking punter would therefore have to avoid the state like the plague).
Similar Greyhound Racing News