Maturity Classic the goal for Fast Times after Winter Cup triumph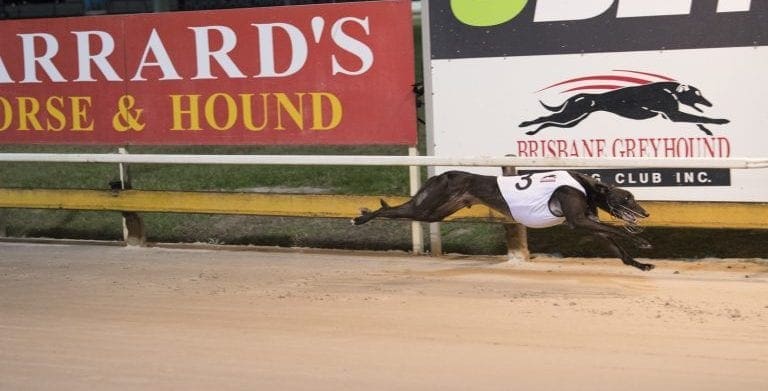 FAST Times (Barcia Bale x Clockwise Apr '15) will be aimed at capturing the Maturity Classic crown at The Meadows after breaking through for his maiden group 1 win in Thursday's Winter Cup (520m) at Albion Park.
Jumping from box four in the $75,000 to the winner event, Fast Times strode through to take the early lead, but was quickly joined and challenged by Bubbly Guppy (box seven) which railed through along his inside.
The Queensland duo went stride for stride throughout the majority of the event, but in the closing stages Fast Times prevailed, crossing the line one length clear of Bubble Guppy in 29.77.
Melbourne Cup champ Ando's Mac (box eight) rounded out the trifecta in third after missing the kick off the wide alley.
Brett, who has now won five of the last seven editions of the Winter Cup, admits he had a few nervous moments throughout the race when Bubble Guppy applied pressure to his gun greyhound.
"He had me worried, plenty of dogs can't handle the pressure and would have shirked the task," Brett told Australian Racing Greyhound.
"On every turn he kept shifting out and giving Bubble Guppy a good sight of the lure and it takes a good pup to come back from that and hold out a seasoned dog like [Bubble Guppy].
"He did everything he had to do – I couldn't have been happier with him as it was a very gutsy win."

The son of Barcia Bale and Group 3 Magic Maiden winner Clockwise took his record to 17 starts for 11 wins and three minor placings on Thursday night, with career earnings now in excess of $136,000.
The black dog has been in the spotlight since starting his career at Lismore in December last year, having run a track record 23.52 on debut.
Having had pressure on him from day one, Brett said it was a big thrill to see Fast Times prove he is a genuine group 1 performer by winning the Winter Cup.
"Because he ran a track record when winning his maiden there has always been a boom on him, so to get that group 1 to his name is massive," Brett said.
"There has been pressure on him – we hype these dogs up and people forget he has only just turned two – but he has done a great job for his age and has now won a group 1 after just 17 starts, I wish I could say that about all of my dogs."
Brett said his focus will now turn towards the Maturity Classic, a three-week age restricted group 1 series at The Meadows worth $100,000 to the winner.
Despite not having seen the track, Brett is confident Fast Times can match it with the best young sprinters in Victoria when the heats kick off next Saturday night.
"Ideally a look at the track would have been perfect, but the way the races are programmed you just can't do it – it would be too much for the dog to send him down Monday, trial him Tuesday and then have him back up again on the Saturday night.
"But because it's a three-week series he doesn't have to win first up – hopefully he can do enough to make it through the heats and then I'm sure he'll improve.
"With that being said he is pretty adaptable so it wouldn't surprise me to see him perform well in the heats.
"Worst case scenario if he gets knocked out in the heats at least he's had a look at The Meadows and we can bring him home and get him ready for a crack at The Nationals."
More greyhound news