Rusty Dillon rates his charge a big chance in Super Stayers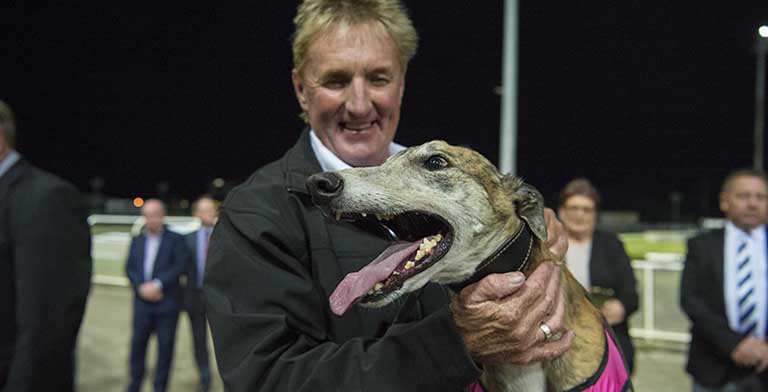 BIG Easy Red will be out to prove he deserves his spot in the four-dog Super Stayers (710m) when the lids fly open at Albion Park this Thursday night.
The red brindle dog finished a gallant second behind Fanta Bale in last week's Group 1 Albion Park Gold Cup, with the effort enough to see him made the reserve for the invitation-only Super Stayers.
However, Big Easy Red will now take his place in the final after Fanta Bale was withdrawn from the event on Monday morning, with trainer Rob Britton not wanting to risk the five-time group 1 winner after a gut busting run in last week's feature.
Meanwhile, Rusty Dillon, who trains Big Easy Red for owner Kevin Bryant, was thrilled to gain a start in the $25,000 feature.
The Caboolture conditioner said he was happy with his greyhound's run last week and expects another big performance this Thursday.
"I thought he might have led the race last week, but Fanta Bale being Fanta Bale she got out and run – it was a brilliant effort and although he started taking ground off her in the last 100m it was just a fantastic run by her," Dillon told Australian Racing Greyhound.
"He has been a pretty consistent dog and he loves Albion Park – he has run 41.73 when leading over the 700 and I think that's what he might do on Thursday night.
"I am expecting him to run a big race."
The son of Barcia Bale and River Seine has bounced back to form in recent weeks, winning two of his past five with two minor placings.
Prior to that the 33.5-kilogram powerhouse had been racing through a form slump, with Dillon explaining injury was preventing his kennel star from showcasing his best.
"He got a whack coming out of the boxes in Melbourne when he came up against Dundee Osprey and he tore his groin.
"Since then it has just taken a bit of time to get him back to his best, but he is back to his prime now – he is ready to go."

Big Easy Red will meet a sensational field this Thursday night including group 1 winning stayer Burn One Down, local heroine Cyndie's Magic and NSW star Ebby Ripper.
However, Dillon says if his front running half miler can find the top he will be hard to run down.
"The four dog field should suit him because there is not a lot of early pace in the race," he said.
"He gets every chance to get to the front and lead – Burn One Down isn't overly quick early and Cyndie's Magic will drop out.
"I think he can break the 42 second mark if he gets a nice run in front – if he can do that he is going to put himself right in the race.
"When he is in front he is a pretty hard dog to run down, so fingers crossed he can get to the lead on the first turn – then it will be up to the other dogs to chase him down."
Meanwhile, leading conditioner Rob Britton said Fanta Bale is likely to return to 600m racing in the near future.
"I made the decision [Monday] morning [not to start her in the Super Stayers] – after the race [last week] and over the weekend she had a slight, what I'd call a stress husk," Britton told Sky Sports Radio.
"I think that has to do with the fact that it was such a gut-buster. The track was heavily affected by the rain the day before and she led all the way.
"It has taken a toll so I think we need to give her the week off. We'll probably go back now to 600m races for a couple of weeks until the Nationals.
"I don't want to take her off the track if possible but I would like to give her a couple of 600s just to lighten the load."
The Listed Super Stayers is race eight at Albion Park this Thursday night and will jump at 9.13pm.
Listed Super Stayers – box draw
1 – Cyndie's Magic
3 – Ebby Ripper
5 – Big Easy Red
7 – Burn One Down
Similar Greyhound Racing News