She's A Pearl in 'phenomenal' shape for Southern Stars series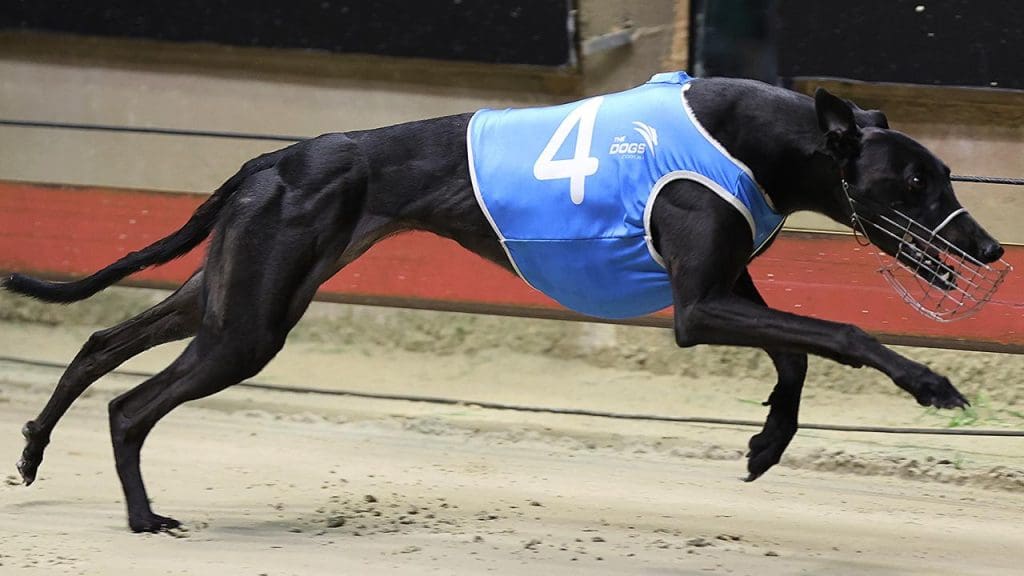 Get excited, She's A Pearl fans – the superstar bitch is targeting the good money on offer in the $50,000-to-the-winner Southern Stars series.
And she looks "phenomenal" in trackwork, according to handler Paul Mills.
The reigning Golden Easter Egg and Million Dollar Chase champion is back to herself at Andy and Jodie Lord's property at Gunning, flying up the straight once again.
This comes after she came on season and was scratched ahead of her return from a small break on May 21.
Of course, two weeks earlier the two-year-old pulled off a remarkable victory in the Million Dollar Chase Final on May 7, scorching the field to win by 5.5 lengths in a stunning time of 29.32 seconds.
Mills said she was building nicely for a Southern Stars heat at Goulburn on July 22.
The 440m final will be on July 29.
"I think we might kick her off in that (Southern Stars)," he told AustralianRacingGreyhound.com.
"She flew up the straight the other day – she was phenomenal.
"She'll tell us when she's ready."
Mills was happy with the timing of when She's A Pearl came on season because she can still build nicely into the 2022 Million Dollar Chase – back in its regular September slot.
COVID prevented the 520m event from going ahead last year.
"She's not a bitch you can spell. You'd like to give her a bit of a let-up, but this one was a bit of an enforced spell," Mills said.
"She tries to tear the door down at times.
"She's just a worker. The timing's been beautiful."
What is scary for her rivals – along with her freakish natural ability and work ethic – is the fact that She's A Pearl has not yet picked up a long-term injury.
"She's faultless. Week in and week out she's just unbelievable," Mills said.
"She hasn't done much and she hasn't been knocked around – that's the main thing.
"She's had no bad injuries. And there's no reason why she couldn't go a bit better.
"She definitely won't go backwards.
"It could be her year – so far it is. We've also got the nationals here on her home track.
"There's no doubt how good Wow She's Fast is. But when you're on your home turf it's another ball game."
It is no secret how hard greyhound trainers work and how much sleep they need to sacrifice to continue overseeing winners.
But Mills believes all the sacrifices the Lord team has made are all worth it for the remarkable bitch they have the pleasure of mentoring.
"It's just a pleasure to have her. When it gets cold at home she makes it easier for us," he said.
"We get home between 2 and 3am, and we're back up at 5.30am.
"But I think those big wins get you through. You've got to run on something.
"It's surprising how much you can do when you've got adrenaline running through you."
A lack of sleep can affect anyone, but this is the unprecedented scenario which motivates Mills everyday – She's A Pearl is on track to record two MDC victories and a Golden Easter Egg crown in 2022.
"She's created history and there could be more history to come," he said.
"I can't see why not. And the boxes don't worry her – it's not like she has to draw this box or that box.
"She's one in a lifetime.
"She's freakish, really. I've been in greyhounds all my life, and these ones don't come along very often."
Meanwhile, Mills said he was happy with Coast Model and Bandit Ned.
Three-year-old Bandit Ned is in good form after enjoying two months, winning two of his three starts since his spell.
His best time of 29.73 seconds over 520m came second-up at Wentworth Park on June 8.
Fellow three-year-old Coast Model won in a time of 29.84 seconds over the same distance and venue on Saturday night.
"(Bandit Ned) just likes to be drawn off the track. He likes a bit of room. He's going all right," Mills said.
"We're thinking of giving him a bit more distance.
"(Coast Model) is a good bitch. She needs to get on the arm, but she's been mixing it with the best.
"We'll probably just keep her at Wenty, and hopefully another crack at the MDC."