Shima Sun sets Hobart alight with near record performance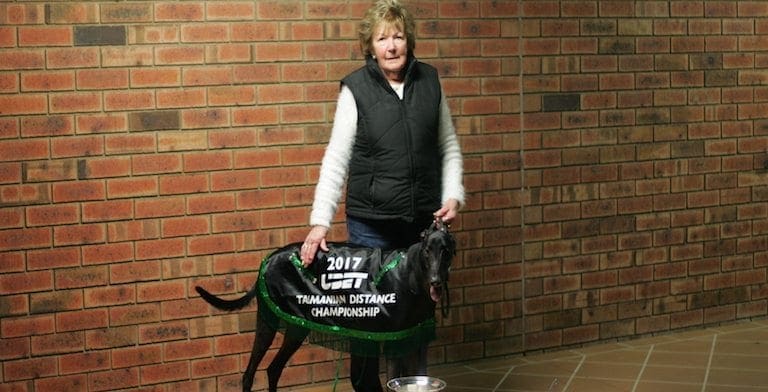 AFTER stamping himself as one of the most consistent middle distance greyhounds in the state, Tasmanian Shima Sun (Barcia Bale x Shimaguni Feb '15) will drop back in trip to contest the Group 1 Hobart Thousand (461m) later this month.
The Margaret Rossendell-trained greyhound has been airborne in recent weeks, his latest win being a near record 34.07 over the 599m distance at Hobart last Thursday.
The Richmond-based trainer told Australian Racing Greyhound she is extremely pleased with her kennel star's recent form – having now won 13 of his 35 starts with 11 minor placings.
"I am very happy with him – he is racing really well and you can't ask for much more than what he is doing," she said.
"He is one of the rare few greyhounds which can stay and sprint – I always think that's the sign of a real good dog."
Remarkably, Shima Sun has only missed the placings twice in 11 starts since returning from Albion Park in August where he finished down the track in the National Distance Championship (710m) won by Fanta Bale.
Even though he had no luck in the group 1 feature, Rossendell said she was 'extremely proud' of her chaser's effort.
"Unfortunately he travelled really bad – he didn't settle in at all," she explained.
"He trialled over the 520 at Albion Park on the Monday before the final and he went really well, but he was sick in the car on the way there – he just didn't handle the trip away.
"I think he was definitely glad to be home – he is a real homebody, he just loves his own kennel and his own environment and that shows in how he has been racing."
Although he is racing well over the middle distance, Rossendell said 'Jack' deserves a crack at the Group 1 Hobart Thousand, the most prestigious race in Tasmania, which is worth $75,000 to the winner.
"I am not going into it thinking he is a big chance of winning the final – there will no doubt be some very good dogs going for it – but you never know," she said.
"I won a Hobart Thousand with an outsider before and he was the youngest dog in the field. As we were going to the boxes I heard a man asking the bloke next to him who he thought would win.
"He turned around and said 'the only one which can't win is the one' and that dog happened to be Bacchant – my dog – and he came out and proved him wrong.
"If you're not in it you can't win it."
There is also a sentimental reason Rossendell hopes her charge runs well over the next few weeks, in memory of his late owner.
"Unfortunately his owner Rob Stanton passed away seven and a half months ago.
"His wife Sharon owns him now and she is lovely – the perfect owner – so I would love to see him do well for her because she has taken a real interest in the dog now that Rob's not around anymore.
"It's very sad that Rob isn't around to see him racing so well, but I have no doubt he is up there somewhere still cheering him on."
More Greyhounds News