Thirty Talks unlikely to head towards Group 1 Hobart Thousand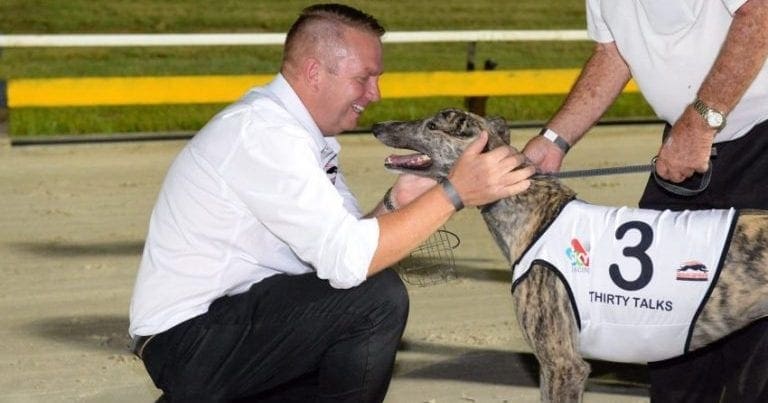 TONY Brett says multiple group winner Thirty Talks (Where's Pedro x Unfinished Jun '14) is unlikely to contest the Group 1 Hobart Thousand (461m) later this month.
The Queensland conditioner had the Apple Isle's most lucrative feature in mind for the brindle powerhouse, however his preparation was interrupted when he injured a pin muscle prior to the heats of the Group 1 Melbourne Cup (515m) at Sandown Park.
While Brett said he hasn't made an official decision yet, he admitted the Hobart Thousand has probably come up a few weeks too soon for his star greyhound, a winner of 29 from 48.
"He had a hand-slip at Ipswich on Thursday over 350m and he went enormous," Brett told Australian Racing Greyhound.
"It is crunch time now. If he were to go for the Thousand he probably needs to go to Hobart this week for a trial, but it's a matter of deciding whether or not to push him or perhaps letting this one go and waiting for the next one.
"If he goes down I'll head down this week and trial him on Thursday night in between races, but I haven't decided yet – I have until early in the week to make the final call."

Brett said the Warragul Cup just after New Years would instead be the likely target for Thirty Talks, the winner of the 2016 Group 1 Brisbane Cup, the 2016 Group 2 Ipswich Cup, the 2017 Group 2 Geelong Cup and the 2016 Group 3 Richmond Riches.
"The Warragul Cup is in early January and that is much easier for me – where I stay is only 20 minutes from the track and it is probably a better timeframe as it would allow him to have a run up here before then."
Brett mentioned Gold Coast Cup winner Opal Nera (Dyna Tron x Black Sambuca May '15) is also likely to be back on track in time for the Warragul Cup after injuring his gluteal in his heat of the Melbourne Cup.
"He is out for about another three weeks as well, but he has already trialled there and all going well he should be back in time.
"It would be nice to take the two of them down for that because they know the place and it's always better going down with two chances."
More Greyhounds News