Wynburn Cutie to target middle distance campaign…but not yet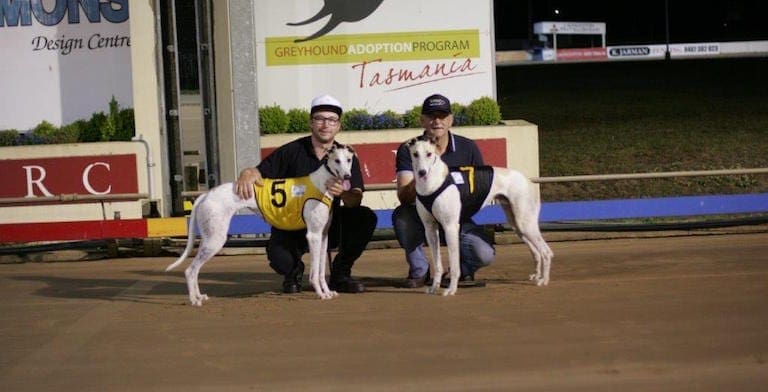 WYNBURN Cutie (Destini Fireball x Miss Hetti Dec '15) is likely to drop back in distance for a crack at next month's Group 1 Hobart Thousand (461m) after making a brilliant debut over the middle distance at Hobart on Thursday night.
Owned and trained at Wynyard by Ben Englund and his father Tom, Wynburn Cutie stepped up to the 599m trip just three days after winning the $7,485 Gold Collar (515m) at Launceston.
Drawn well in box eight, Wynburn Cutie was able to muster pace before taking up the lead down the back. Once out in front it was a case of times and margins, charging to the line to win by 10.5 lengths in a near record 34.14.
Englund said he went into the race confident his bonny bitch would handle the rise in distance despite the short back up.
"It was a huge run on Thursday night to only just miss the track record after a pretty tough run on Monday," Englund told Australian Racing Greyhound.
"I thought she'd run well though. I took her down to the beach last Tuesday and she had a good splash around in the water and by the Wednesday she was bouncing out of her skin.
"It was a short back up, but we looked after her and she performed really well."

Wynburn Cutie has now won 13 of her 16 starts and more than $30,000 in prize money. Despite her stunning debut over the middle distance last week, Englund said he won't be tempted to target the Group 1 Sale Cup (650m) over Christmas, instead focusing on feature success closer to home.
"We might let her have a go at the Hobart Thousand and keep her home until the end of the year," Englund said.
"In the new year we might look at heading to Victoria and doing something with her over the middle distance, but we aren't in too much of a rush, she is still very young.
"We think the best is still to come with her – she is bred to stay. Whether or not she can sustain the high speed for the full 700 remains to be seen, but it is something we are keen to test out down the track."
Although she has been known for her barnstorming finishes throughout the majority of her career, Wynburn Cutie has showed good pace to lead her past two starts – something she will have to reproduce to beat the best in Australia when they come across for the Hobart Thousand.
"She is starting to learn a little bit and she is now showing that she can begin well on her night – it's something which has come from experience and she isn't two yet so hopefully there is still a bit more to come," Englund said.
"She will need a bit of luck in a series like the Hobart Thousand, but if you are in the right place at the right time anything could happen.
"She is handling her racing really well at the moment – we couldn't be happier with her."