Hallinan happy to be in Bold Trease with outsider Zipping Lady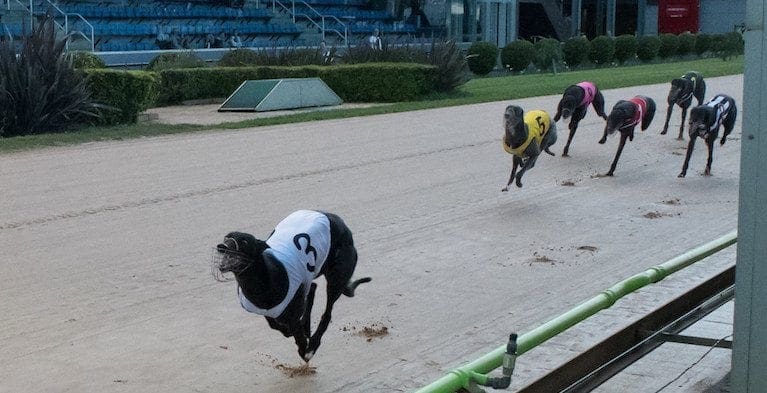 ZIPPING Lady (Barcia Bale x Scarlett Girl Jan '15) will be out to cause the upset of the year when she lines up in next Friday's Group 1 Bold Trease (715m) at Sandown Park.
Trained by Marty Hallinan, Zipping Lady was sent to the traps as the $43 outsider in her heat from box five, but the blue bitch defied critics to to finish second, 4.3 lengths behind champion bitch Fanta Bale (David Bale x Ucme Typhoon Aug '14) in 41.78.
The run was enough to book her a spot in the $100,000 to the winner final.
"Someone told me Fanta Bale was going towards the Melbourne Cup and with Burn One Down retired I thought I had to have a crack at it," Hallinan told Australian Racing Greyhound.
"When the box draw came out and I saw Fanta Bale in her heat I knew she probably couldn't win it, but I didn't want to scratch her because she has been going good, even though she had only had three 600s in the weeks leading up to the heats.
"I was thrilled with her run. I thought she was gone on the home turn because she had Jaimandy Hatty and Cadalora swooping down on her, but she hung on and I was very proud of her."
"The darling of #GreyhoundRacing Fanta Bale (3) is breathtaking again" Race caller @Mjackson_racing in heat two of the Bold Trease @sandowndogs pic.twitter.com/Mpa1SCzjjL

— Greyhound Racing Vic (@GRV_News) November 17, 2017
A winner of 15 races and $62,000 in prize money, Zipping Lady has been trained throughout the majority of her career by Tooradin conditioner Stanley Ralph.
She went back to Hallinan, who owns and bred the blue bitch, in August to have a couple of runs before being retired to the breeding barn.
"Stan sent her back and said she probably only had six runs left in her, so I am just happy with each run and I am taking it week to week with her.
"She has been a very handy bitch and it's just nice to see her get into a final like this."

Hallinan is under no illusion just how hard the final will be to win. Fanta Bale is likely to start favourite, with Rockoon (Peter Rocket x Raya Riot Jun '15) also a leading chance after debuting over 700 with a strong 41.92 heat win over Packey Keeping (Bekim Bale x Kim Keeping May '15).
The other heats were won by Ebby Ripper (Sh Avatar x Ebby Miss Feb '15) in 41.89 and Champagne Sally (Barcia Bale x Bizarre Barbie Apr '15) in 41.96.
"I am happy to be in it. I am not saying I am a chance of winning because it's a top field with Fanta Bale and the likes of Rockoon in there, but I am proud of her run and just happy to be there," he said.
Hallinan was hoping to draw inside Fanta Bale and his wishes were fulfilled, with Zipping Lady starting from box one and Fanta Bale set to exit trap three.
"I can't expect her to be able to beat her – Fanta Bale is a champion – any dog which can get close to a million is.
"She's probably a bit out graded, but we are thrilled to be there and we will be giving it a good crack."
The Group 1 Bold Trease will be run at Sandown Park on Friday night with winning connections pocketing $100,000.
For a full recap of the heats click here.
2017 Group 1 Bold Trease box draw
1. Zipping Lady
2. Ebby Ripper
3. Fanta Bale
4. Packey Keeping
5. Champagne Sally
6. Moment To Jive
7. Rockoon
8. Petunia Monelli
Reserves
9. Destroyer
10. Teddy Monelli