Slingshot Reaper keeps the good times rolling at Healesville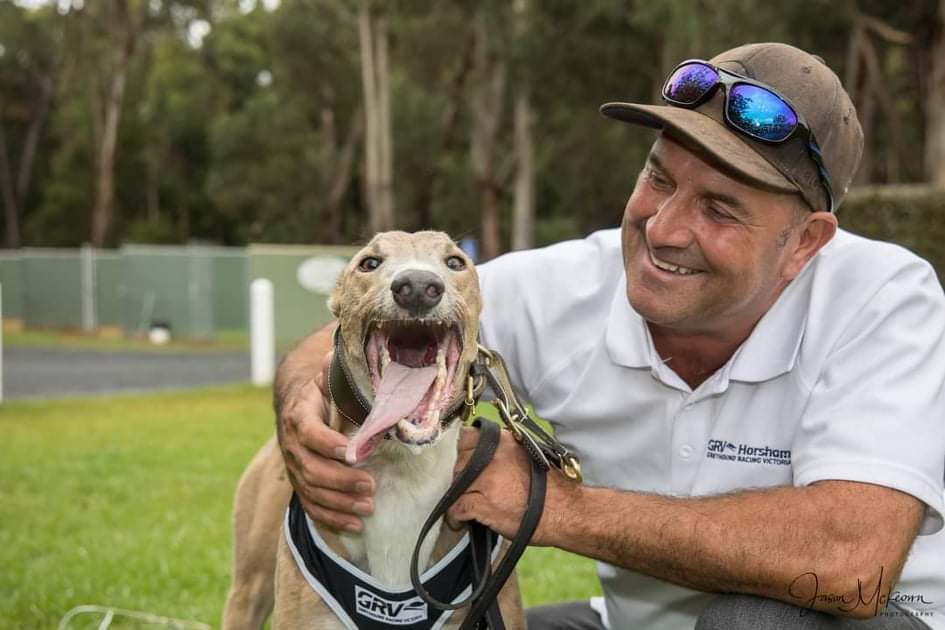 It is very rare in this day and age for a greyhound to win six races on the bounce, but that is exactly what Slingshot Reaper achieved on Sunday at Healesville.
Trained by Brett Hare and his partner Claire Allen, the brindle and white veteran won again at the weekend by a nose, making it a tough watch for the punters who took the $1.30 quote.
Out of Unlawful Entry x Paw SA Prize, the dog affectionately known as 'Fuzzy' has now won 27 times from 86 starts.
His six wins in a row have consisted of both Veterans and Free For All races, so the four-year-old is consistently mixing it with the best straight dogs in the state.
His proud trainer – who has just the one greyhound at Greendale alongside his six pups – said although "hypo", the dog was a delight to be involved with.
"I work full time and I am really just a hobby trainer, so it's great to have a dog like this," Hare said.
Slingshot Reaper sustained a serious injury during 2021, where he split his webbing and dislocated a toe, but that has only made the 30kg sprinter stronger.
"We thought his toe would have to be removed at first," Hare said.
"We have only had him for 12 months and he has been a bloody good dog for us really.
"Claire is probably number one with the training, she helps me a lot and makes sure they are rugged accordingly even when the heater is on.
"But I must admit it was a tough six weeks for us when Fuzzy was spelling with the injury because he is hypo and he doesn't like sitting around in the kennel all day because he goes insane."
The dedicated pair are more than happy having their small team, and while Fuzzy is continuing his winning ways, it's Healesville all of the way.
Slingshot Reaper has started at Healesville 26 times for 13 victories, winning both over the 300m and the 350m distances.
"He is probably better suited to the 300m distance," Hare said.
"I was contemplating giving him this Sunday off, but I'm not sure yet. We just really enjoy going to Healesville and so does the dog. It's one hour, 45 (minutes) away and he just loves the place.
"He runs down the middle of the track mostly but really he is ideally drawn in box one, but he has only had that box five times from 86 starts."
Slingshot Reaper is part of a very successful litter with Slingshot Titan winning more than $61,000 in prizemoney, which includes 30 wins.
Similar Greyhound Racing News