Surgeon Takes The Hatchet To Greyhound Racing's Credibility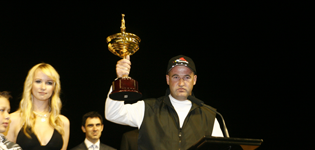 The 2008 Group 1 Melbourne Cup, Australias' richest and most prized feature greyhound race; was plunged in to farcical scenes last night as Surgeon claimed Darren McDonald's third Melbourne Cup but in doing so put on one of the worst displays of failing to chase ever seen in major greyhound race in Australia.
Surgeon's very public gaffe was matched and surpassed only minutes later by an incredible outburst from registered trainers and defacto husband and wife team Seona Hood and Jason Thompson.
In a vitriolic tirade of aggressive behaviour and "pub" language directed toward winning trainer Darren McDonald, that was clearly audible and visible to many in the vicinty; it is alleged Thompson used the f*** word many times to describe McDonald, his greyhound and the GRV Stewards decision to allow Surgeon to run.
It is one thing for one of our most high profile greyhounds to embarass himself in public, but completely another when our most high profile trainers do the same.

Sources close to the action last night have told Australian Racing Greyhound that Jason Thompson's ludicrous spray didn't end with Darren McDonald either. In a repeat of his outburst towward GRV CEO John Stephens at the Warrnambool Cup eariler this year; Thompson is alleged to have stormed toward Stephens again to continue his very public "blow-up".
Those that saw the scene play out allege that GRV CEO John Stephens stopped the pouting Thompson in his tracks when he abruptly told the multiple Group winning trainer to "Grow Up" and dismissed him instantly.
MacDonald was circumspect in his analysis of the race, "Under the circumstances it is maybe not the best but at the end of the day he was the first dog across the line so he wins the race."
The $175,000 first prize took Surgeon's career prizemoney to $212,250 and was his 13th win from 18 starts.
Jason Thompson took home $75,000 after his two finalists, Hanify's Impact and Nitro Burst ran second and third.
Much of Jason Thompson and Seona Hood's outburst centred around the fact that in their opinion Surgeon should have received a "ticket" for failing to chase the week prior on the heats. You can judge for yourself by watching Surgeon's 30.09 Melbourne Cup Heat win.
After last weeks heat win, GRV Stewards required Surgeon to be vetted following the race and Dr Steve Karamatic, the club's veterinary surgeon reported that the greyhound sustained soreness to its left wrist and lower back. Dr Karamatic recommended GRV Stewards stand Surgeon down from competing for 3 days, which still allowed him to compete in the Melbourne Cup Final. GRV Stewards chose to accept the Vet's recommendations and merely issued a warning to Darren McDonald regarding the greyhound's racing manners on the home turn.
However, after Surgeon's blatant failure to chase in the Melbourne Cup Final, GRV Stewards had no choice but to charge Surgeon with marring (causing unnecessary interference to) Hanify's Impact and consquently suspended Surgeon for 28 days at Sandown Park.
GRV Stewards also directed that Surgeon perform a Satisfactory Trial before any future nomination will be accepted.
Additionally, due to the antics of Jason Thompson and Seona Hood after the race, GRV Stewards were required to " remind licensed person Miss.S.Hood of her responsibilities regarding her comments behind the boxes at the conclusion of the event" and they initially "issued a warning to Trainer J Thompson regarding his comments and conduct behind the boxes at the conclusion of the event".
However, upon reflection and after taking further evidence from trainers Jason Thompson and Darren McDonald, GRV Stewards hastily convened, and adjourned to a date to be fixed; an inquiry in to alleged incidents in the kennel block area at the conclusion of races 8 and 9.
It is not known at this stage whether GRV CEO John Stephens has asked GRV Stewards to also investigate Thompson's alleged outburst toward him.
The notice of a further inquiry will not sit well with Thompson who is currently waiting to have an inquiry heard in to El Galo's positive swab from the Group 1 Topgun, an inquiry which will almost certainly see both he and El Galo lose the $100,000 to the winner race through disqualification.
Ironically, Thompson himself was faced with the same predicament as McDonald just one race later when the Jason Thompson trained Proven Chayse fought Gable Express, trained by Darren Fisher, off the track on the home corner. GRV Stewards were quick to charge Proven Chayse with marring and suspended the greyhound for 28 days at Sandown Park and directed the greyhound perform a satisfactory trial prior to racing again.
And for anyone who beleives in karma, the winner of that same race was Darren McDonald and his greyhound Cold Cold Change.
Similar Greyhound Racing News