Today in greyhound racing time: Graeme Bate dominates 2012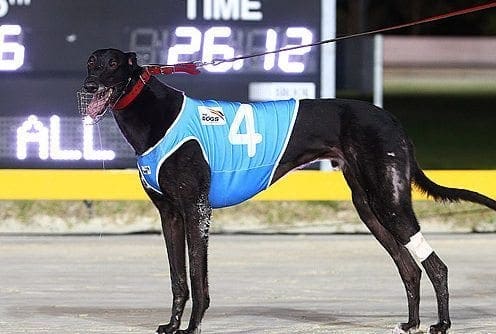 2016
The NSW greyhound industry was shocked to find a trainer had been found to have used a cattle prod on a greyhound in the starting boxes and called on the person to be named and shamed. The culprit was later found to be Robert Newstead who was referred to police and received a 15 month disqualification from GRNSW.
2014
Gun McBain wins the SA Champion Puppy final at Angle Park in 30.03 for trainer Todd Kelly.
The sister of champion Miata, Starlight Delly proves the her worth as a brood bitch with her progeny filling all the placings of the Winter Maiden Classic final at Cannington.
2013
GRSA begin to unveil the roadmap of $1.5M of infrastructure upgrades that flow on from the 2012 South Australian greyhound racing strategic plan.
2012
Undefeated Barcia Bale was all the rage to win the G1 Maturity Classic final for now disgraced greyhound trainer Graeme Bate
40 of Queensland's best greyhounds nominate for the state natonal sprint and distance heats including Cakes And Pies and Glen Gallon
Duncan Stearn compares Barcia Bale to one of the greats of Victorian greyhound racing in Satan's Legend.
The NSW Greyhounds As Pets (GAP) program is officially recognised by the NSW government as the states first greyhound re-training program
GRSA receive 48 nominations for the state national sprint and distance heats with the national final to be held in Tasmania.
NSW greyhound trainer Domenico Lauricello receives a four month band for a positive to NSAID Carprofen from an Appin maiden race.
Victorian nominations close for the state national sprint and distance heats with 49 dogs in calculations including David Bale, Don't Knocka Him and Fabregas.
Irma Bale continues the extraordinary run of top class greyhounds for Graeme Bate and Paul Wheeler starting hot favourite for the AWM Distance Championship at The Meadows
2010
Hopes and dreams go on the line at The Gardens with the G3 Laurie Healion Memorial maiden heats with Winsome Gun and Winsome Shiraz engaged.
2009
New Zealand greyhound racing struggles announcing an across the board five percent reduction in prize money for the coming racing season.
Iron dog Trew Millions finally wins his group race taking home the G1 Winter Carnival Cup from Albion Park
Australian Racing Greyhound pokes a bit of fun at the growing trend of steward's inquiries to refer only to "incidents" without detailing the actual issues.
It was back in 2009 when the current trend of bookmakers taking naming rights at tracks was started by Tabcorp in harness racing. ARG wondered if it might have been the answer for the embattled Gardens greyhounds and the NSW NCA. Well as it turned out the NCA didn't survive and its not Tabcorp's name on the track, it's Ladbrokes.