Today in greyhound racing: Locals control Darwin, Headley flying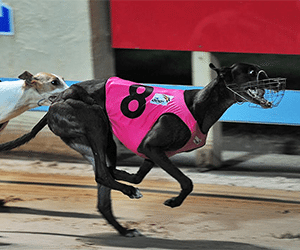 2016
Northern Territory greyhounds were to the fore in the heats of the Group 3 Darwin Cup.
John Cauchi, the only man in Australia to have ever been jailed for 18 months for killing a rabbit is disqualified for life by GRNSW
2014
Bruce Teague deliberates over the changing wagering landscape, the influence of online bookmakers, and wonders where its all heading?
Dimity Maher takes a brief look at the semi finalists on the Group 3 Laurie Healion Memorial from The Gardens.
The background and history of the Group 1 Maturity Classic
2013
Bruce Teague puts the lack of leadership from the national greyhound body Greyhounds Australasia in his sights and doesn't miss.
Young trainer Beau Headley was making headlines training his uncle's "Avondale" line of greyhounds.
Mark Gatt's "Ritza" greyhounds dominated the Group 3 Laurie Healion Memorial heats with Ritza Hattie the star performer.
Tasmanian greyhound She's All Class made it nine wins in a row winning the JG Nelson Cup final at Launceston.
2012
Goulburn greyhounds is less than a week from staging its first ever TAB greyhound meeting at the upgraded track and facilities.
Seventeen nominations are taken for the Victorian state national distance championships heats to be held at The Meadows including Irma Bale and Czar.
Liz and Ossie Chegia's running battle with GRSA officialdom continues with Ossie outed over misconduct charges.
2011
Queensland unveils its nominations for the national sprint and distance championships heats including Dashing Corsair, Bogie King and Mr Metz.
GRNSW announce the nominations for their state national sprint and distance championships heats with greyhound to run including Oaks Road, He Knows Uno and Beer Assassin.
Kilty Lad emerges as the one they all have to beat in the Group 1 Maturity Classic.
Bruce Teague takes a look at jackpots and exotics pools and the misreporting of dividends since the introduction of "flexi" betting.
2010
Litter brothers Kenstrelle and Hayden's Run provide Barry and Mavis Wilkinson with a winning double at Casino greys.
2009
Australian racing Greyhound take a look at GRV's announcement of a $1.1M increase in prize money and wonder where the priorities lie for Victoria's lead greyhound authority?
The Neil Falls trained Maxie's Chariot was the fastest dog of the night at the Casino greyhound meeting.