TopBetta to soon have live greyhound racing vision from UK
AUSTRALIANS will soon have much better access to United Kingdom and Ireland greyhound racing.
The Global Tote, a subsidiary of Australian bookmaker Topbetta, has announced a deal which will see it be a key plank in the international distribution of UK and Irish greyhound vision and audio.
The green light was given to make The Global Tote available to Australian citizens earlier this week, after the Northern Territory Racing Commission approved a revised deal between Topbetta and TGT.
TGT secured the non-exclusive audio visual deal with Sports Information Services and with approximately 28,000 greyhound races held annually in the UK, it is a huge win for the Alderney licensed company.
"It's a significant deal for all stakeholders; firstly that TGT can distribute both live vision and the The Global Tote odds service to bookmakers to, in turn, offer their punters access to more content, as well as competitive pricing," TopBetta CEO Todd Buckingham said.
"Importantly for all parties, this is TGT's commercial model for how to monetise racing content into new jurisdictions – live content with a no-risk betting engine that generates revenue for race clubs, bookmakers and TGT – and at the same time gives punters the best value product in the world.
"TGT intends to apply this model across as many bookmaker channels around the world as it can, and will continue to work with bodies from all racing codes that would like to gain access to global markets."
TGT has also reached a deal with UK and Irish racing data distributor, The Press Association, which will see them create pools on races held at 50 tracks, and 10,000 races annually, and distribute the relevant content via an online portal made available to its partners and customers.
"UK racing is at an important phase in its life cycle and attracting global revenues from its content will be an important part in its future," Buckingham said.
"The Global Tote intends to help monetise UK Racing's content through this deal by delivering a product that will be the most competitive pricing product in world racing."
TopBetta has also reached an agreement with The Press Associaton which will give Australians access to form and racing replays that have not previously been legally available.
Exclusive Golden Easter Egg free tournament at TopBetta
AustralianRacingGreyhound.com readers have an opportunity to win free entry into a TopBetta punting tournament, worth $2,000 – Named the Monday Funday, to be held on Easter Monday.
To win an entry into the big dance you must beat out fellow ARG readers in a betting tournament featuring all races at the Golden Easter Egg meeting on Saturday night.
TopBetta tournaments begin with every entrant receiving 1,000 BettaBucks and placing wagers in advance, or throughout the night.
At the end of the Wentworth Park meeting the person who has made the most BettaBucks will win the free entry into the Easter Monday Funday tournament.
To secure your place in the tournament follow this link or click the image below. You can learn more about PlayUp right here.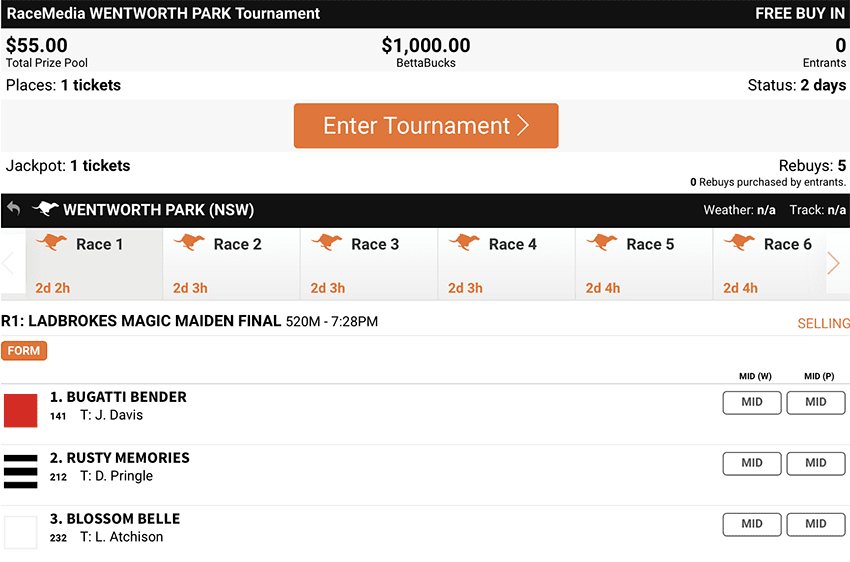 Similar Greyhound Racing News