Fisher aiming to reel in McKenna upset with Cheese Ya Later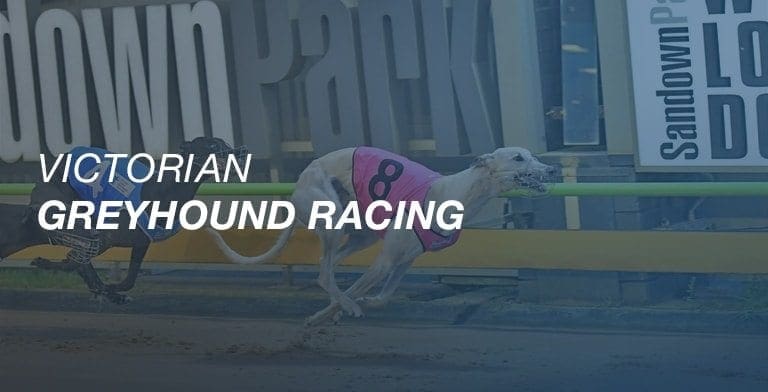 DESPITE being a $21 outsider, Lara trainer Darren Fisher gives his chaser Cheese Ya Later (Barcia Bale x Body Trim Jan '14) a genuine chance of causing an upset in Thursday's Group 2 McKenna Memorial (595m) at Sandown Park.
The blue dog caused a similar upset in his heat last week, stalking the pace throughout the majority of the race before finishing strongly to score by 0.75 lengths in 34.51 at 20/1.
Fisher says he is hopeful his middle distance greyhound can produce a similar performance this week against a stellar field including Fanta Bale (David Bale x Ucme Typhoon Aug '14) in box three, Bella Shima (Barcia Bale x Shimaguni Feb '15) in box four and Dundee Osprey (Fabregas x Zipping Rose Dec '13).
"He went well there the week before his heat, he only got beaten around three quarters of a length so I thought he was a genuine chance of running in the first two or three in his heat if he got out well," Fisher told Australian Racing Greyhound.
"It looked like the weakest heat on paper, but there were still some good dogs in there so to win it was definitely an impressive performance by the dog."
Cheese Ya Later has now won two of his five starts since joining Fisher's kennel in early June. He is owned by Montana Euvrard and was bred and formerly trained of Graham Euvrard from Donald.
"I've only had him for about six weeks. Graham had him before that and there was a lot of driving involved for him – it was five hours to Sandown and four hours to The Meadows," Fisher explained.
"I asked him about four months ago whether he was interested in sending him to me at Lara where I am more central to the tracks, but at the time he wasn't.
"A couple of months later he rang and asked me if I was still interested in taking him which I was because the dog has always shown plenty of ability."

A winner of nine from 44 with 18 minor placings, it is now or never for the consistent greyhound which is three and a half years of age.
Despite being one of the oldest greyhounds in the $40,000 to the winner final, Fisher says drawing box two brings his charge into contention for the feature.
"He is three and a half so he is an older dog in a group 2 final up against some very good dogs.
"But I couldn't be happier being drawn down near the fence. With the new hoop arm lure a lot of the dogs run in the middle of the track to follow it – but he still seems to rail and wants to go underneath dogs."
Three heats were run of the McKenna Memorial last Thursday night. The remaining two were taken out by Fanta Bale and Bella Shima in 34.45 and 34.07 respectively.
Despite going four tenths off the best of the night, Fanta Bale remains the favourite with bookmakers off box three – searching for the sixth group success of her career.
Meanwhile, Bella Shima is the new kid on the block, having won four in a row and two from two since stepping up over the middle distance for trainer Brooke Ennis.
Also one to consider in the final is Midnight Elsa (Shakey Jakey x Midnight News Jan '15) which ran third in her heat behind Fanta Bale, but has stamped herself as a star stayer of the future by winning six of her 11 starts to date.
Fisher says the 'big three' – Fanta Bale, Dundee Osprey and Bella Shima – are naturally the greyhounds to beat in the group 2 feature.
"Dundee Osprey is well drawn and he will be looking to swoop around them if there is any trouble and they jam up on the inside – I think a lot of people are underestimating him.
"But naturally Bella Shima would have to be the one to beat. She was five lengths quicker than anything else in her heat last week so if she gets anywhere near the lead you'd expect she'll just win.
"I'd like to see him running second or third going past the 500m boxes – if he can do that I think he'll be a real live chance. If he is any further back than that I think he'll find it very hard to run them down because there are some very good dogs in the race."
The Group 2 McKenna Memorial is race six at Sandown Park this Thursday night and is set to jump at 7.52pm.
Tips: 4. Bella Shima, 3. Fanta Bale, 7. Dundee Osprey, 2. Cheese Ya Later.
More greyhound news