Former Victorian sets out to win Topgun Stayers for New Zealand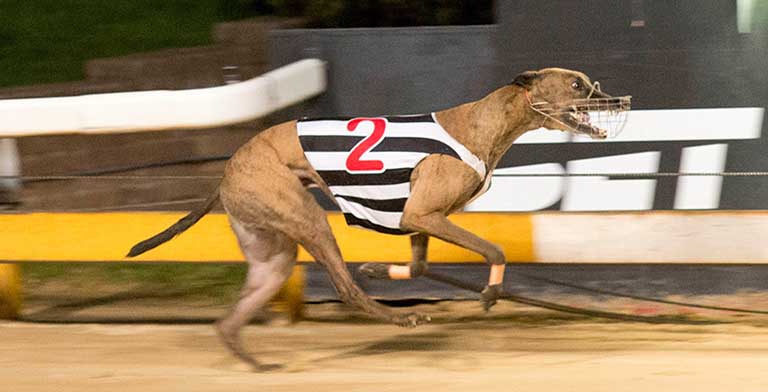 FORMER Victorian Ring The Bell (Kinloch Brae x Absolute Stunna Nov '13) will make the flight back to his old home on Monday in preparation for Saturday's Group 2 Topgun Stayers (725m) at The Meadows.
The brindle dog, which has been trained by Ray Adcock in New Zealand since June after winning the Group 1 Duke Of Edinburgh Silver Collar, will return to his old kennel at former trainer Gerry O'Keeffe's property located at Neerim Junction.
An $8.50 chance with Bet365, Ring The Bell has drawn box three in the invitation-only race, up against champion stayers Fanta Bale (David Bale x Ucme Typhoon Aug '14) and Burn One Down (Buck Fever x Fancy Jaffa Jan '14) which have drawn boxes five and six respectively.
O'Keeffe said despite the powerhouse performer being almost four years of age, he couldn't be going better heading into the $75,000 to the winner final.
"Taking on dogs such as Fanta Bale and Burn One Down is always a big ask, but he has won 12 out of his past 14 starts in New Zealand so he is in great form ahead of Saturday night," O'Keeffe told Australian Racing Greyhound.
"It's not every day you get invited to take part in these races, so we figured why not have a throw at the stumps."
Ring The Bell is the winner of 32 races from 78 starts with 26 placings, his prize money earnings in excess of $370,000.
Prior to venturing to New Zealand, he proved himself to be one of the most consistent stayers in Australia in the care of O'Keeffe, winning the 2016 Group 1 National Distance Championship, the Group 3 Summer Cup, the Listed Super Stayers and Destini Fireball Stayers as well as qualifying for another seven group finals.
O'Keeffe said Ring The Bell won't be worried by the journey back to Australia and expects him to settle in well ahead of the feature race.
"He is a wonderful old gentleman," O'Keeffe said.
"He is a great old dog – he is very relaxed and nothing phases him.
"He has got his old kennel back where he lived for the first two years of his racing life and he has been around The Meadows heaps of times."

O'Keeffe says Ring The Bell is suited by an inside box and expects him to race well on Saturday night, although he insists there is no pressure on him to win.
"The closer to the fence the better for him and if the luck goes our way he has a chance.
"I'd love to be sitting a length or two behind Fanta running through the catching pen with ¾ of a lap to go – if that's the case he is going to be right in it.
"No matter what he does this week we are still proud of him – anything this dog does is just a bonus for us."
Meanwhile, Rob Britton says Fanta Bale is feeling good ahead of the race, with a victory set to take her prize money earnings beyond $1 million.
"There is still a week to go, but I couldn't be happier with her," Britton said.
"Box rise is going to be very important this week. She has to lead to beat this crew – but she has been coming out really well so I just hope she can do it one more time."
Fanta Bale is flying coming into the series – winning the Group 1 National Distance Championship, the Group 3 Topcat Video Cup and the Group 3 Sydney Cup within her past six starts.
However, Britton concedes she is no sure thing, with the gruelling distance campaign starting to impact on her late in her races.
"It's going to be a tough ask for her. At her last few runs they have been closing in on her late in the race. She has been racing over the distance for a long time now and although she is a seasoned stayer, when they are out in front it takes a lot out of them.
"I'm very pleased she has had a week off between winning the Sydney Cup and going into the Topgun Stayers – it has given us some breathing space and the chance to freshen her up again.
"Hopefully she gets a big enough break to hold on again this week."
The Group 2 Topgun Stayers will be run at The Meadows on Saturday night, with winning connections pocketing $75,000.
2017 Group 2 Topgun Stayers box draw
1 – Teddy Monelli
2 – Ramifications
3 – Ring The Bell
4 – Bogie Bekim
5 – Fanta Bale
6 – Burn One Down
7 – Billy's Bake
8 – Ebby Ripper
Reserves
9 – Cadalora
10 – Moment To Jive
More greyhound news