Fred Booth Inducted To Hall Of Fame
Greyhound Racing Victoria (GRV) tonight launched its Victorian Greyhound Racing Hall of Fame at Sandown Greyhound Racing Club.
Fred Booth has tonight been announced as one of the inaugural 36 inductees in to the Victorian Greyhound Racing Hall Of Fame.
Hall Of Fame Inductee : Fred Booth (Studmaster)
Born on June 22, 1914, Fred Booth, the son of a miner, was given his first greyhound when he was five years old. It was back in the coursing days when the miners and their greyhounds would board the train at Wonthaggi to race at Dalyston.

He even had a couple of greyhounds while operating the Astor Café in Wonthaggi during the late 1940s and early 1950s.
Booth became a greyhound industry jack-of-all-trades, and a champion for the sport's 'battlers'.
"He held a bookmaker's licence for more than 50 years, that was his living," said his son, Les of Cranbourne.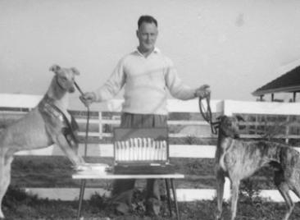 "I was 'on the bag' and he would often tell me, 'I'm keeping you in a job'.
"But all he really wanted to do was help the greyhound man… He didn't care what it cost him."
A foundation committee member of Cranbourne Greyhound Racing Club, Booth spent many hours with stalwarts such as Jack Biddington, Rupert Lee and Colin McCaskill in successfully obtaining a racing licence for the club in the mid-1970s.
He was a Cranbourne GRC committee member for 11 years, including eight years as president.
"He would always say, 'when I think I've got the club heading in the right direction, I'll slip out the back door'. And that's exactly what he did!" Les said.
Residing at Cranbourne for most of his life, Booth was considered the doyen of Victorian studmasters – and a perfectionist with sires – for around 50 years.
"Venetian Court sent him on the journey as a studmaster… He just kept producing – sprinters, stayers and hurdlers," Les said.
"They weren't all top grade dams that Venetian Court bred with, but dad made sure he got as many as he could… He was top sire for three years, and it was normally a race between him and Worthing.
"Venetian Court was 13 when he died and I had never seen dad so upset, it broke him."
Booth also was the studmaster of Black Diro, Half Your Luck, Roman Copy, Prince Of All and Dynamic Dean.
"He assisted other studmasters including Bill Bray (Malawi and Roy Trease), Brian Barnsley (Malawi's Prince), Bob Douglas (Dashing Eagle) and Des Moodie (Bonjase)," Les said.
"I vividly recall Bill Bray saying, 'I've got to get your father out of hospital' so that his sire could serve a brood matron that had been booked into him."
Fred Booth passed away on October 9, 1996, aged 82. However, his induction into the Victorian greyhound racing Hall of Fame has Les excited and emotional.
"I'm very proud of dad's years of service he gave to the sport… I'm proud that I've had a dad so committed to greyhound racing."
Notable Acheivements
Life Membership Australian Studmasters Association
Cranbourne GRC Committee Member 11 years (8 years President)
Victoria's leading studmaster 50 years
The 36 Victorian Greyhound Racing Hall of Fame inductees are in three broad categories:
The Pioneers (8) – recognised by the selection committee as having shaped Greyhound Racing's early days.
The People (15) – includes trainers, breeders, owners, administrators and other prominent personalities.
The Greyhounds (13) – includes achievements on the racetrack and at stud.
The 36 inductees are as follows:
PIONEERS [8]
Noel Banks – Administrator
Byamee – Coursing Greyhound
Silvester Doyle – Administrator
Chris Flint – Administrator
Ray Herbert – Trainer
Roy Maidment – Administrator
John 'Jack' McKenna – Administrator
George Schofield – Administrator

GREYHOUNDS [13]

Bold Trease – Racing Greyhound
Brett Lee – Racing Greyhound
Chariot Supreme – Breeding Greyhound
Cheltenham Lass – Racing Greyhound
China Trip – Racing Greyhound
Head Honcho – Breeding Greyhound
Highly Blessed – Racing Greyhound
Kantarn Bale – Racing Greyhound
Lizrene – Racing Greyhound
Odearo – Racing Greyhound
Rookie Rebel – Racing Greyhound
Temlee – Breeding Greyhound
Wee Sal – Breeding Greyhound

PEOPLE [15]

Graeme Bate – Trainer
Fred Booth – Studmaster
Ned Bryant – Trainer
Ken Carr – Administrator
William 'Bill' Conroy – Administrator
Rod Deakin – Breeder
Jim Gannon – Veterinarian
Henry Harrison – Administrator
Dave Hodgson – Canine Chiropractor
Paul Hogan – Breeder/Trainer
Stan Lake – Administrator
Harold Matthews – Administrator
Ron Nestor – Administrator
Bill Pearson – Media
Margaret Thomas – Administrator
All future Victorian Hall of Fame inductees will be announced at the annual Victorian Greyhound Industry Awards, with a maximum of four inductees in any given year.