Baby Jaycee kept Douglas on toes in impressive Sapphire Crown win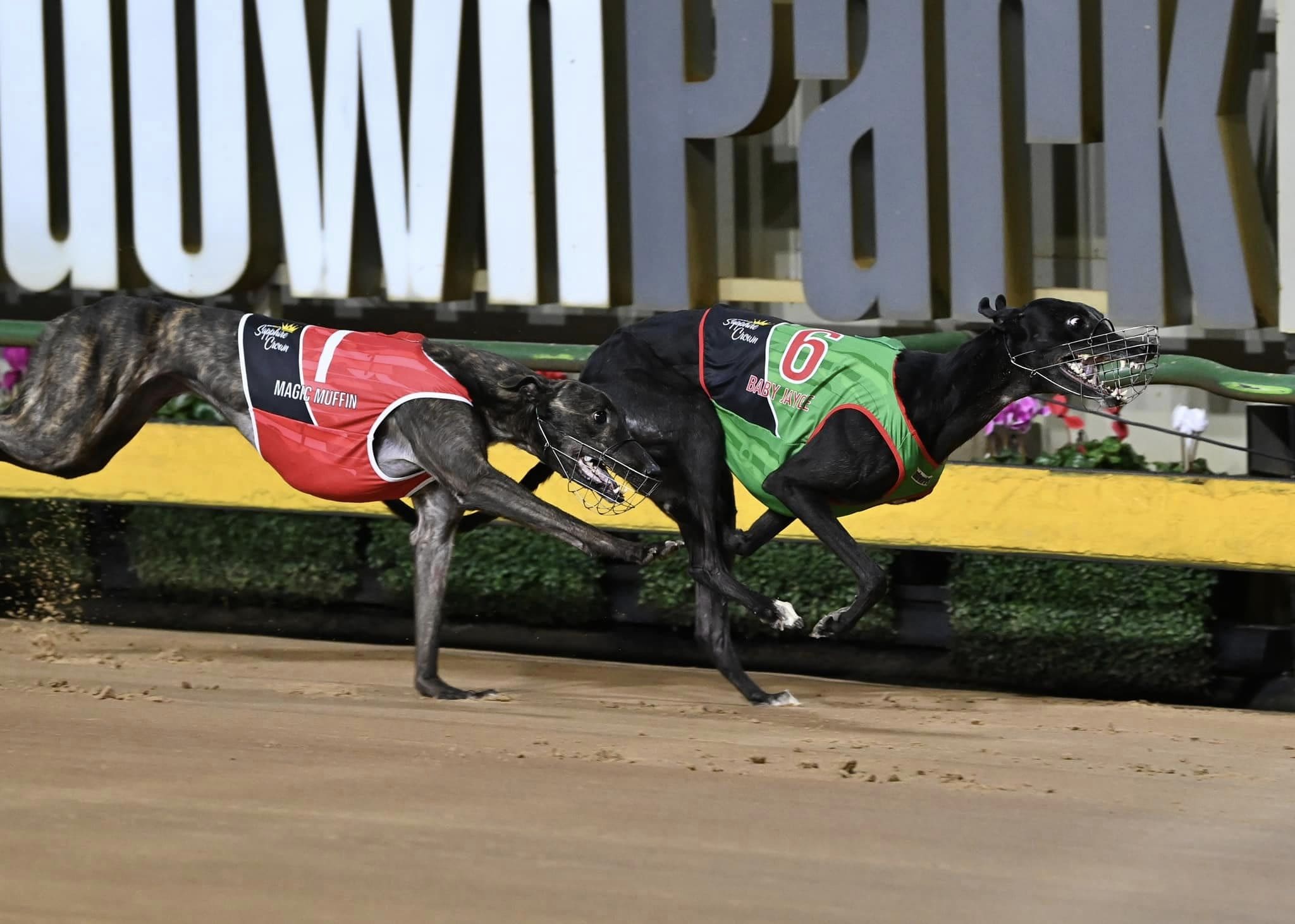 Baby Jaycee is a Group One winner in her own right after taking out the Sapphire Crown final on Thursday night.
Having finished runner up in two G1s, Baby Jaycee lined up at $4.20 with greyhound betting sites in the final after winning her heat by under a length.
Baby Jaycee trainer Bob Douglas said his two-year-old had a spring in her step after winning the $160,500 Sapphire Crown.
"Brilliant!," he laughed.
"I put her out on her own in the gallop yard and she was just ripping and tearing.
"She pulled up sensationally."
From the boxes, three time Group 1 winner and Queen of the track Wow She's Fast speared out to take the lead ahead of Magic Muffin and Lakeview Buff. On the turn the Jackie Greenough trained star got bumped by Magic Muffin before falling to the back of the field injured, but still finishing the race.
Magic Muffin took the lead before Baby Jaycee, riding the rails, came underneath to snatch victory and deliver the Douglas kennel a huge win in a time of 29.7.
"I wrote her off," he admits.
"When Wow She's Fast speared to the front I thought it was all over to be honest with you.
"When they went into that first turn I thought it really was just going to be a procession and we would be lucky to run a place.
"The race changed complexion when Magic Muffin stomped on the toes of Wow She's Fast and our bitch took the run.
"That's greyhound racing though – a race can change so quickly."
As was the case in the heat, Baby Jaycee jumped from the green box, and despite a preference for inside boxes she has learned to perform no matter where she began from.
"She is just the ultimate professional," he said.
"She has learned every run from every box.
"It took her three starts to get her maiden and she was beaten on debut by one of our other pups (Call Me Marley) by 12 lengths.
"When she was in the Australian Cup, even though she was still young then, she wouldn't leave the fence.
"Now she is hooking out to go around dogs, going under them and if she went around the red dog in the Australian Cup she probably would have won."
Baby Jaycee has gone on to only be unplaced twice in her past 22 starts, but Douglas says she will not be travelling to Queensland for the Brisbane Cup.
"We were thinking of going instead for the Flying Amy but we have decided to back off a little now and sit back and see what our options are," Douglas said.
"She is only young and even though with greyhounds you can pencil in races you really only take it as it comes and when those races come you hope that she is sound enough to go into them.
"She probably isn't quick enough with the super elite dogs in terms of sheer ability.
"But she makes up for it in chase and just does not know how to not try."
Magic Muffin ($3.60) finished second, for trainer Paul Bartolo, with the Daniel Gibbons-trained Country Cup Queen Kelsey Bale ($3.60) putting in a huge effort to finish third.
Gibbons said he was very proud of Kelsey Bale's ability to battle on after suffering slight knock in the collision with Wow She's Fast.
"She is a little sore today," he said.
"She also took a big hit into the rails.
"She went amazing and we are super proud of her as always."
Gibbons also confirmed that his star would look to make the trip north for a potential showdown in the Brisbane Cup ($9) with the new King of the track in Amron Boy ($8 with online bookmakers) as he discussed with Australian Racing Greyhound last week.
"We will decide later in the week and then look into flights," he said.
"We will look at what else is on down here first but it's looking pretty likely she will head up there for a crack at the heats."
Similar Greyhound Racing News