2017 Group 2 Geelong Cup tips, best odds and bonus bets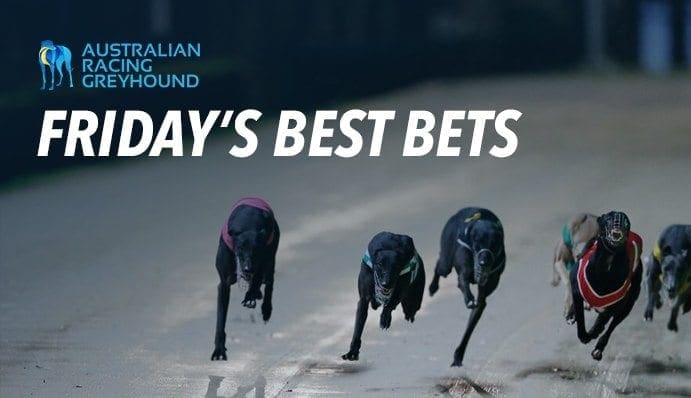 WE had a pretty good day on the punt yesterday, landing a couple of winners including a $10 shot at Sandown Park.
But it's straight back into it again today and we have decided to focus our attention on the heats of the Group 2 Geelong Cup which will feature some of the best in the business looking for a spot in next week's $47,000 to the winner final.
Seven heats will be held all up, with the winners and the fastest second progressing through to the decider. The first heat is race four which is scheduled to jump at 8.08pm.
To give you some extra bang for your buck, be sure to check out and claim some of the free bet offers available to readers of Australian Racing Greyhound before placing a bet.
Geelong Cup heat one – race four – 8.08pm
KOUTA MAYHEM (6) is a speed machine on the one turn and he is far better suited here than at his past two at Sandown Park where he finished eighth and sixth respectively. Box six isn't an advantage, but he does have a vacant box on his inside which should help him out.
BARKING BAD (8) has been racing well of late and comes here on the back of a third placing in the Group 1 Dapto Megastar. Well drawn out wide and he is the clear second pick.
LOUIE LASAGNE (4) has been beginning well recently and although his form is a little bit scattered he has a big engine when he puts it all together. Will be punching up towards the front in the early stages and he can take home some minor money.
TIGGERLONG CRUZ (7) is well boxed as she likes to get a bit wide in her races. Led all the way at The Meadows last start in 30.19 and a similar effort here will see her figuring in the finish.
Tips: 6 – 8 – 4 -7
Geelong Cup heat two – race five – 8.27pm
ASTON DINNIGAN (2) was a bit disappointing at The Meadows last start but prior to that she had won two straight at Bendigo and Warrnambool in flying time. Beautifully boxed to show her brilliant speed and if she can find the bunny she should be carving out some sensational time.
JESAULENKO (4) is probably the fastest greyhound in the race and he is nearing peak fitness after three runs back from a spell. The only reason I didn't put him on top is that he has been missing the start slightly which he wont be able to do here from box four.
ZIPPING BRONZE (6) is suited by the vacant box on his inside and was impressive when coming from behind to win at Ballarat last start in 25.59. He will need to step a bit better to worry a couple of these, although he owns a 25.57 personal best here so he is more than capable of being a threat.
ANGEL DASH (8) has one from one here and she is in good form, having won two of her past three at Sandown Park. She has good speed and if she can cross over she could run a cheeky race at big odds.
Tips: 2 – 4 – 6 – 8
Geelong Cup heat three – race six – 8.52pm
Tough heat but settled on HONE IN (2) which is well drawn in box two. He has shown brilliant speed at his past two starts and on October 10 he ran a flying 27.04 at Horsham. If he lands on the bunny they will find it hard to reel him in.
BON KNOCKA (1) has some flying Queensland wins to his name and he was far from disgraced when placed here last week at his Victorian debut. Can improve off that run and must be respected coming from the Anthony Azzopardi kennel.
BLACK MUMBO (4) has finished runner-up at his past three starts but should relish the one turn track. Has a vacant box on his outside and with a clear run he is clearly the one to beat.
NOT AVAILABLE (3) is better than his recent form reads. Has been racing competitively against some high class chasers in recent weeks and there is no reason to suggest he can't do the same here tonight.
Tips: 2 – 1 – 4 – 3
Geelong Cup heat four – race seven – 9.08pm
JUDICIAL MAN (3) has been freshened for this assignment and he is drawn to give his rivals a galloping lesson. Has drawn against a couple of nice dogs, but he is a very talented pooch himself and I rate him the one to beat.
JIMMY NEWOB (1) returned to the winner's list with a good 25.35 win at Shepparton last week. Has been missing the start lately which is the main concern as I doubt he will be able to give some of these dogs a start and a beating.
HE'S LOADED (2) is a promising pup. This is a jump in class for him, but he is racing well and well drawn in box two.
RIVETING (8) is the best of the rest. He has been in good form and can showcase his ability with a clear run early.
Tips: 3 – 1 – 2 – 8
Geelong Cup heat five – race eight – 9.27pm
BEWILDERING (1) was shockingly left out of Group 1 Topgun selection and he will be looking to show the panel what they missed out on when he steps from the cherry. He is arguably the fastest dog in the country and with a clear run watch out for the track record. Biggest downfall is that he can be slow to jump, but he has enormous acceleration and isn't afraid to barge his way through the pack. This is a drop in class for him and I expect him to win.
PRINT THE MONEY (8) is perfectly drawn to run the race of his life. Is racing in super form and looks the second pick.
MEPUNGA TYCOON (6) has been racing some top dogs at his most recent starts which brings him into calculations despite the poor draw. Has good early toe which should help him get into the race and the empty box on his inside helps too.
ARE YOU (3) has finished in the top three at his past seven runs. Boxed well and can fill a minor placing.
Tips: 1 – 8 – 6 – 3
Geelong Cup heat six – race nine – 9.48pm
BURN LIKE FIRE (8) is a star in the making and she is beautifully drawn out in box eight. High speed pup which should have no problem crossing over and will be running scorching time on the bunny.
BABY HUEY (3) is debuting over the trip here tonight but he has been racing in super style recently including a 29.51 Sandown Park run two starts back. Has clocked fast time over the 400 here so knows the track well and he is a brilliant beginner. At double figure odds he is worth an each-way ticket.
THIRTY TALKS (4) is a star Queenslander and he loves racing on the one turn tracks. He is fast enough to match motors with any dog in this race but he was very disappointing last start so I wouldn't be taking the short odds about him.
BLUE GUM HILL (1) ran the race of his life at Sandown Park last start when a narrow second behind Ando's Mac in a Melbourne Cup prelude. Box one suits and although I don't see him leading he can rail through and run a place.
Tips: 8 – 3 – 4 – 1
Geelong Cup heat seven – race 10 – 10.08pm
ASTON MILEY (6) is a speedy bitch and she has been brilliant at her last two starts at Sale, easily breaking 25 on both occasions. Box six is a slight concern, but she has a vacant box on her inside so should get a bit of room to move early.
LANDMARK (1) loves one turn tracks and he holds a sensational 25.67 PB here. Box one is ideal as he is a slow beginner – if he gets clear room he should be too good. I haven't put him on top because he is the kind of dog which relies on luck in running.
GOTHAM QUEEN (8) is well boxed to inject some value into the exotics. She has a stack of ability and should relish the wide draw with plenty of room to wind up.
WALEONJON (3) has been doing his recent racing on two turn tracks. Debuting here but if he can bring his form from The Meadows to Geelong he is a threat.
Tips: 6 – 1 – 8 – 3
Similar Greyhound Racing News