Hesa Marlow prevails to win inaugural Kings and Queens final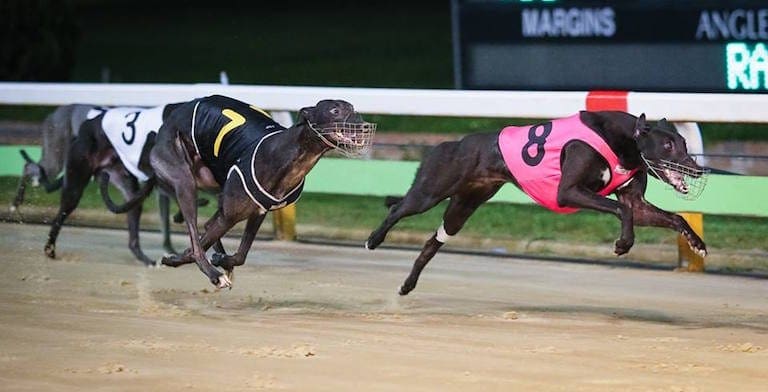 LEN Wilson is optimistic his promising greyhound Hesa Marlow (Lochinvar Marlow x Amity Kinship Mar '15) has a bright future after snaring a tenacious victory in Thursday night's $6,000 Kings And Queens final at Angle Park.
It was the inaugural running of the series open to greyhounds whelped between March 1 2015 and May 31 2015.
The series was introduced by Greyhound Racing SA (GRSA) in support of the dogs affected by the change in conditions for the various AGRA Age Restricted Classics from 30 months down to 27 months, with the new age restrictions making those greyhounds ineligible for the upcoming Group 3 SA Oaks and Derby series.
Stepping well from box eight on Thursday night, Hesa Marlow carved across the field in the run around the first turn, sitting just behind Larrikin Locky (Lochinvar Marlow x Paua And Jewels May '15) throughout most of the race before finding the front swinging for home.
The black dog was able to hold off a late challenge from Cairnlea Ollie (Premier Fantasy x Cairnlea Ellie Apr '15) to score by three quarters of a length in a handy 30.13.
Despite four other runners starting at a shorter price, Wilson said he was quietly confident his greyhound had the ability to score.
"He drew the right box so I gave him a good chance," Wilson told Australian Racing Greyhound.
"He is generally pretty quick early and he runs open class times for his first two sections. Now he is also starting to get stronger at the end of his races, he is breaking 13 seconds consistently in the run home.
"When you can run those sort of times at Angle Park they have to be pretty good to catch you."

There were a few mixed emotions following the event, with Wilson sadly losing Hesa Marlow's litter sister Seattle Suzy which fell on the first turn and was humanely euthanised due to injury.
"It was a bittersweet win because we lost his sister in the same race. The joy of winning was tempered by losing her," he said.
"I have had dogs since the 70s and it never gets easier. Losing her has cut me to the quick."
The littermates are owned and bred by Tony and Gloria Milligan, with Hesa Marlow now the winner of nine races from 23 starts with six minor placings and almost $18,000 in career earnings.
"I have known Tony for many years and I do a bit of work on his dogs and I had seen this litter from an early age," Wilson said.
"When these pups were broken in he rang me and asked me to train them. I also own another two from the litter with Judi Hurley – one of which is Raven Sky who is a pretty handy dog."
Wilson said there are no immediate plans for Hesa Marlow following the win, with the Two Wells trainer hopeful the best is in front of him after overcoming a niggling foot problem.
"He is just starting to come good. I ran him in the Gawler Produce series and he ran through that series with a bit of a foot injury and I have just got it right now.
"He is just starting to hit his straps now so it is a bit exciting to see what he is going to do next.
"With his early toe the Adelaide Cup next month isn't totally out of the question, but he is still on the way up.
"We really don't know how quick he can go yet so I just want to do the right thing by the dog.
"It is something we can consider, but for now he'll have a week off and then I'll sit down with the owner and figure out what to do next."

Wilson, who does chiropractic work on a number of local greyhounds, has a long history within the sport and is rarely without a handy dog in his kennels.
"I owned a dog in the first meeting at Angle Park in 1972," he said.
"I have been involved in the sport for my whole life and I have also been involved in show dogs as well – I used to show Belgium Shepherds for many years.
"I took out my owner-trainer's licence when I was working north of Adelaide in Port Pirie – I trained quite a few winners up there and I was the president of the Port Pirie Club.
"I left there and moved back to Adelaide in 1996 and had a break from the greyhounds due to ill-health. After a few years I decided to get back into the dogs and I have been training ever since."
Similar Greyhound Racing News