Jess Hopkins hopeful Alfie Moon can win 2023 Group 3 Lizrene off inside draw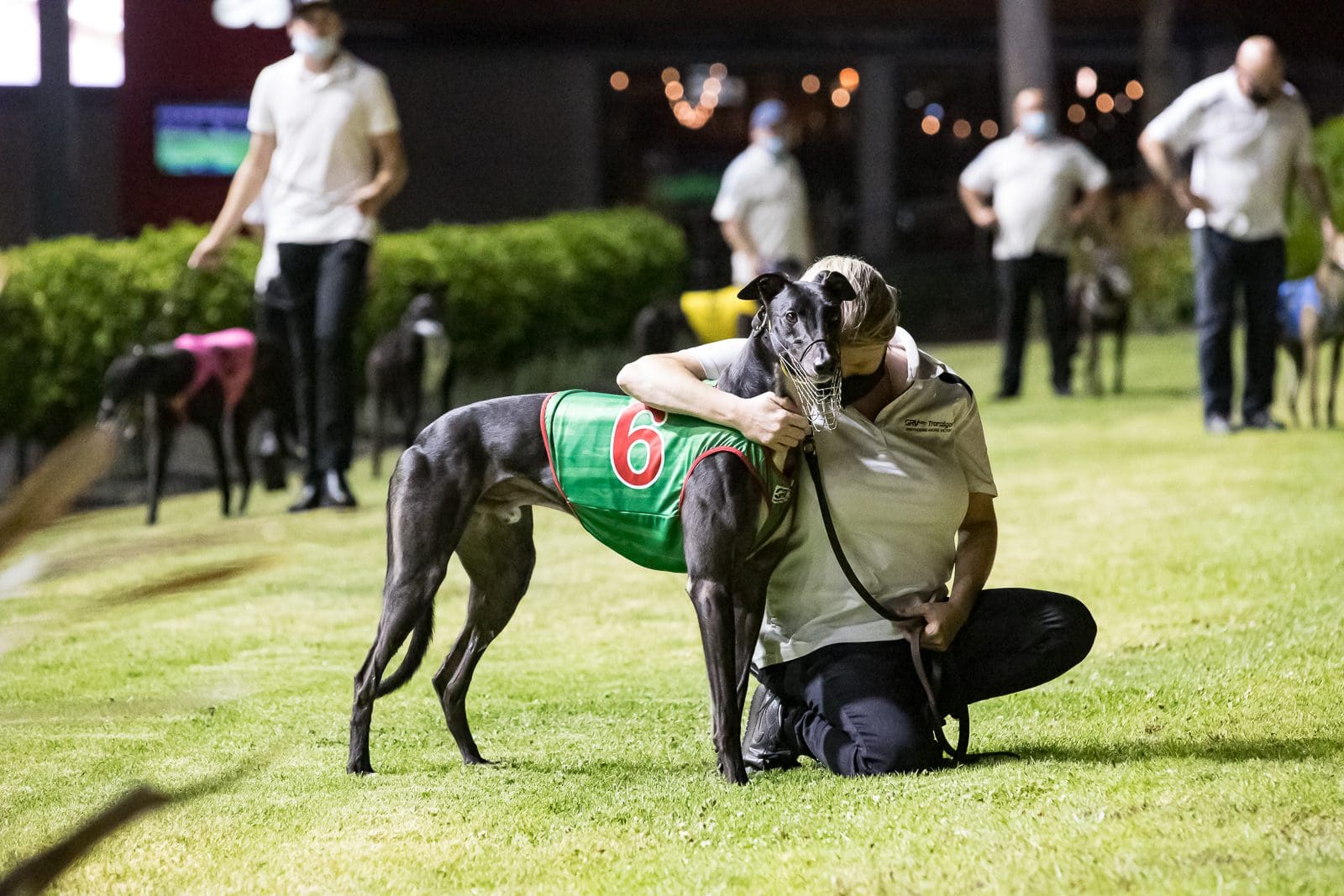 Jess Hopkins has high hopes for a favourable outcome at Sandown Park this coming Friday when Alfie Moon steps away from the inside box in the 2023 Group 3 The Lizrene at Sandown.
This year's The Lizrene will be run on Sandown Cup night on Friday May 26 with $15,000 to-the-winner of the 715m best eight greyhounds nominated race.
Hopkins' aspiration is to walk in the footsteps of her esteemed late grandfather, George Rose, who had the honour of being a group race winning trainer.
Rose's shining moment came in 1996 when Wylie Boy clinched the Group 1 Topgun at The Meadows, and was subsequently bestowed with the 1996 Victorian Greyhound of the Year accolade.
Supported by her grandmother, Valda, and mother, Sheree, Hopkins trains her greyhounds diligently.
She cherishes the idea of elevating herself to the same esteemed status as her 'Pop', an accomplishment she finds hard to verbalise.
Her fondness for the greyhounds, inherited from her family, remains strong and is something she characterises as a 'bug' that is challenging to shake off.
It should be noted that Alfie Moon is also the first reserve for the Group 1 Sandown Cup after finishing third behind First Picked in last week's heats.
Hopkins anticipates that a victory for Alfie Moon would spark a wave of emotion within her family, particularly in light of the fact that Lizrene, the namesake of the race, was an inaugural 1973 Victorian Greyhound of the Year and a two-time Group 1 Sandown Cup winner in the years 1972 and 1973.
According to Hopkins, Alfie Moon has an equal opportunity to win regardless of his starting position in the race.
However, she notes that his intense chase when leading can sometimes be a disadvantage for a long-distance racer.
Alfie Moon, a Jan 2020 Fernando Bale x Psychotic Gold breed, is owned by Petar Jovanovic, a three-time Group 1 National Sprint Championship winning trainer, and his partner, Lesley Sermon.
The couple are close associates of the Rose/Hopkins family.
Interestingly, Jovanovic has his share of past glories; he trained Fox Hunt, the 1991 Group 1 Melbourne Cup winner, and secured fourth place with Shayne's Champ in the 1996 Topgun, the same race that George Rose's Wylie Boy won.
Alfie Moon started 48 times with a record of nine victories, 16 seconds and eight thirds.
His winnings have accumulated to a grand total of $84,450 in prize money.
2023 Group 3 The Lizrene Final
2023 The Lizrene Box Draw & Field

Sandown Park715mGroup 3$15,000 to-the-winnerFriday May 26 2023Race 6

1

Alfie Moon

T: Jess HopkinsF: 2313Career: 48: 9-16-8Prizemoney: $84,450

3 Palawa King

T: Ray SmithF: 1133Career: 32: 12-6-5Prizemoney: $112,140

4

Silver Luck

T: Andy LordF: 2144Career: 44: 8-17-8Prizemoney: $82,410

5 Stella Girl

T: Clint CapuanoF: 32513Career: 43: 7-7-5Prizemoney: $46,660

6

Tiger Jack

T: Andy LordF: 4127Career: 33: 10-8-6Prizemoney: $74,410

7

Shanlyn Hunter

T: Terry ReidF: 1135Career: 33: 7-2-7Prizemoney: $39,860

8

Couch Surfer

T: Rob BrittonF: 6325Career: 24: 11-4-3Prizemoney: $126,660

Reserves

9

Zipping Patch

T: Kayla CottrellF: 1415Career: 34: 10-4-5Prizemoney: $42,855

10

Golden Ratio

T: Andrew BroadleyF: 1246Career: 96: 12-19-11Prizemoney: $82,765
---
---
Similar Greyhound Racing News