July 2009 Greyhound Rankings Cloud National Championships

For the seventh straight month, the now retired El Galo has again claimed the top of the AGRA Group Greyhound Racing Rankings to the end of July 2009; but all the talk will be of the effect the rankings will have on the upcoming National Championships, especially the National Distance Championships as an unproven stayer looks likely to gain a national final berth through the rankings.
For the first time the Australian Greyhound Rankings, take on extra meaning this month, now that changes to the National Sprint and Distance Championships format come in to effect.
The new changes that effect both the National Sprint and Distance Championships Finals, will see only one runner each qualify from New South Wales, Victoria, South Australia, Tasmania, West Australia and Queensland for their respective finals. The home state will retain the right to start two runners in the final and the eighth spot will be filled by the highest ranked greyhound in the Australian greyhound rankings who contested the state heats but failed to qualify through to the national final from their state.

Importantly, greyhounds only need to have started in heats to qualify for the pre-selection upgrade and as we have addressed before, distance greyhounds seem to be highly disadvantaged under the AGRA ranking system. Now, while West Australia's nominations still don't close for some time, a quick look through the known eligible greyhounds highlights one glaring anomaly.
Jarvis Bale, who is yet to even win a race longer than 515m is a very good chance to pick up the National Distance Championship AGRA Rankings nomination, by virtue of ranking points garnered from sprint races only. With sprint traces so highly favoured in the rankings, Jarvis Bale is 24 points clear of the next highest ranked staying greyhound and only Mantra Lad (154 points) and Vintage Octane (79 points) sit above him as eligible greyhounds.
Should either Mantra Lad or Vintage Octane win the Victorian National Distance Championship final and the other succumb to injury or suspension, then Jarvis Bale would get the AGRA rank priority despite having never proven himself over the journey. The same can be said the fourth highest ranked greyhound in the staying division as Brislane has never won over a trip longer than 600m and has collected all her points over the sprint distances as well.
National Sprint Championship AGRA Ranking Eligible Greyhounds (With WA To Be Included)
Fedex (Vic) 210 points
Velocette (Vic) 191 points
High Earner (Qld) 127 points
Trew Millions (Vic) 111 points
Turanza Bale (Vic) 99 points
Hanify's Impact (Vic) 97 points
Queen Lauryn (Qld) 95 points
Aston Trivett (Vic) 70 points
Dashing Corsair (Qld) 65 points
Drink Driver (SA) 60 points
Dyna Forte (Vic) 51 points
Devine Road (NSW) 50 points
Big Moose (Tas) 50 points
Cool Flight (NSW) 50 points
Dentax Bale (NSW) 43 points
Zambola Bale (NSW) 40 points
Repeated (NSW) 36 points
Mirella Bale (Vic) 35 points
Foxhill Bella (NSW) 32 points
Eighth Wonder (Vic) 27 points
Gardam Prince (Vic) 25 points
Gold (SA) 25 points
Fidel Bale (Vic) 24 points
Din's Son (Vic) 22 points
Spiral Glory (Vic) 22 points
Gazmick Storm (NSW) 21 points
Bogie Bomber (Qld) 21 points
Mutt Lange (NSW) 21 points
Cosmic Rumble (NSW) 21 points
National Distance Championship AGRA Ranking Eligible Greyhounds (With WA To Be Included)
Mantra Lad (Vic) 154 points
Vintage Octane (Vic) 79 points
Jarvis Bale (Vic) 76 points
Brislane (NSW) 52 points
Gold Slammer (NSW) 44 points
Smart Betsy (NSW) 28 points
Risk It (SA) 28 points
Dana Lou Lou (NSW) 24 points
Which Wabbit (Vic) 24 points
Octanol (Vic) 22 points
As we've said before the rankings points need some serious readjusting next year to address the bias toward sprinters, and if the National Sprint and Distance Championships are to continue using AGRA rankings to select one greyhound for the national final, then they'll need to add some extra clauses in about eligibility, especially for the National Distance Championship.
Meanwhile in the year to date AGRA ranking, El Galo having moved swiflty to the to take up residence in the top spot from the outset in January courtesy of a Group 1 Adelaide Cup win, El Galo has managed to add enough points every month to persist in premier rank. In July El Galo added just 15 points to his tally to hold the top position down at 240 points. Those points came from just the one run in July, a third to Dentax Bale in the Group 2 Bob Payne Winter Stake at Wenwtworth Park, the race which was to be his last.
Fedex has held down second position without adding a single point to his tally, and Velocette who won the Group 2 Gold Coast Cup during July at Albion Park, moves up from fourth to third outsing Mantra Lad who couldn't add a point to his record during July.
High Earner who was one of the biggest movers for June 2009, continued his push adding another 22 points to his June 2009 tally of 105 points to climb to 127 points and outright fifth. This 22 points came courtesy of his third placing behind Velocette in the 2009 Group 2 Gold Cup and seveth behind Trew Millions in the Group 1 2009 Winter Carnival Cup.
Trew Millions who upstaged a handy field to claim a most worthy Group 1 2009 Winter Carnival Cup at Albion Park was July 2009's biggest mover in the rankings, jumping an amazing 76 points and 38 ranks to finish July in eighth spot behind retired stayer Gunnadoo Magic in seventh and injured stayer Lilley Criminal in sixth.
Turanza Bale moves from 26th to ninth by virtue of his Group 2 Gold Coast Cup fifth placing and Group 1 Winter Carnival Cup second placing. Hanify's Impact who couldn't add a point to her tally during July 2009, slips from eighth to round out the top ten Australian greyhounds for 2009 to the end of July.
Listed below are the rankings as they stand at the end of June 2009. According to the AGRA the ranked positions are determined by a points system applied to group races on a sliding scale of points first to eighth.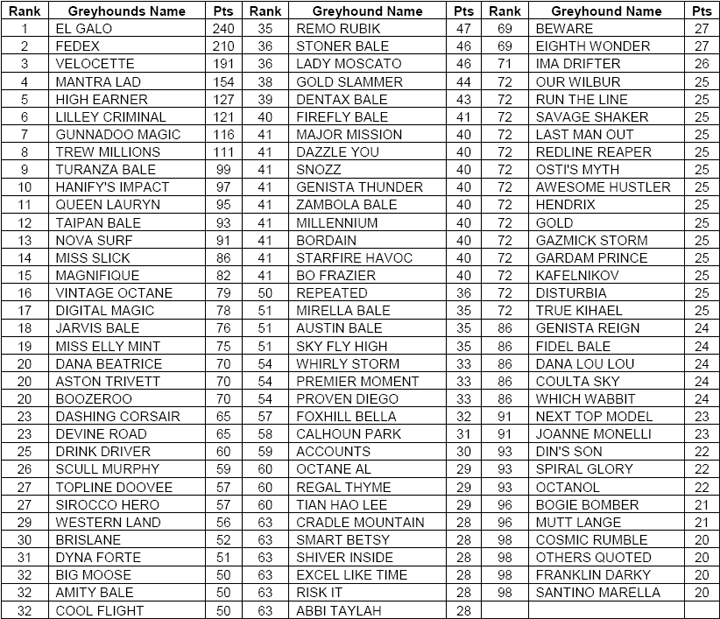 Similar Greyhound Racing News