Lanigan going for back to back wins in Group 1 Hobart Thousand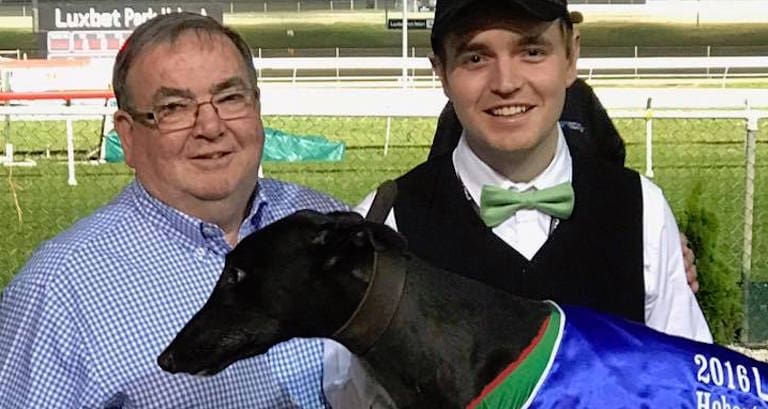 ONE year on from winning the Hobart Thousand, Matt Lanigan still pinches himself when he thinks about being a group 1 greyhound trainer.
The Swan Hill conditioner had only been training for a couple of months before his talented racer Zipping Bruiser (Don't Knocka Him x Tricky Gypsy Apr '14) recorded an upset win in the $75,000 feature.
Since then Lanigan has enjoyed his share of success on the race track and has also learned all about patience, with Zipping Bruiser limited to just nine starts since winning the Apple Isle's most prestigious event.
The 33.5-kilogram powerhouse hasn't started since September when finishing sixth at Horsham, however 24-year-old Lanigan is hoping his charge can return with a bang this Thursday when he heads back to Hobart to defend his title in a heat of the Thousand.
"I trialled him at Ballarat over the 390m two weeks ago and that was the first time he'd been to the track in the past two months," Lanigan told Australian Racing Greyhound.
"He is fairly underdone, but his run home time at Ballarat was back to his best – he absolutely rocketed to the line so I decided to send him over and make a final decision after he trialled at Hobart.
"He has pulled up well after his trial and that's the main thing. I was hoping he'd break 26.30 [at Hobart] which he did quite easily so I figured we may as well give him another crack at it."
The night our life changed forever here at LGK! ZIPPING BRUISER GROUP 1 HOBART 1000 WINNER!?? pic.twitter.com/cxoYedKsfT
Zipping Bruiser will start from box eight in the first heat and comes up against a talented field including flying NSW chaser Tristan Cannon. Although he concedes it will be a tough challenge, Lanigan believes his charge can still race well fresh.
"He definitely needed to draw wide to be any chance and thankfully he hasn't drawn against dogs such as Bewildering, Kouta Mayhem or Two Bills.
"There are still some good local dogs in it and [Tristan Cannon] is a very smart dog – but you have to expect that coming into a group 1 series.
"As I said he is a bit underdone, but I reckon he could surprise a couple of people – his will to chase and his ability to accelerate are still unbelievable.
"But as long as he comes back in one piece that's all that matters – he is very special to us."

Lanigan will also be represented in this year's series by the exciting Zipping Inglis (Barcia Bale x Natalie Rass Feb '15) which comes into the series on the back of a fast 23.89 win at Bendigo.
He has won 12 of his 31 starts throughout his career and has earned over $33,000 for his connections, the Punters HQ Syndicate. The blue dog brings good form into the series and Lanigan is confident he can make an impact when he jumps from box two in the fourth heat.
"I was pretty disappointed that he didn't get a start in a Melbourne Cup heat," Lanigan explained.
"He ran second in a heat of the Adelaide Cup, second in the Adelaide Cup consolation and third in a Prelude of the Melbourne Cup.
"When he didn't get a start I wanted to make sure he was 100 per cent right for the Hobart Thousand because I have been telling his owners since June that this is the race for him.
"He gets his chance this week – he is drawn near the fence where he wants to be so hopefully he can show what he can really do."
Very proud of ZIPPING INGLIS run last night in a very tough race at Shepp! Didn't get much of a crack at them but finished well for 3rd!? pic.twitter.com/7R6iNvx7o9
Zipping Inglis has already had two looks at Hobart including an impressive 25.99 trial over 461m last Thursday. Lanigan said he won't be shocked if Zipping Inglis can shave even more off his preparation gallop when the lids fly open this week.
"He was quite slow early in his trial, but he is the type of dog which needs a look and I believe Hobart is a track where you need to experience the boxes and the lure – it is a very quiet lure.
"Now he's had a hand slip and a trial out of the boxes so he gets every opportunity, he knows where he is going.
"I think he can improve on his trial now that he has had a couple of looks at the track. If he gets some clear running and gets a bit of luck he is going to be a big threat.
"He is the fastest dog I have ever had."
As for what it would mean to win the Hobart Thousand two years running, Lanigan said the thought hasn't even crossed his mind. With only four in work he says he counts his blessings just to be competing in the biggest races across the country.
"It's been 12 months and I still get goose bumps whenever I watch Bruiser's replay.
"It's so hard to believe it actually happened – the whole night is still a blur.
"To have two dogs going for the race again this year is a huge thrill. If either of them could make it through to the final, I'd be so proud."
Six heats of the Group 1 Hobart Thousand will be run this Thursday night. The first heat is race two which is scheduled to jump at 7.58pm.
More Greyhounds News