Tasmanian greyhounds spoils the fun – again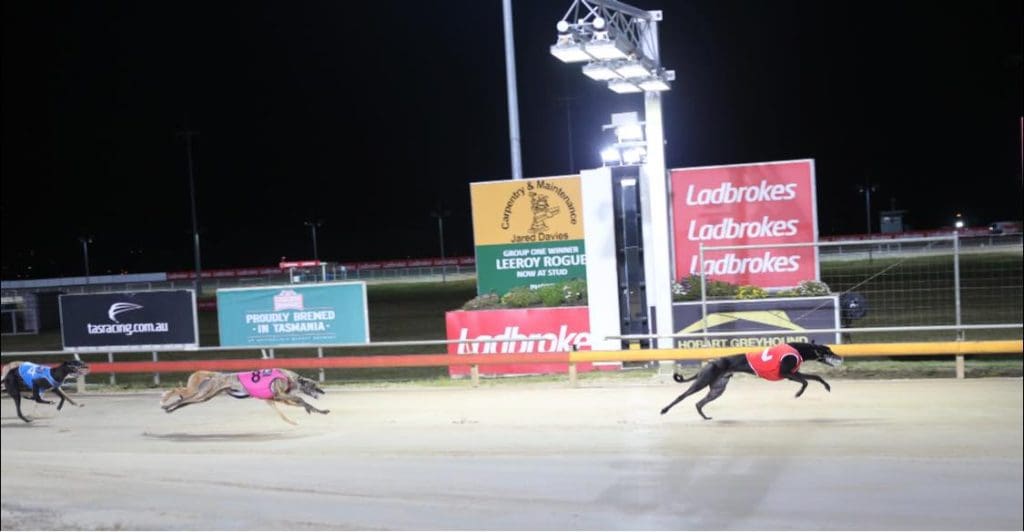 Well, blow me down – again. It's not long since I listed some serious problems with the results posted for Tasmania's Devonport Cup. Now, it has happened again – this time it's worse, if anything.
The Hobart Thousand is the state's premier event, dating back to the 1930s, and always attracting good interstate support. Yet anyone looking to invest in the final this coming week will be flat out making sense of what happened in the heats on December 9.
As posted on Ozchase, sectional times in the six heats were assigned to the eventual winner, regardless of whether it led or not. In fact (watch the videos) only one of them actually led – local star Sacred Stance – but the other five winners were given the sectional time anyway. This is a longstanding but nonsensical practice in Tasmania.
The official Tasmanian website (tasracing.com) was even more ridiculous. Every heat winner was assigned a sectional of 5.00 followed by an overall time of 26.00 – all of them bar the last heat where its sectional was shown as 6.00. That same 26.00 time was also put up against every other runner on the night. The repeat button got jammed.
In practice, heat winners ran between 25.82 and 26.19. Their sectional times are unknown. But all the erroneous information will still go into permanent race and dog records, misleading punters and others for years to come.
I have written about this problem many times, sent messages to the racing authority and even personally visited their offices to highlight the errors, all to no avail. They just keep on doing it.
What a shame. This is one of the country's major events but how can you fathom what is going to happen when you get told lies? It parallels what that foolish ALP Shadow Minister advised before the last election; "If you don't like it, don't vote for us". So find another betting option.
The pity of it is that the Hobart 461m trip is probably the best and fairest of its kind in Australia, as evidenced by the low level of interference, negligible race falls and pretty even spread of winning boxes (high 14.7%, low 10.7%). But you can't bet on races where the information is wrong.
Short And Long Term Challenges For GRNSW
A cat and mouse game is in the offing as the Tweed Heads club (a private company) has announced it is well on the way to creating a brand new track complex at Chinderah, which is located between Coolangatta (QLD) and Kingscliff (NSW) where visiting Origin footballers often train. Some $15m will be invested.
However, lots of questions remain, firstly to gain Council approval for the construction. In addition, the club will need:
Approval from GRNSW to conduct a certain number of meetings. (GRNSW had previously commented favourably on the prospect but that was just waffle and it did not offer guarantees).
Approval from the Racing Minister to resume its "auditorium" licence (that's permission to operate TAB facilities when no local races are being run – say on Saturdays and Public Holidays. Newcastle and Randwick thoroughbred clubs have similar approvals).
Approval from Tabcorp to feed into the Tote operation around the country. This is needed to cater for horse punters, irrespective of the club's ability to obtain TAB status for greyhound racing.
Putting out the welcome mat to old customers from NSW and Queensland.
In Tweed's favour is that there is no indication that the Queensland authorities are any closer to organising a replacement track for the long-lost Parklands circuit (ditto for the trots) not far from the border. Rather, it seems RQ will be concentrating on the proposed multi-code, multi-track development at Yamanto (an Ipswich suburb). But these things are always very iffy in the Sunshine state.
On the other hand, what sort of judgement could GRNSW make when considering it has just made a great success of the multi-million dollar Grafton development and is poised to invest hundreds of thousands into night lighting for Casino (itself having soaked up funds not long ago to renovate its racing surface) and has recently funded and boosted the ratings of former "country" tracks at Wauchope and Taree.
All told, there are now six active tracks between Newcastle and the Queensland border. Wauchope (whose future is uncertain) and Taree are a bit irregular but the others all run at least one weekly meeting. Adding Tweed Heads would make seven, although it is hard to see that occurring inside a couple of years.
The point now is how much racing is good enough from both demand and supply angles. Overall, we know that NSW breeding is dicey, although showing tiny signs of a revival. Basically, there are not enough dogs to go around existing tracks.
Certainly, the new Grafton circuit gave a fillip to regional activity but now the initial push is wearing off it is not obvious that the three major tracks – Lismore, Casino and Grafton – are overwhelmed with nominations. Using the example of the last half a dozen meetings at each, we find that some 40% of races jumped with a short field. Even then, 48% of all races are over 259m-350m trips, suggesting that lesser dogs in each litter are getting a run they might not have done before.
In turn, that trend runs up against a couple of policy questions. It is fair enough to cater for lesser quality dogs which might otherwise pose more problems for subsequent re-homing and the like. This is part of the anti-euthanasia campaign. Some owners and trainers might also gain more widespread income to offset their investments. However, the relative dominance of this sector at the moment is a worry.
The other point is that GRNSW is, very sensibly, pushing more prize money in the direction of longer races, thereby helping to raise the standard of the breed and, arguably, providing better product for both the owning and betting sectors. Still, it has not cut back the short race prizes at all, so they remain a fairly attractive prospect to small owner-trainers, although not so much for punters (due to higher interference in bend-start races).
It is a tricky balancing act and is not likely to sort itself out quickly. Time will tell.
That said, what on earth might happen if Tweed Heads were to come on stream? That's another 90 or more boxes to fill every week from much the same population that we have now. Future Queensland patronage (currently Covid-affected) will not make much difference as the same barriers have been serving to keep NSW dogs south of the border.
Big jumps in breeding are not likely to occur in the short term but could well do so in five years or more. But that's just conjecture and cannot be part of current decision-making.
The other thing about Border Park – and somewhat unrelated to the core subject – is that the club's viability was heavily dependent on business from far and wide, including Queensland, from customers coming in to patronise horse betting facilities at the auditorium. Some 50 or so desks were always booked out in advance by these punters, enjoying lots of big screens and personal Infobet gadgetry on each desk. These desk telephone sized units enabled punters to dial up odds, bet types and availability at any Australian meeting.
(Those Infobet terminals were invented by Racecourse Totalisators, which formerly ran the tote at several NSW and Queensland tracks. The units were installed at Tweed Heads and Rocklea trots. The company was subsequently taken over by Tabcorp and the terminals were retained).
The old Tweeds Heads facility also had a peculiar history. First, a previous GRNSW authority had cut its approved racing dates in half for unknown reasons. Second, the same GRNSW then tried to move the entire operation over to Queensland jurisdiction, where the local authority had made room for it amongst its Albion Park dates. Predictably, that effort crashed when the board eventually realised the whole process would have been virtually impossible from a legal and constitutional angle. Anyway, the club was forced to shut down but did make "squillions" from the sale of its land – hence the financing for the new venture.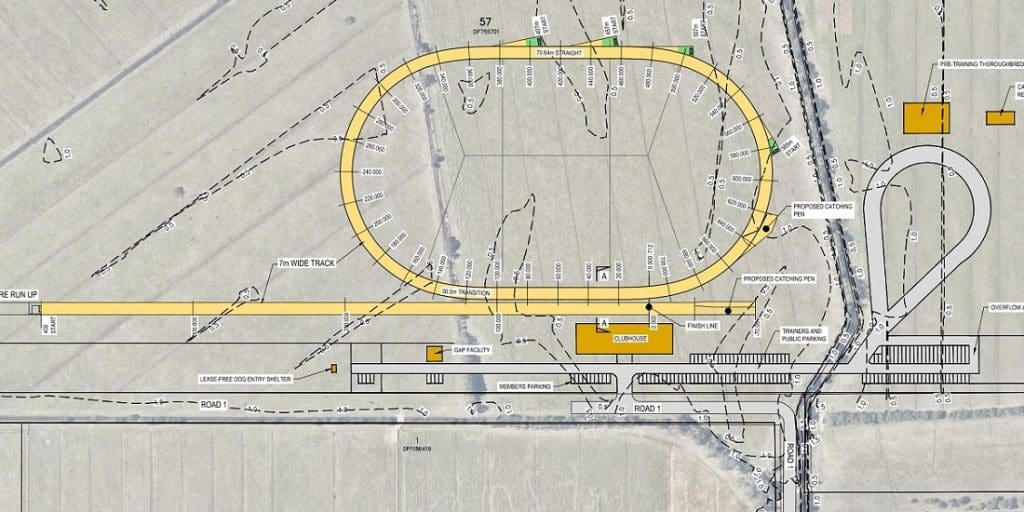 A Paw Note: the proposed Tweed layout looks terrific on paper, with a wide sweeping turn and multiple starting points for one-turn races in the back straight. The only exception is a 585m trip from boxes smack in the middle of the home turn, and on the track proper. Why not create a chute or else change to a 700m-plus start in the home straight?
So Happy Holidays and good luck to all.
More Greyhounds News