Veteran trainer looking for career milestone in Melbourne Cup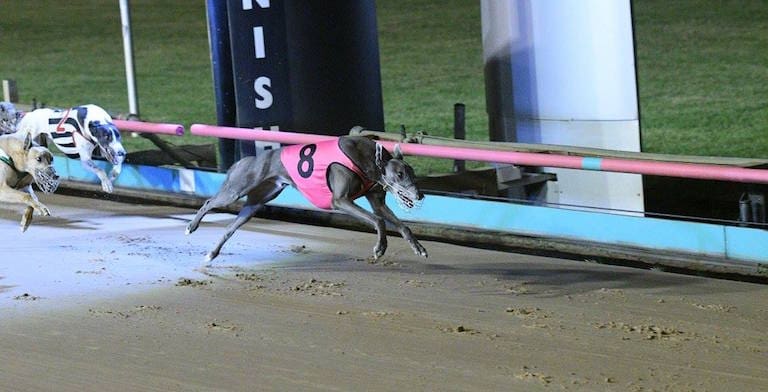 A FAILED attempt at joining the army led has led to a lifetime involvement in greyhound racing for Robert 'Jim' Redenbach.
Now, more than half a century after picking up the collar and lead, the Cranbourne trainer could be set to experience his biggest thrill in the sport thus far when his consistent greyhound Shadale (Barcia Bale x Budgie Lass Jul '15) contests a heat of the Group 1 Melbourne Cup (515m) at Sandown Park this Friday.
Shadale comes into the $600,000 series on the back of two fast wins over the track and distance at Sandown, the most recent being an all the way 29.40 victory in a Melbourne Cup Prelude last week.
The victory took his record to 13 wins from just 27 starts, having also run seven placings throughout his short career, which has also yielded three wins over the middle distance trip.
Redenbach believes those runs over 600m will put Shadale in good stead ahead of the Melbourne Cup series.
"The 600 runs have straightened him out – he has always been a fast dog but he tends to get off balance," Redenbach told Australian Racing Greyhound.
"He looked like he would run out the 600 and I figured it would help him smooth out his action and get a bit more settled in his stride – it looks like that's exactly what it's done to him."

Shadale will meet some big names throughout the Melbourne Cup series, but Redenbach says his charge is going well enough to have a crack at the world's richest greyhound race.
"He isn't a champion – but he is a nice dog and you just never know how he'll perform, he could even win it," he said.
"There is no point putting him in the race unless he is up to it – but he is fit and wants to go and I guess he isn't going to win any races sitting at home in his kennel.
"He is a nice hard chasing dog and you have to give him a chance when he is going as well as he is."
Redenbach is no stranger to success, having trained former top chaser Hotshot (Acacia Ablaze x Mary la Maze Dec '95) which won several feature races and started favourite in the 1997 Melbourne Cup won by Roanokee (New Tears x Free Method Nov '94).
Although the industry has seen plenty of changes since then, Redenbach maintains the key to having his dogs perform well has always been keeping them happy and healthy.
"Training greyhounds isn't an easy job – but they truly are man's best friend and if you can learn to read the animal then you have got a chance," he said.
"They have all got to be conditioned properly and treated like athletes – clean inside and out – but they do respond to different ways of doing things.
"If you can find out what works and keep them happy and healthy then they usually run pretty good."
Redenbach only has a handful of greyhounds in work at a time, preferring to focus on quality rather than quantity. He breaks in most of his own dogs, including Shadale which he trains for the Gebecepe Syndicate.
Very happy team of owners track side after Shadale's win, Geoff Lance – "It's a lot more special when you've bred 'em," pic.twitter.com/XQTjzyDhWO

— Sandown Greyhounds (@sandowndogs) June 15, 2017
He also trains Shadale's litter sister, White Line Lass, which has won two of her 15 starts and put the polish on their mother Budgie Lass (Meticulous x Giddigan Feb '09) which won 10 races before being retired to the breeding barn.

Redenbach has had a remarkable career in greyhound racing which dates back 54 years, starting from when his sporting and army aspirations fell through.

"I was a pretty good footballer when I was young, but I got crook ankles and I couldn't play anymore," he explained.

"I didn't know what to do with myself so I went to join up in the army – my brother was in Malaya – but I had varicose veins and they wouldn't take me.

"At the time a friend of mine had dogs, so I started helping him out for a while before I got my own dog and away I went."

Although Redenbach says he isn't in greyhounds for the accolades, he concedes it would be a massive thrill to be a part of next Friday's $420,000 to the winner feature.

"I just want to race my dogs – if they win that is just an added bonus – although I would be over the moon if he could win his heat this week.

"Just to get into the Melbourne Cup would be good – not even worrying about winning or running a place."

Heats of the Group 1 Melbourne Cup will be run at Sandown Park on Friday night, with winners progressing through to the $420,000 to the winner decider.


Warning: count(): Parameter must be an array or an object that implements Countable in /home/australianracinggreyhoundzzz/webapps/app-australianracinggreyhound/wpress/wp-content/plugins/Odds-Compare/vendor/guzzlehttp/guzzle/src/Handler/CurlFactory.php on line 67