Britton declares Fanta Bale the best racer he has trained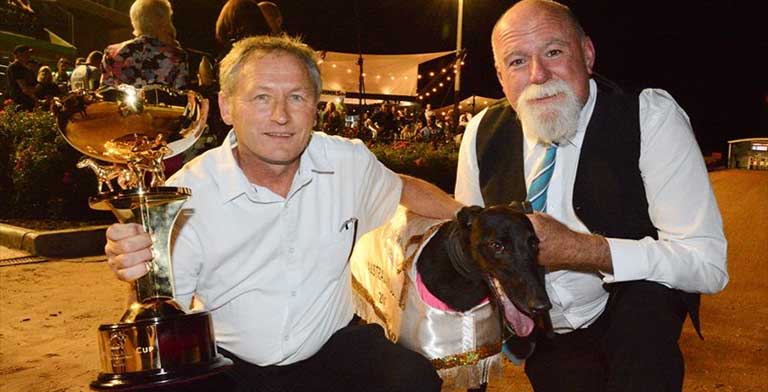 SUPERSTAR bitch Fanta Bale is headed for the Sunshine State following a tenacious win in Thursday night's Group 1 Sandown Cup (715m) at Sandown Park.
Trained by leading conditioner Rob Britton, Fanta Bale surprised many, including her trainer, when coming from midfield to secure the $175,000 winner's cheque – defeating Dundee Osprey and Burn One Down in a slick 41.87.
It was her fourth group 1 win – her first over the staying trip – and she now becomes the first greyhound to win at the highest level over 500m (Australian Cup), 600m (Rookie Rebel, Hume Cup) and 700m.
Britton, who has trained countless top chasers throughout his career, says Fanta Bale should now be considered a champion of the sport.
"I've always said over the years that the champion tag is thrown around too often simply because a dog comes out and does something once – but to do it a number of times – that's the measure of a champion in my eyes," Britton told Australian Racing Greyhound.
"She seems to find a way to win unexpectedly – last night we all thought she had to lead to win but she was able to come from behind and then in the Australian Cup she got across from the eight when we didn't think she'd have the pace to do so as she is a 600m dog.
"The unexplained bit about her is what makes her so special – she isn't the fastest dog I've ever put a lead on but she puts the pressure on the other dogs and she just lifts when dogs are around her – she is a great race dog.
"Of course you always need a bit of luck in these races, but at the same time when it keeps happening you realise it can't be luck all the time."
Now a winner of 23 from 37 with more than $716,000 in prize money earnings, Britton has labelled the daughter of David Bale and Ucme Typhoon as the best racer he has trained throughout his career.
"I still say I have had better stayers, but I have never had a better race dog," he said.
"Dogs like Space Star and Nellie Noodles could run the hands off the clock, but she is just a dream race dog and that makes all the difference.
"I just shake my head – I just can't believe she keeps finding the line in these big races against all of the good dogs.
"They don't come along like her very often – she is just fantastic."

Britton says he now plans on heading to Brisbane to contest the Group 1 Gold Cup (710m), with heats set to be held at Albion Park on June 8.
"Initially I was planning on dropping her back because I don't like putting front running stayers over the staying distance week in week out," he said.
"But looking at the calendar there isn't much on after the [Gold Cup] in Brisbane over the longer distance so I will probably head there.
"After there we will have to sit down and consider where to go next as there isn't much on in regards to group races over the staying trip for a little while.
"Ideally after Brisbane I would like to drop her back in distance and give her a couple of 600s just so it doesn't take the edge off her.
"It doesn't seem to worry her switching between the distances – it's not often you get dogs like it."
Britton says Fanta Bale, which isn't three until August, doesn't need to do any more – having already given his team and her owner, leviathan breeder Paul Wheeler, a thrilling ride.
Wheeler bred the litter by his former Group 1 Topgun winner David Bale out of Ucme Typhoon, an American bitch owned by Britton.
"I have been going to America and buying brood bitches over there for 10 years now – I bought Fanta Bale's mum as a 13 ½ month old pup and raced her," Britton explained.
"When it came time to breed with her I gave her to Paul Wheeler on the condition that I would be able to train her pups.
"It's worked out well for all of us because he is the best in the business when it comes to breeding and rearing – so I gave him a very good broodbitch and the rest is history.
"It's been an amazing ride with her – hopefully it isn't over yet – but at the end of the day whatever happens from here on is a bonus because she has already been such a great little bitch and has really exceeded our expectations."
More greyhound news