Douch hoping beginner's luck can continue in Launching Pad semi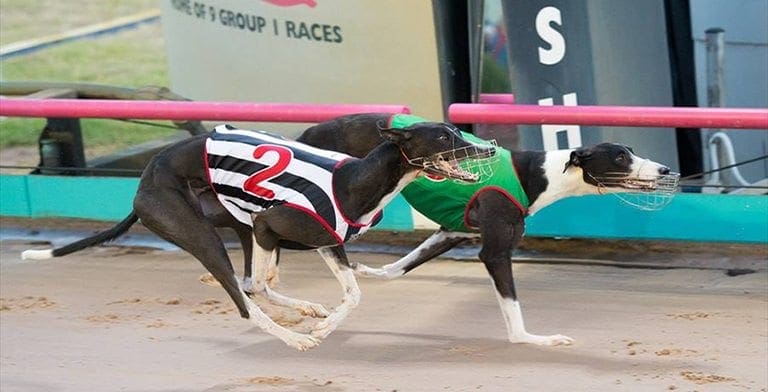 MAFFRA trainer Des Douch is hoping his promising bitch Brueghelino can step out of the shadows of her superstar brother Big Flood when she contests a semi-final of the Group 2 Launching Pad (515m) at Sandown Park this Thursday night.
The daughter of Banjo Boy and Easy Baby was a sensational winner of her heat last week, clocking 29.59 when scoring by 1.24 lengths over Lil Miss Banjo.
It took her career record to four wins and two seconds from six starts, with her other victories being at The Meadows (30.01, 29.89) and Sale (29.21).
Douch said he was confident in his bitch's ability heading into the $150,000 series and believes she is only going to get better with more experience.
"I am very happy the way things are going with her – she is doing a good job and I am just hoping for a bit of luck this Thursday night," Douch told Australian Racing Greyhound.
"She showed plenty of potential to make me think she was good enough for the series – she run good time throughout the big maiden series at The Meadows and ran second in the final.
"Obviously you need a lot of luck on the night, but I think she is going to keep improving and if she can do that she is going to be very hard to beat."
All up, seven of the eight pups from the May 2015 Banjo Boy x Easy Baby litter have faced the starter, all of which have won, highlighted by Big Flood.
The black dog has won 11 of his 17 starts and will line up in a semi-final of the Group 1 Golden Easter Egg (520m) at Wentworth Park this Saturday night.
Breeding such an exciting litter would be the dream for many greyhound racing enthusiasts, but as Douch explains his fortune had a lot to do with beginner's luck.
"I'm mates with Jason Thompson and he told me one day to get a dog and my trainer's licence – he kept on about it so I eventually got my first dog which was Easy Baby and it has all gone on from there," he said.
"She was only a 300m bitch but she was a good chaser and we only paid $1,200 for her – my nephew and I don't mind having a bet so we made a bit of money off her – she was good to us.
"One day my nephew suggested we should get her in pup. I knew she was a good little chaser so I agreed and then watching the races at Traralgon I saw the sign at the front of the boxes advertising Banjo Boy at Stud.
"I hadn't been in dogs long at that stage so I jumped on the computer and had a look at the dog and thought he went alright so I rang up and bought a straw.
"It was luck – there was no science behind it.
"The pups were reared by my brother Gary who whelped them as well and we moved them about a bit between his place, my place and another mate's place. The job Gary done with these pups was unbelievable.
"I remember one day the bloke who does the ear brands rocked up to my brother's place and here he was walking eight pups around with no leads on – they were following him like a pied piper.
"They had a great start to life and my brother has played a big part in getting them to where they are today.
"I gave him a share in a syndicate with me and now I own the whole litter with him, my nephew and a good mate of mine.
"The whole litter can run and are putting it together on the track which is very exciting.
"Big Flood had been trialling very well so I rang up Jason and asked him to take him because I thought he was too good of a dog for me to train.
"He is now going great guns and is racing the best dogs in the country – we are very happy with him."
Douch, who also trains racehorses, says the venture into greyhound racing has been a thrilling experience, with plans to continue with the dogs in the future.
"I train race horses which I have been doing all my life and I get a big thrill out of them, but having bred this litter I have to say it is very special," he said.
"One day it might get too much and one of them will have to give, but at the moment I am handling it ok – I get plenty of help from my brothers with the horses and my stepson and missus help out with the dogs.
"I always said the horses were number one, but I'd say the dogs are on par now."
Four semi-finals of the Group 2 Launching Pad will be run at Sandown Park this Thursday night, the first of which is race five on the card and will jump at 8.28pm.
More greyhound news