2020 Melbourne Cup Final Tips, Preview & Betting Strategy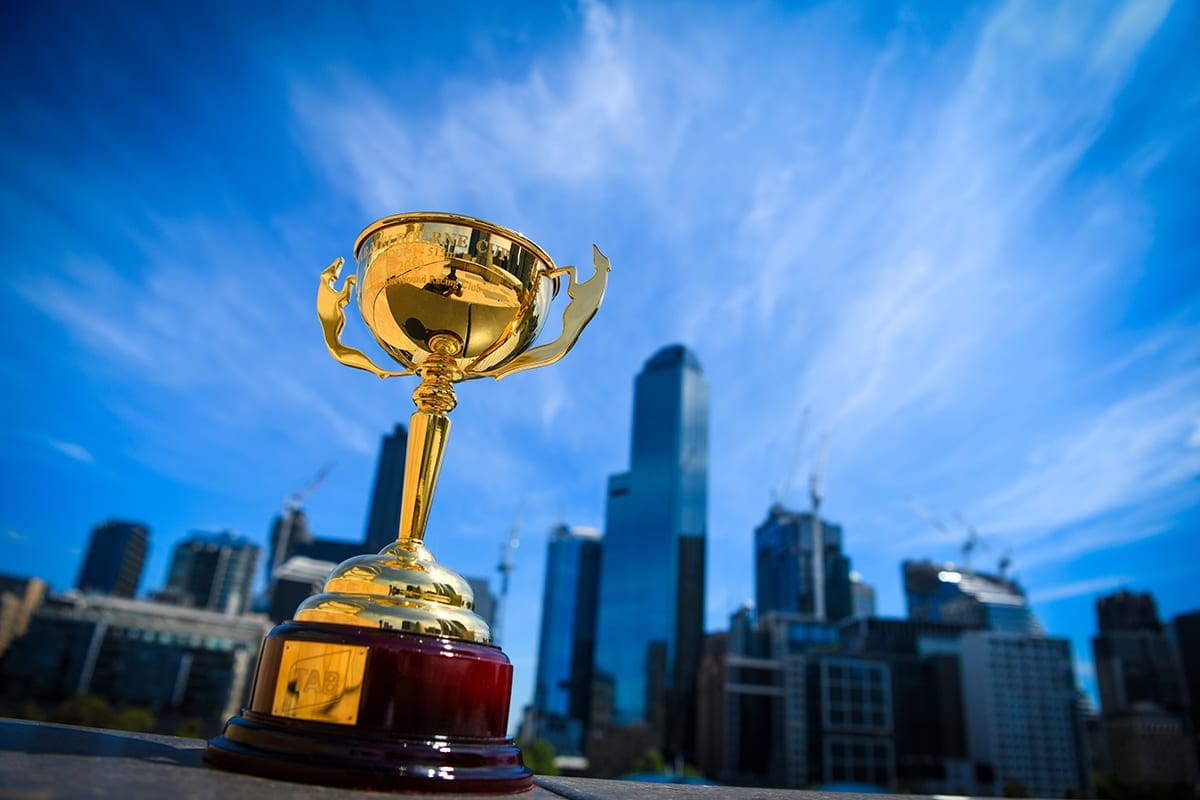 What
Melbourne Cup Final
Where
Sandown Park, View Road Springvale, VIC 3171
When
Friday, November 27, 2020
Status
Group 1
Prizemoney
$630,000 – $435,000 to the final winner
Conditions
Open to the best 64 greyhounds nominated who have won exemption races, or competed in Melbourne Cup preludes
First Race
6:27PM AEDT
Previous Winner
Whiskey Riot | Trainer: Anthony Azzopardi
Watch Live
---
2020 Melbourne Cup Final Field Greyhounds
AustralianRacingGreyhound.com has run the numbers over the 2020 Group 1 Melbourne Cup final tonight, a race many are calling the best greyhound race of the year. Some are going as far as to say it is the best Melbourne Cup final ever assembled! We're not quite going that far; but it is a very good greyhound field with a bunch of genuine chances, and a race speed map that could give a few outsiders a bolters hope.
Let's have a look at the eight Melbourne Cup finalists vying for the $435,000 first prize, which notably does not contain a single bitch in the field – all eight are male greyhounds with every dog weighing in well above 31kg. There's plenty of muscle getting around in the field with the majority weighing in at 34kg to 36kg.
Box 1: Zipping Sullivan | Trainer: Deborah Coleman | Weight: 33.6kg

Won his heat in 29.63 from box five, which was quite a way outside Tiggerlong Tonk's best of night heat win. Had to overcome two significant bumps in running early to get to the front, and did get tired late as a result; but has to be given credit for creating all his own luck from an awkward draw. Still managed to run 5.06 early getting checked and can run quicker off the inside box draw where he has never missed a place in four starts. Was being sent out at as much as $91.00 yesterday, and is massive overs right now in Melbourne Cup betting. The one that could spring an upset and is a great bet to run a place at value.
---
Box 2: Simon Told Helen | Trainer: David Burnett | Weight: 36.1kg

Stamped his authority on the heat last week when squeezed and inconvenienced early, but pushed and barged a determined path from box four to find the front where he commanded the race, winning in 29.26. Hard to argue his credentials to win this race but with early speed pressure from the outside and a personal best first section of 5.03, it's difficult to see him not having to overcome some early squeeze action again. Assuming he can overcome that pressure and lead the race to the back straight, the question will become just how much effort did he have to spend early. Can be vulnerable late as his best section of the race is the boxes to the second section. Justifiably favourite for the final but a fraction too short in betting to be a betting proposition. Best dog in the race and the win would be greatly deserved. Will be cheering for him even if he wins without us on.
---
Box 3: Tough Tears | Trainer: Robert Britton | Weight: 31.5kg

Shocked everyone when winning his heat last week at $44.00 starting price (SP), but is trained by one of Victoria's master trainers in Robert Britton who incidentally has never won a Melbourne Cup despite his extraordinary training career. Had to look twice last week in the heats when Tough Tears flew the lids and led in 5.05 which was a length quicker than he'd ever run previously. Got beaten for mid race pace before the strong staying stamina from his deep pedigree kicked in late to get back in front where it mattered. Would be impossible to see him leading again against this field, and may just get run off his legs mid race before finishing hard late. Stayer who has done a tremendous job to make the final, but realistically would need plenty of trouble up front to get a chance to win this in the shadows of the post.
---
Box 4: Lucy's Milo | Trainer: Andrea Dailly | Weight: 36.1kg

AustralianRacingGreyhound.com followers were giggling all the way to the bank last week, when we gave a good push for Lucy's Milo to steal his heat from box one at the value price of $19.40 SP. Used very bit of the advantage box one lent the Andrea Dailly trained greyhound in the heat, and doesn't get that tonight from box four. Has run a 5.07 first section here back in April 2019, but led last week in 5.13 and would expect a similar first section again tonight. Can't lead in that time, and doesn't have the finish to overcome trouble and run in to the placings. Has won two of five races from box five, but this is a class above him now.
---
Box 5: Hard Style Rico | Trainer: Luckie Karabitsakos | Weight: 32.5kg

Won his heat from box eight last week, which is no mean feat at Sandown as box eight can often be the death of many short priced runners over the 515m. But did get everything his own way staying out on the track while the inside greyhounds all pushed left early, giving him use of the whole track and an unimpeded run to go after the sole getaway leader after the winning post the first time. Ran a 5.05 first section on the way to winning in a near best of night time of 29.17. Moves in to box five tonight with plenty of pace to his outside, making a repeat of last week's untouched run unlikely. Could only finish fourth in Tiggerlong Tonk's Sandown Shootout from a similar draw despite the smaller field. Has won 11 of 16 starts from boxes six, seven and eight. Better drawn off the track and although classy enough at his best, is unlikely to get a run to produce that tonight.
---
Box 6: Tommy Shelby | Trainer: Kelvyn Greenough (Steve Withers) | Weight: 31.5kg

Produced a typical "all heart" effort last week to win his heat in 29.21 after missing the start and having to overcome severe tightening to even get within a shot of the lead on the first corner. Demonstrated the courage that has made him one of the countries most popular greyhounds with his own nickname of the "The People's Dog". Has been in many feature finals, and his unfortunate habit of just missing the kick when it matters will be the deciding factor again tonight as he has ultimate speed in Shima Shine and Tiggerlong Tonk drawn to his outside. Will need to produce another warrior like performance to get the better of this field, but the smallest greyhound in the race has the biggest heart; and we can't write him off. If by some twist of fate he ends up in clear air chasing a vulnerable leader like Simon Told Helen, then we want to be on – especially at the the value price of $9.00 to $10.00. Will have to win it ugly, but has the ability.
---
Box 7: Shima Shine | Trainer: Andrea Dailly | Weight: 35.5kg

2020 Topgun winner Shima Shine put a disappointing Sandown Shootout run behind him last week, going bang at box rise in a trademark lead all the way performance. Ran just outside the best of the night in his heat running 29.19 on the back of a 5.04 first section; but Shima Shine's chances will be known at box rise. While he can win from behind, his chances in recent races have been totally defined by his ability to lead and win; or miss the start and finish just behind them. If Shima Shine comes out and leads this field from box seven, he will win. If he can't lead, he won't run a place – that is the equation. He has an exceptional record from box eight, and might just have been better being boxed that one slot further out despite the fact its normally a horrid draw over the 515m at Sandown. Has run 4.93 and 4.96 here early; and that would blow this race out of the water and turn it in to a solo trial. Most online bookmakers are betting $4.40 to $4.80 for a Shima Shine win. Trying to price in whether he will come out tonight or not is where the difficulty comes in to the betting. We have him priced over $6.00 but if he comes out and leads; nothing will beat him. You will know your fate early.
---
Box 8: Tiggerlong Tonk | Trainer: Correy Grenfell | Weight: 34.3kg

2020 Sandown Shootout winner Tiggerlong Tonk put together back to back performances running 5.04, 29.16 best of night last week from box four in what ended up nothing more than a solo trial. Does want to move slightly right as he accelerates early from the boxes, so the box eight draw does suit really well; but also allows Shima Shine more room to move as well. Tiggerlong Tonk's box eight record of six wins from nine starts, has also clearly provided his highest race ratings of any box draw. Had a 5.03 personal best which can't match Shima Shine if that dog breaks 5 seconds; but will Shima Shine come out like that? Should Shima Shine miss the start and the inside greyhounds bunch a little early; then Tiggerlong Tonk will get this race all to himself. Again we're being asked to to take $4.80 to $5.00 at most greyhound betting sites when we'd rather be betting $6.00; but has undeniable claims on the race.
---
2020 Melbourne Cup Betting Preview & Strategy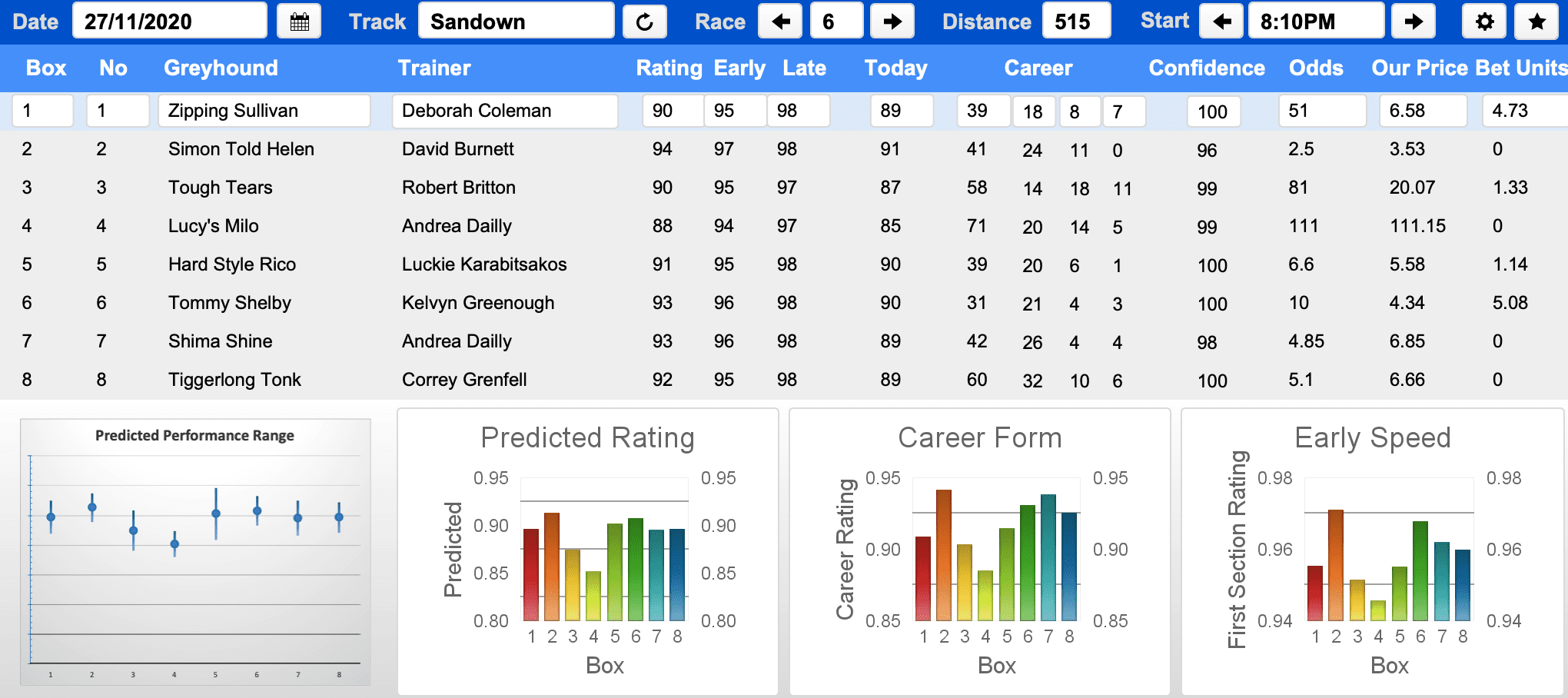 All the best online bookmakers are betting on the Melbourne Cup Final, many have been betting on the race for weeks; so the betting market is fairly mature and unlikely to change too much from now until start time.
The speed map is all important in the race tonight and to get a clear betting strategy we need to assess the likely outcomes and what that will mean for each greyhound.
The first scenario is Shima Shine runs a sub five second first section. If that happens then nothing can go with him and he will win. There is nothing that will run him down.
The second scenario is that Shima Shine misses the kick, and Tiggerlong Tonk takes advantage of inside trouble and blouses everyone down the outside of the track and runs away with the race. Again if he leads nothing can run him down.
Should Sandown play the way it normally does and outside boxes can't get in to the race then we have Simon Told Helen pushing up inside with Tommy Shelby and Zipping Sullivan chasing. Simon Told Helen's chances depend on not having to do too much hard charge work pushing his way through to the front. If he spends too much petrol early then Tommy Shelby could run him down.
The last scenario is Simon Told Helen tangles with Tough Tears and Tommy Shelby and Zipping Sullivan drives the rail early and gets away on the top corner while the rest of the field struggle to find clear runs.
We're not entertaining any kind of speed map or runs in the race that could see the greyhounds from boxes three, four or five feature tonight.
Looking purely from a value viewpoint, the two greyhounds to back are Tommy Shelby and Zipping Sullivan who are well above their real prices. And although we can't get set at the price we want, we need to back Shima Shine and Tiggerlong Tonk just in case scenarios one and two play out. Simon Told Helen is just way too short to entertain a bet given the way the setup looks. If he can manage a well deserved Melbourne Cup win, he will win without us.
---
2020 Group 1 Melbourne Cup Odds
---
Melbourne Cup Tips
Similar Greyhound Racing News