Melbourne Cup Heats Tips, Form Guides & Betting Preview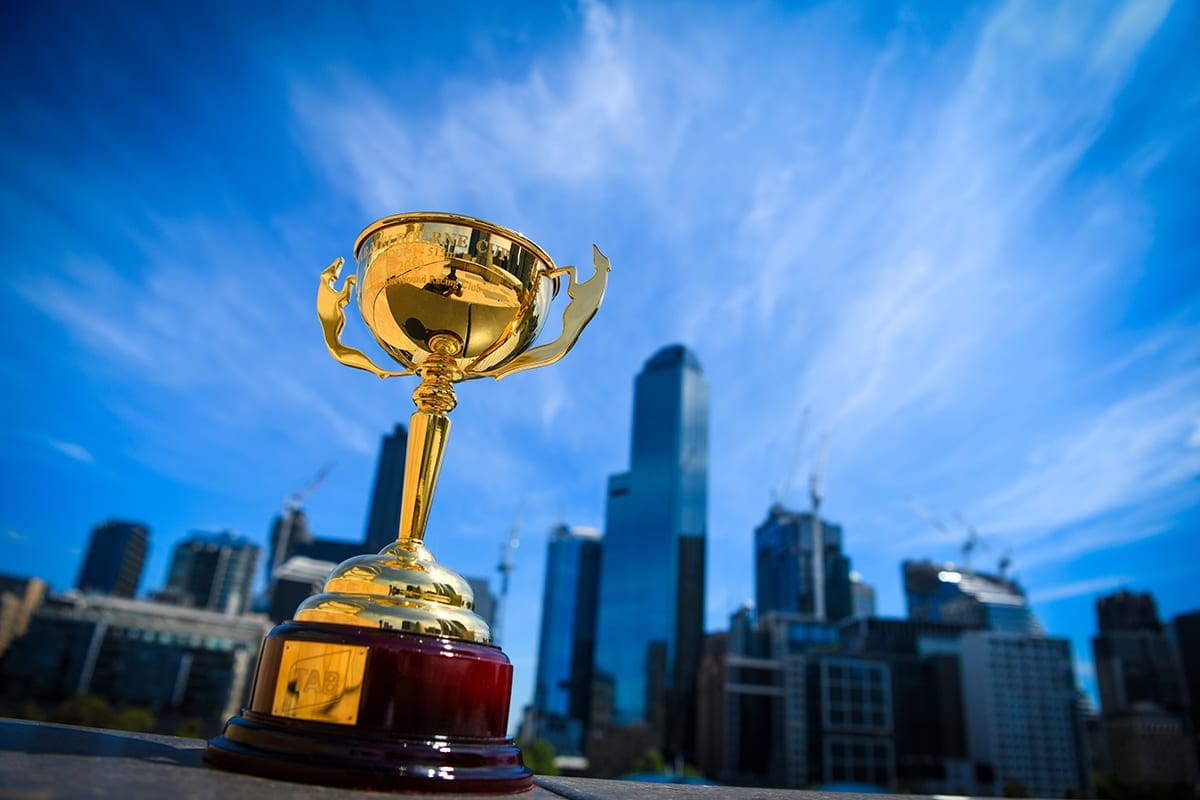 What
Melbourne Cup Heats
Where
Sandown Park, View Road Springvale, VIC 3171
When
Friday, November 20, 2020
Status
Group 1
Prizemoney
$630,000 – $435,000 to the final winner
Conditions
Open to the best 64 greyhounds nominated who have won exemption races, or competed in Melbourne Cup preludes
First Race
6:49PM AEDT
Watch Live
Billed as the greatest greyhound race on earth, the Group 1 Melbourne Cup is the showcase race on the Victorian greyhound racing calendar. The race has a strong history of producing quality winners over a long period of time; and the Melbourne Cup Heats Night is the feature night of greyhound racing nationwide with the eight heats of The Cup and heats of the $150,000 Group 1 Bold Trease Cup for the stayers on the same night.
Although the best eight greyhounds are seeded in to each of the eight cup heats, the Melbourne Cup heats have produced a great many controversies and upsets. The depth of the greyhound racing, and quality of greyhounds nominated ensures that the seeded greyhounds still have to be at the top of their game to make it through to the $435,000 to the winner final. A greyhound must win its heat to make the final.
Last years Melbourne Cup Heats were notable as favourites won six of the eight heats, with the average winning price of $3.58. The third favourite won one of the heats, and the remaining heat was won by the fourth favourite. So although the prospect of rough results and upsets may look enticing, history suggest those at the top of the market still have the best chance of winning their heats. The take home is to not bet too wide on the night, unless place betting.
Last year box one won three of the heats and box two contributed with one winning heat. Box eight which is incredibly hard to win from at Sandown won one heat, and boxes four and five won the remaining three heats. The obvious take home is that greyhounds drawn closer to the rail are advantaged, with greyhounds in the "squeeze boxes" only a chance if they can control and dominate the race early; or when the inside greyhounds find trouble in running.
AustralianRacingGreyhound.com takes you through the eight Melbourne Cup Heats, to help find the winners and identify the probable 2020 Group 1 Melbourne Cup Finalists. With all the greyhound bookmakers betting pre post on the final, there are plenty of opportunities to get set at "overs" for next weeks $630,000 race.
2020 Melbourne Cup Heats Tips
Melbourne Cup Heat 1 Tips, Odds & Betting Preview
2020 Melbourne Cup Heat 1 Betting Preview
The obvious top select here is Shima Shine, who won the Group 1 Topgun by controlling the race with a brilliant beginning. But as seen in the Sandown Shootout, Shima Shine doesn't always ping the lids, and has little impact on races where he doesn't lead. Bookmakers have him very short in the market and can't be entertained as a betting proposition.
Zambora Smokey on the other hand is drawn closer to the rail, is stronger in the run to the line, and is being sent out at $5.00 while we have him priced $2.54. If Shima Shine is having an off night, then Zambora Smokey is best placed to take advantage.
Shetland can apply some early pressure from box five and has the ability to figure in the finish, but has to overcome the mental stumbling block of driving hard in the run to the first corner after the horror fall last week at this track. Bees And Honey is best placed to trail the leaders from box four and find a way in the placings late.
---
Melbourne Cup Heat 2 Tips, Odds & Betting Preview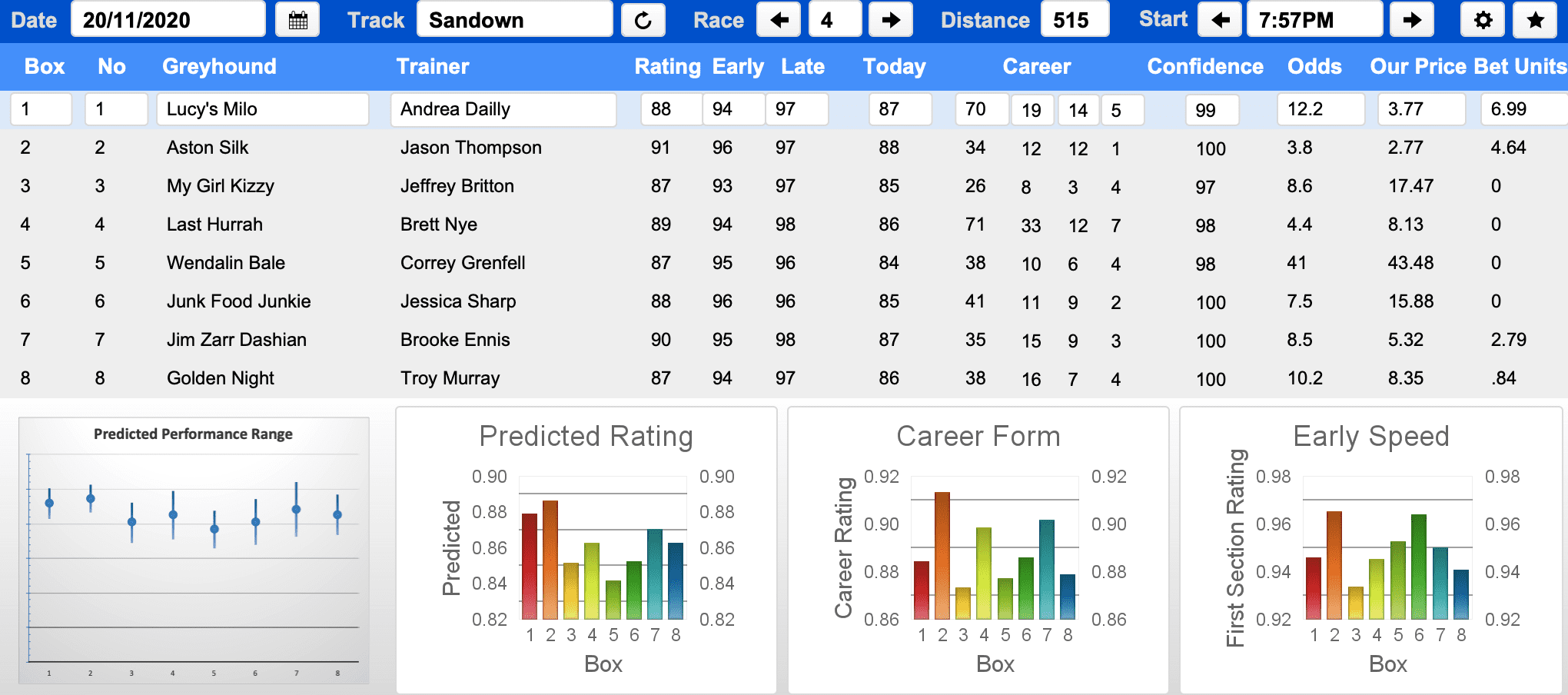 2020 Melbourne Cup Heat 2 Betting Preview
The two inside greyhounds Lucy's Milo and Aston Silk look to control the second heat of the 2020 Melbourne Cup. Aston Silk has the more dominant early pace and should get the better of Lucy's Milo early and dominate the race. Aston Silk will get tired in the run to the line, so for this to be an easy watch the rest of the field will need to tangle, but Aston Silk should have enough of a lead to get home. The dog has been backed in from $3.40 in to $2.70.
Last Hurrah has been something of a revelation for trainer Brett Nye, hitting a real purple patch of form despite having had over 70 starts. Very strong to the line, Last Hurrah would be the biggest danger to the tiring Aston Silk, and has just enough early pace to not get shuffled too far back on the first corner despite the middle box draw.
Lucy's Milo has been overlooked by bookmakers, but has drawn his box and shouldn't be discounted as a remote winning hope. Being sent out at $12.00 most bookmakers, Lucy's Milo can just keep hunting up on the inside rail and can figure in the finish.
South Australian greyhound Golden Night has the quality to feature but has to overcome the horror outside draw. Would need a lot of luck to get anywhere near the finish in this.
---
Melbourne Cup Heat 3 Tips, Odds & Betting Preview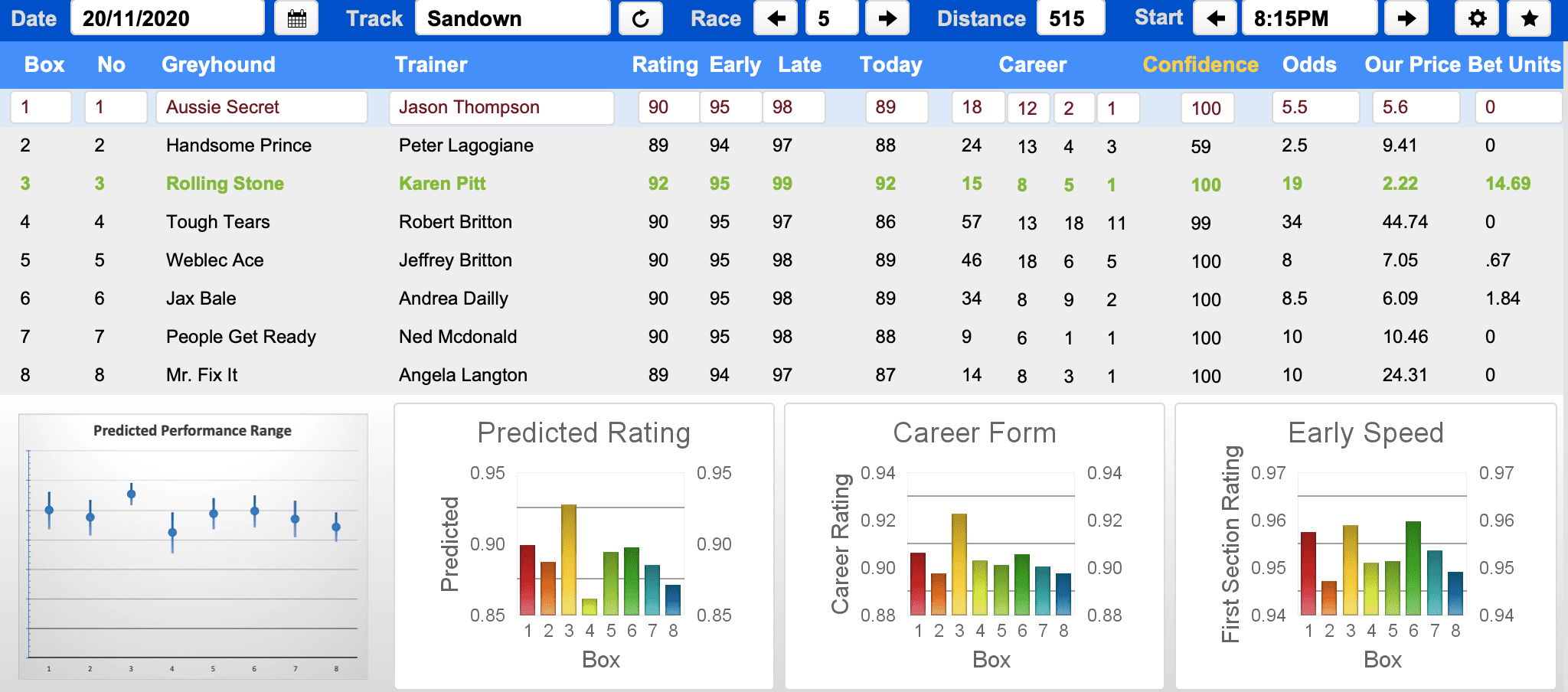 2020 Melbourne Cup Heat 3 Betting Preview
Handsome Prince put every Melbourne Cup hopeful on notice last week with 29.12 solo trial here between races. Despite a moderate 5.03 early first section, the NSW trained and former Tasmanian greyhound flew to the back mark in 18.49 to set up the fast time. Unfortunately though Handsome Prince has struck a box draw that will almost certainly seen him crossed by rising young star Rolling Stone.
Rolling Stone was only having her 15th start when making her 500m and Sandown debut last week having been better known over 400m to 450m journeys. The young dog led Aston Silk on that debut and only got tired late going under to that dog by just one length on the line. The Karen Pitt trained greyhound is sure to have derived great benefit from the first up run, and looms as a serious contender in heat 3 despite the "roughie" price tag odds of $12.00.
Handsome Prince looks the obvious testing material for Rolling Stone and has the ability to either lead it early, or catch it late; but will need luck to get the right rails run if chasing Rolling Stone. Assuming a clear pathway to the line, Handsome Prince no doubt is the greyhound to beat. But based on career form, Handsome Prince has only rated averagely from box two despite the 100% winning record. There is no doubt Lagogiane has improved him greatly on his past Tasmanaian form, but the risk does still exist; and at just $2.70 we are not being priced in to take the risk.
Jax Bale who has been somewhat out of form, and Weblec Ace look next best to take advantage of any trouble or to figure in the placings. Both are priced up for small "saver" or value bets.
---
Melbourne Cup Heat 4 Tips, Odds & Betting Preview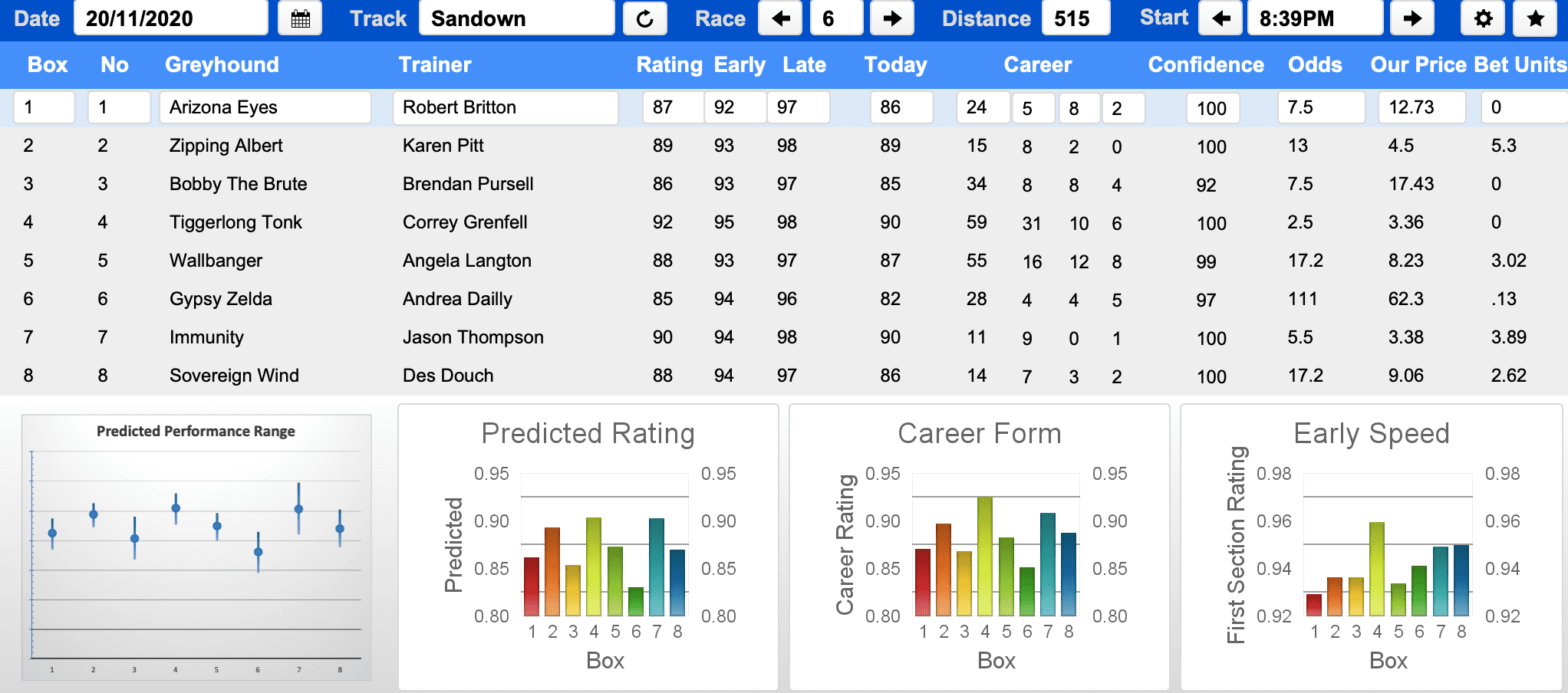 2020 Melbourne Cup Heat 4 Betting Preview
One of the more open Melbourne Cup heats, but Sandown Shootout winner Tiggerlong Tonk is well boxed in box four to take the early lead; and would be incredibly hard to run down if that was to happen. Clearly the best dog in this race, Tiggerlong Tonk is hit or miss at the start; and we aren't really being priced in to back him at just $2.20 given the risk he doesn't begin. Ideally we would want $3.30 to get involved , which won't happen. If he begins, or begins well enough to sit outside the early leader, he will win; but we can't be on at the price.
Wouldn't normally recommend backing one in Melbourne Cup heats from an outside draw, but Jason Thompson has a proven track record of selecting and training the right greyhounds to not just make the final, but win the Melbourne Cup. Immunity has had just 11 starts for nine wins; two of which have been here at Sandown, including a flying 29.13 win here from box seven. Priced at $5.00 we can get set on Immunity each way and get a good run for our money.
Zipping Albert is drawn well enough to race underneath the speed and find a way in to the placings. And Wallbanger will get shuffled back but is extremely strong to the line as seen in NSW during the Million Dollar Chase series.
---
Melbourne Cup Heat 5 Tips, Odds & Betting Preview
2020 Melbourne Cup Heat 5 Betting Preview
Arguably Australia's best greyhound, Simon Told Helen holds all the cards in the fifth heat of the Melbourne Cup. At his best, he would win this comfortably and his last start second in the Group 1 Topgun to Shima Shine would suggest he is back close to peak after a disappointing trip to NSW. Bookmakers were betting $2.40 to $2.50 this morning, which has just trimmed up to $2.20. You wouldn't want to be taking anything less than that, and he was a strong bet above $2.40.
Special Talent can get a nice cart over and trail in to the race from Simon Told Helen, and has the ability to stay him most of the trip; but just doesn't have the finish to go past Simon Told Helen. Looks to get every possible chance to run a place.
Zipping Zarbo and Sweet Demi are drawn to get room on the rail and can run into the money, but lack the outright class to win without major race trouble.
---
Melbourne Cup Heat 6 Tips, Odds & Betting Preview
2020 Melbourne Cup Heat 6 Betting Preview
West Australian Tommy Shelby has been here, there and everywhere in recent months, but continues to produce at the top level. Looks drawn well enough in box three to produce one of his better runs, and really only has to head off Weblec Jet and Zipping Zeek to his inside to get to the front and win this. Officially hasn't raced at Sandown, but has been in Victoria since the Million Dollar Chase final and is sure to have been given plenty of track experience here in trials. Bookmakers are offering $3.50 to $3.80 which is good enough for us to get involved.
Weblec Jet returned to form here last week with a 29.62 come from behind winning effort. The Jeff Britton trained greyhound has won six of 17 starts, goes well from box two, and can feature at more than $15.00 with most bookmakers.
Zipping Zeek has been the subject of controversy, where his former NSW trainer was placed under suspension for a positive swab. The greyhound has an enormous motor, as seen last week coming from behind in Weblec Ace's Sandown win to finish second. Will be powering home late but is under the odds at $2.60 to $2.70 with most betting sites.
Catch The Thief is drawn horribly out in box six and is best of the rest.
---
Melbourne Cup Heat 7 Tips, Odds & Betting Preview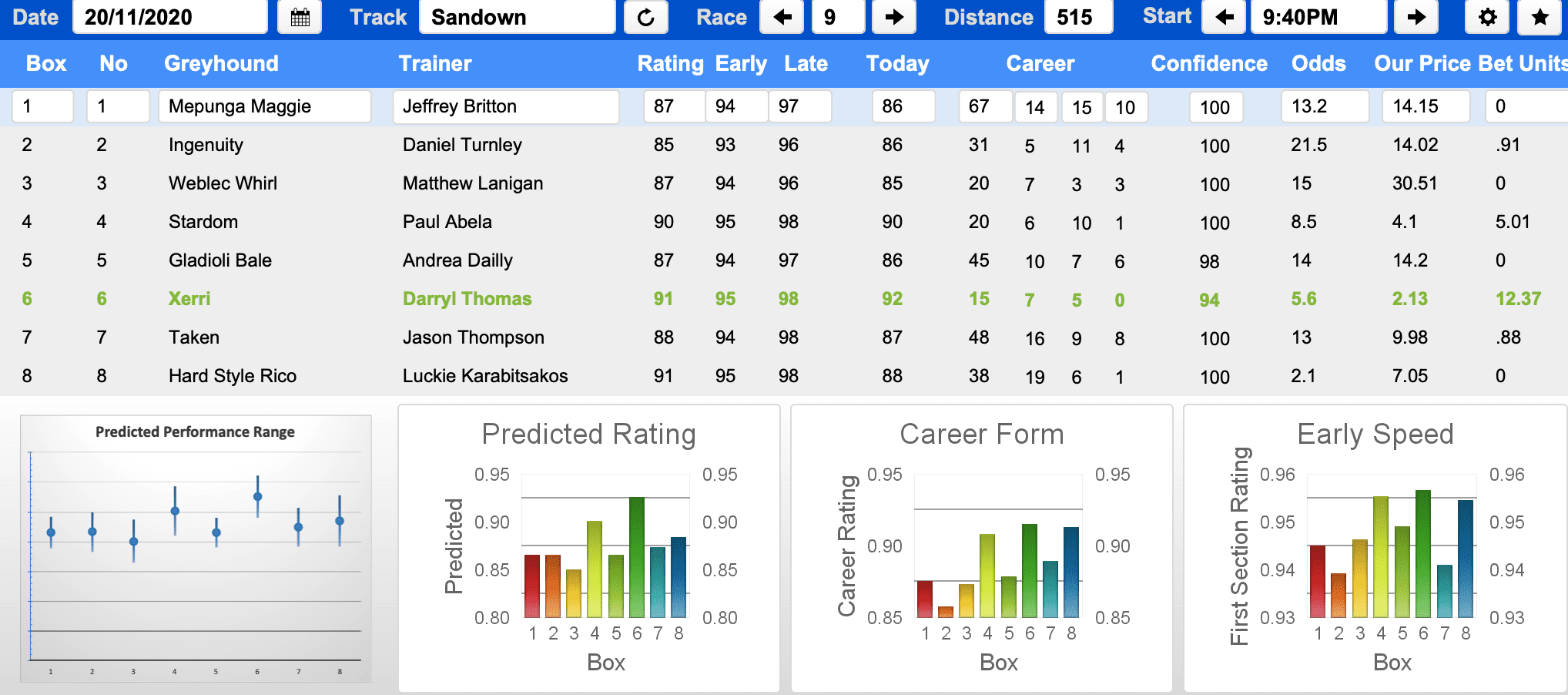 2020 Melbourne Cup Heat 7 Betting Preview
NSW greyhound Xerri has been underestimated by odds makers in the second last heat of the Melbourne Cup tonight. Was disappointing on initial presentation last week when only running fourth from box one at his Sandown debut; but hit the running rail hard in running and that not only really hurts quite a lot but takes lengths off greyhounds. The run is to be forgiven. One of the fastest greyhounds in training, Xerri produced his true ability in the Million Dollar Chase semi final beating Stardom in 29.53. Drawn perfectly out in box six for him, he'll get every chance to run past Stardom again.
As mentioned Stardom led Xerri to the corner in their race at Wentworth Park in NSW, and looks to get every chance to do that again tonight at Sandown from box four. Different state, different track; but result will be the same with Stardom hanging on for second while Xerri goes on by.
Mepunga Maggie can drive up the inside and has the strength to get close late, while Hard Style Rico will be running on off his horror outside draw.
---
Melbourne Cup Heat 8 Tips, Odds & Betting Preview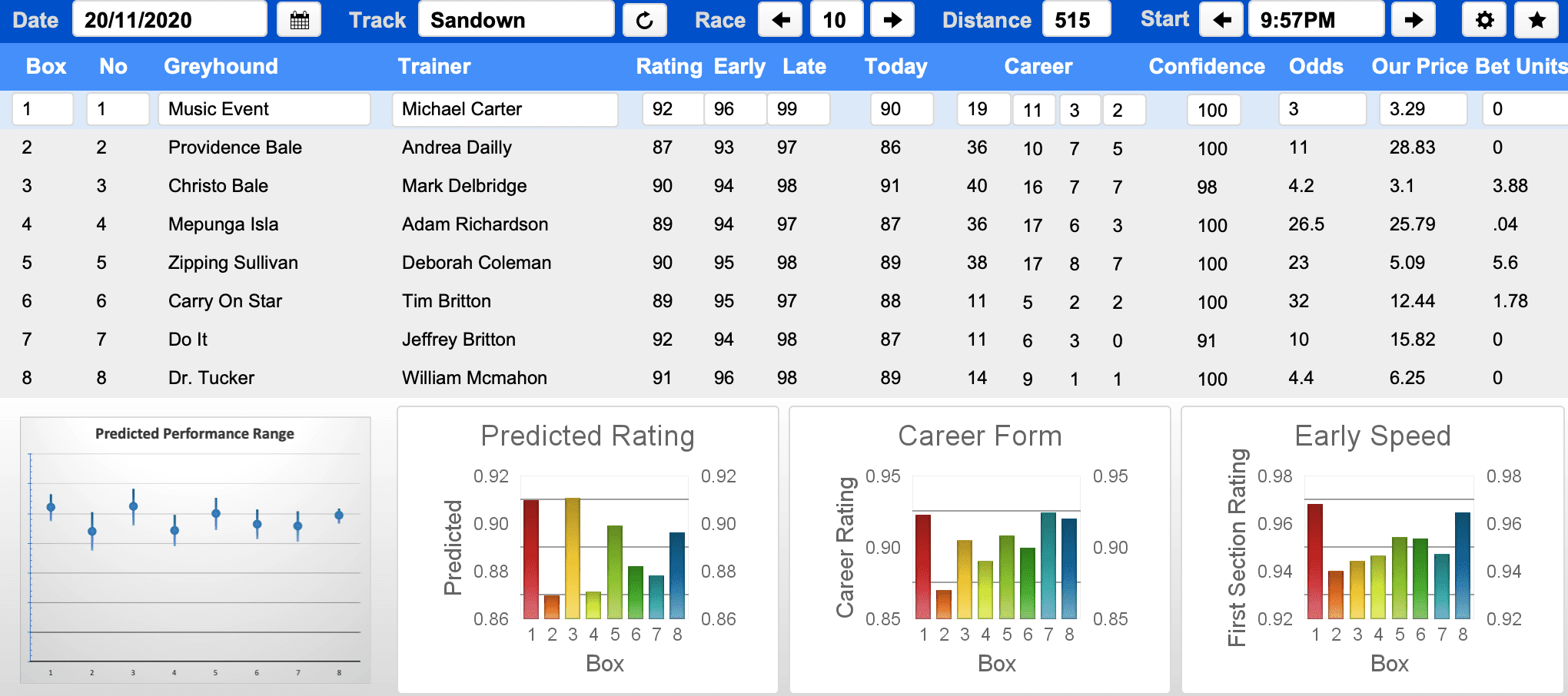 2020 Melbourne Cup Heat 8 Betting Preview
Music Event will be able to thank a fortunate box draw after he wins the last of the Melbourne Cup heats tonight. A very even field contest heat eight, where luck in running is sure to prove the only difference among the field. Music Event is in great form winning both his past two races here in very quick 29.39 and 29.32 times from inside draws. Being sent out $2.90 to $3.00 for tonight's race, he makes a very credible betting proposition. Ideally we would like to get set above $3.30.
Christo Bale was the talk of the town after upsetting the Meadows Speed Star head to head races, not only beating Catch The Thief two out, but winning the whole series. Unfortunately has seven other competitors to deal with tonight as opposed to just one. Has been successfully mixing distances, and more recently finished a close up third to Tiggerlong Tonk in the Sandown Shootout. Very well placed to chase to Music Event all the way.
Zipping Sullivan is a "hot" or "cold" greyhound, but has the ability to be right in the finish if he is having an "on" night. Being sent out at $20.00, we're priced in to cover the risk of an "off" night for small speculator at the odds.
Mepunga Isla will get beaten for early pace but can find her way to the line to feature in the placings.
---
Similar Greyhound Racing News