Bob Payne & Chairman's Cup – best odds, bonus bets & free tips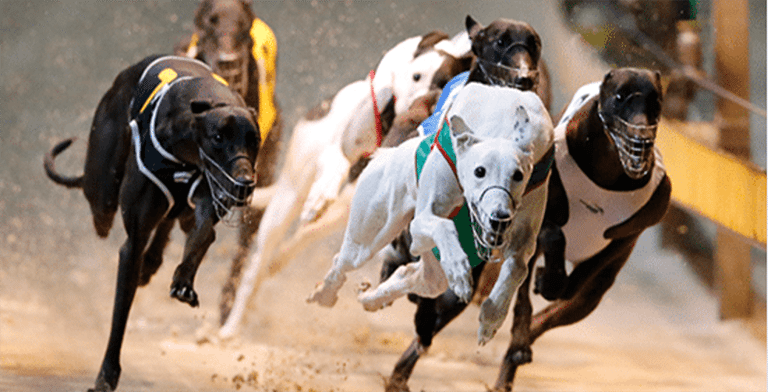 A MASSIVE night of racing awaits at Wentworth Park tonight featuring the heats of the Group 2 Bob Payne Spring Sprint (520m) and the Group 3 Chairman's Cup (720m).
Both events have attracted stellar fields including six-time group 1 winner Fanta Bale which will jump from box one in the second of two Chairman's Cup heats.

With such a great night ahead, Australian Racing Greyhound has extensively previewed each feature heat, including the best odds available for each runner courtesy of our leading recommended bookmakers.
Before you bet, be sure to check out the bonus offers exclusive to readers of Australian Racing Greyhound – giving you extra cash to bet with in addition to some top odds.
Mr Shire (Magic Sprite x Slick Exit Mar '14) is a freak and he faces arguably his biggest test to date in this race. He is probably better drawn off the track, but he still boasts an impeccable record off the red and over this track and trip. He is better than his last run indicates – it was his first start in a month and he should have derived benefit from that hit out. Massive jump in class for him, but he has always looked like a group class stayer.
Tahlia's Way (Spring Gun x Miami Gold Oct '14) comes into this race in sensational form, having won her past two over the Wentworth Park 'half-mile'. She has a good draw here and should find the front in the early stages – from there it will be a staying test as to whether her rivals are good enough to run her down.
Starza Light (Barcia Bale x Zsa Zsa Dec '14) has a great record over this track and trip with a personal best of 42.06. If she can settle off the pace she will make it a real race in the closing stages, however she is the type of bitch which needs things her own way so be mindful of that when having a bet.
Jalapeno (Kiowa Mon Manny x Brook Lee Apr '15) is a classy young Queenslander making his debut at Wentworth Park. On times he is in with a big chance, however he doesn't like to be crowded so will need some luck to find a clear spot early.
Tips: 1 – 3 – 7 – 4
You can't tip against Fanta Bale (David Bale x Ucme Typhoon Aug '14). She is a genuine superstar and off the red she should be rolling to the front and I can't see any of them running her down. Capable of breaking the 42 second barrier and if she does that she will be putting a gap on them.
Outside Pass (Head Bound x Tina's Show Aug '13) was far from disgraced when running fourth in the Group 1 National Distance Championship last start. Beautifully drawn out in box seven and should be punching up towards the front in the early stages. She is a very classy bitch and probably the only genuine threat to the favourite excluding bad luck.
Billy's Bake (Barcia Bale x Evie's Entity Mar '15) is a rising star in Victoria. He is debuting at Wentworth Park tonight which is a slight concern, however if he can possie up in the early stages he will be running a good race at the finish.
Sherbini (My Bro Fabio x Hidden Assets Oct '15) isn't even two yet but looks a nice stayer of the future. Faces a huge rise in class here and the box doesn't suit but she could run into the minor placings.
Tips: 1 – 7 – 3 – 5
Up Hill Jill (Premier Fantasy x Where's Demonica Feb '15) is the class runner of this field and if she clears them early she will take some running down. She is armed with good box speed and she has a personal best of 29.63 at Wentworth Park – a repeat of that performance will see her win.
Bekin Street (Bekim Bale x Serisier Street Sep '15) ran a good fourth in the Group 1 National Sprint Championship last start at Albion Park and he looks a chance of causing an upset here tonight. He loves Wentworth Park and there is very little genuine speed drawn directly around him which should allow him to find a nice spot in the run to the first turn. His second sectional is phenomenal so if he gets clear room down the back watch out.
El Magnifico (El Grand Senor x Little Grey Mar '14) is drawn on the wrong side of the track, but if he steps well he should get a nice run into the race on the outside of Up Hill Jill. Has had a few runs back from a spell now so should be ready to hit his straps.
Royal Turbo (Swift Fancy x Addiction Jan '15) is better than his form reads. He is speedy early and has been leading in most of his races before tiring in the closing stages. Connections have had a few problems with tying up in the past which could be the cause – if he is 100 per cent he is capable of breaking 30 and can give this a shake.
Tips: 7 – 4 – 8 – 1
Mister Twister (Collision x Double Twist Jan '15) is the last start Group 2 Black Top winner and looks poised to make another group final here tonight. Should have no problem punching up towards the front and I doubt there is a dog in this field which could run him down if he finds the bunny.
Ebby Ripper (Sh Avatar x Ebby Miss Feb '15) is racing well at the moment and could represent value. She is poorly drawn but there isn't a huge amount of pace around her so she could find herself a nice spot and run a cheeky race.
Riley Tokaam (Don't Knocka Him x Skyela Tokaam Mar '15) can be tardy early but he has a massive motor and is probably the only greyhound matching Mister Twister based on raw ability. Box six won't do him any favours but he is good enough to overcome the draw.
Rather Dapper (Dyna Lachlan x Pearl Za Zinger Apr '15) is a classy Queenslander and he is drawn well in box one, however on debut at the track I am prepared to risk him.
Tips: 3 – 5 – 6 – 1
Going for some value with Barking Bad (Bella Infrared x Ebby Miss May '14) which is probably the best greyhound in this race based on times. He is a very moody dog and only turns up when he wants to – but he hasn't got an enormous amount of pace either side of him tonight and if he can get up towards the front in the early stages he should make a race of it. Wouldn't take short odds but at $9 he is value.
Rohan Hill (Brett Lee x Cawbourne Whip Mar '15) is probably racing just below his best, but box one brings him right into contention and he should be able to lead this field off the cherry. Capable of breaking 30 on song and that should be good enough to get the bikkies if Barking Bad isn't interested.
Aqua Cheetah (Cosmic Rumble x Dalta Bale Mar '14) is poorly drawn but he is a class greyhound on his night. Started his career at Wentworth Park and since then has gone on to win the Group 1 Adelaide Cup under the care of Jason Thompson. Needs a bit of luck early but can feature.
Lord Jack (Fabregas x Rumble Street Feb '15) is terribly drawn but ran a top race last week when finishing third in the Group 2 Black Top at The Gardens. One for the exotics.
Tips: 3 – 1 – 6 – 5
Mack Tux (Lochinvar Marlow x Oxley Falcon Apr '14) is a great beginner and should be high on confidence coming into this race after winning at Richmond last week in 22.54. Box six is never great but he has the speed to overcome the draw and he will be carving out some nice sectionals in front.
Little Nangar (Primo Uno x Fancy Liza Sep '14) is a talented greyhound and if he can hold his spot on the fence in the run to the first turn he should be thereabouts at the end. He is fairly strong but will need to step well or risk getting swallowed up from the one.
Zambora Cross (Barcia Bale x Benden Snap Jan '15) has been racing well without winning. Box five not ideal but if she can miss the six in the early stages and follow it across she is definitely capable of causing an upset.
Slick (Dyna Lachlan x Pearl Za Zinger Apr '15) is a powerhouse sprinter from QLD, but is a slow beginner at the best of times and will find it tough from the eight.
Tips: 6 – 1 – 5 – 8