Wentworth Park tips & best bets 22/1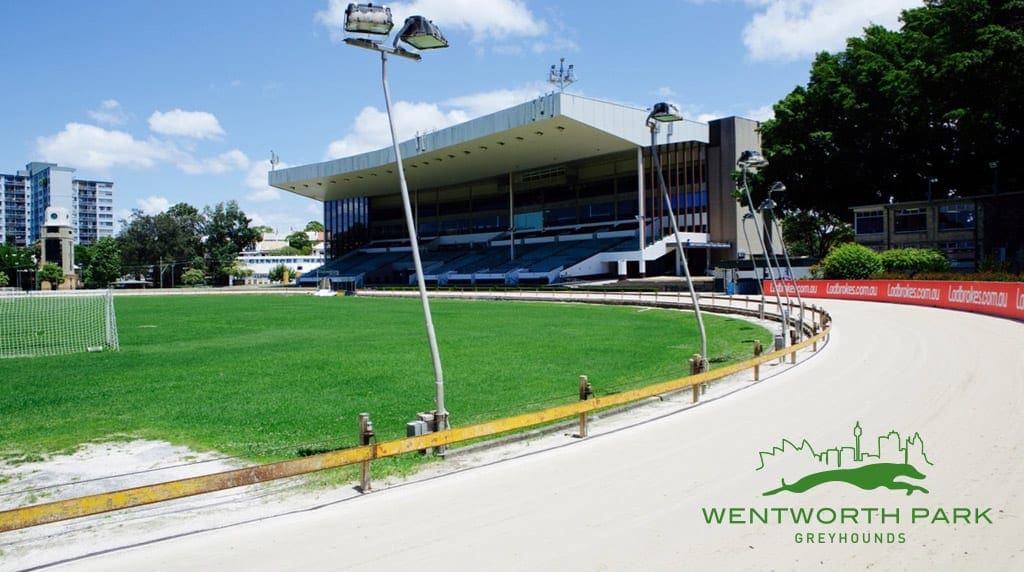 Paws of Thunder final night promises to be a cracking evening of greyhound racing at Wentworth Park on Saturday and our form analyst has done the hard work for you. Our Wentworth Park tips include all of the 11 races on the card — with special emphasis on the feature races — Paws of Thunder, Summer Distance Plate, the National Derby and the National Futurity.
Race 1 NSW GBOTA Welcome Maiden Final 520m
Race 1 is the maiden final in which the runners all qualified in two heats held on January 12. The two heat winners Too Sassy and Irinka Jock were both having their first ever start and both had box 6 in their heats and now move into lower more favourable draws and are bound to have improved after that first outing. Too Sassy (daughter of Dyna Double One and Sass) showed good pace trying to match motors with the very speedy Hope McGraw before showing his tenacity to draw away to a nice win. Irinka Jock (son of Feral Franky and Irinka Lizzy) began well from box 6 with a couple of vacant boxes below him and proceeded to destroy the field winning by 7 lengths… It looks a race in two, however Hope McGraw should show her customary early burn and could easily pinch this if she leads and there is any trouble behind her and Me Shame and Cheeky Bon Bon have minor claims
Selections: 1-3-6-8
Race 2 Ladbroke It! 5th Grade 520m
The extremely promising Opal Model heads to town for the first time tonight. She will no doubt be well schooled by Jason Mackay and if she can bring her Newcastle form to town she will get away with this race. She sizzled around The Gardens in a blistering 29.47 (.3 outside the record) last start and loves a low draw which she gets here. She has 10 wins and 13 placings from her 25 starts and is definitely the one to beat. Zipping Maserati and Analysing both come back from the National Derby and Futurity heats respectively and will definitely enjoy the drop in class and be the obvious danger. Soul to Squeeze can ping and go on his night and he drops back from FFA grade as well and Cawbourne Turvey is the strongest dog in the race but will need some luck to win.
Selections: 2-7-6-4
Race 3 NSW GBOTA Summer Distance Plate Final 720m
The first of our Feature races tonight and the stayers take their place in the spotlight. All finalists qualified last Saturday night in one of two heats. Victorian visitor Untapped impressed, beginning well and zipping to the front and opening up a big lead he did get a little tired in the run to the line, but should take some improvement from the heat and moves into box 4 for the final. If he begins like he did last week he will give them something to catch. The other heat winner Hank The Hustler, also a visitor from south of the border, comes from the very strong Britton kennel and may find himself hard against the fence soon after the start and that is where he loves to be. He is strong and will be hard to beat. Discount Stanley Road at your own peril even though box 8 is probably not ideal for him and he hasn't been at his brilliant best of late. He was closing hard in the heat and if they give him a shot he will take it. Mepunga Ruby is another Victorian from the Britton kennel who had no luck in her heat but she qualified which was the objective. She can show great toe on her night, has won 16 of 28 races, and if she puts it together and begins well there is no reason she can't win this race. By Five Helen needs the fence badly and comes up with the red box but I doubt she quite has the class of some of these
Selections: 2-8-4-1
Race 4 Ladbrokes National Derby Final National Derby (g1) 520m
First up looking for group 1 glory is the boys in the National Derby Final. A race that means so much to connections and has such a prestigious history and has been won by a who's who of greyhound racing. Boston Garden for veteran trainer Christine Proctor did everything right in his heat, clocking some blistering sectionals (5.33 and 13.79) on his way to very quick 29.79 heat win. That was his first look at the glebe circuit since coming north and he is bound to be improved by the outing. If he runs those sectionals again tonight he will go extremely close. Slingshot Jonesy will not want a repeat of his tardy start from the heats but he used box 1 beautifully in the heats and low and behold gets it again in the final. If he begins better may well drive through at the first turn and be the one to beat. Zara's Ivan is a promising youngster from the strong Victorian Andrea Dailly Kennel he chased Boston Garden all the way last week and will no doubt be improved from his first look at headquarters and is a genuine chance. Persuasive from the strong Magri kennel also did nothing wrong in his heat and will be looking to begin like he did in the heats and will be looking to hold Boston Garden to the first turn if he leads he will be very hard to beat but box 6 is a worry. Congratulations to all the connections and may all the dogs get around safely and the best dog win
Selections: 8-1-2-6
Race 5 Ladbrokes National Futurity Final 520m
Now its time for the girls to strut their stuff in the National Futurity Final. Another time honoured race for the fairer sex and one that again is steeped in history and celebrity greyhounds. What a great story we have in this year's Futurity. Will it be the Megastar winner? What about a Cinderella story? Will the Futurity head down the highway to Victoria? Will there be a boil over and this year's trainer of the year Andrew Bell get his first group race? We shall see. It's impossible to go past Mark Gatt's Megastar winner Ritza Donna, who used all of her nous and smarts to dive to the fence from box 6 after a tardy beginning, a check and yet slowly but surely reeled in She's Savage, posting a best of night 29.72. If she mends her box manners and begins she will be mighty hard to beat. Idolize, one of two in the race for Victorian trainer Peter Presutto, did a few things wrong but still ran down the speedy Coco Model in good time and began well enough to suggest that she may be a genuine threat in this race. Can there be a fairy-tale finish for young Taree trainer Jessica Savage? She hopes so and her charger She's Savage ran great sectionals but was a sitting shot for Ritza Donna in the heat. If she can begin and swoosh down the outside she may well stack them up as she crosses and be off and gone. The fly in the ointment for this whole race may well be Coco Model for Andrew Bell from box 1 as she is a reliable beginner who will ping and go early and that could cause problems right through the field. We are not sure she is as classy as some of these but is a rough hope if she leads.
Selections: 6-3-8-1
Race 6 Ladbrokes Summer Carnival 4th/5th Grade 520m
Probably the toughest race on the card outside the Paws of Thunder Final with most of the runners dropping back from the group 1 races last weekend. Chrissie Banner looked unlucky in the Paws of Thunder heats, almost getting to the front, before being checked out of the race, eventually finishing fourth. Goes back to a favoured inside draw where she has placed six of seven races with four wins. Midnight Flash is by far the strongest dog in the race but will need some luck from box 4. She may well go out over the odds and may be the best value bet. Suzie's Face did not contest the group one races last week, instead sizzling around The Gardens in a best of night time. She is a reliable beginner whom could be a surprise packet. Tarawi Ted is not that badly drawn in box 8 and has the ability to use that box to his advantage and run a strong time. He has four wins on the glebe circuit already. Flighty Fernando is a rough chance and would need to produce her best but has broken the 30sec mark in the past.
Selections: 1-3-4-8
Race 7 The Collerson Non Graded 520m
The Collerson is a listed race which acts as the consolation for the dogs that just missed out on a start in the Paws of Thunder final and is of course named after greyhound journalism royalty Mr Jeff Collerson. A tricky race but Indy Matilda from the astute Andrea Dailly kennels did everything right in her heat only to be run down by superstar Jungle Deuce. She was low flying prior at Sandown and if she pings and goes there is no Jungle Deuce to run her down tonight. Qwara Bale led up Bandit Ned in her heat but couldn't hold him off. Gets the rails and a chance to lead and scoot away in front. Fernando Hunter came from a mile back to run classy Victorian Do It to a head but can't afford to give too much of a start in this. Will need luck from the draw but has won his only start from box 5 and how do you leave a speedster like Zipping Krygios out? Yes he was disappointing last week, but he has a personal best of 29.37 and that is genuinely going to attract unmarked speed cameras. Jessica Sharp's two Victorian visitors Devel Sixteen and Junk Food Junkie will undoubtedly improve after seeing headquarters for the first time and have their chances. Good luck with your investments and I wouldn't talk you out of backing any of them if you like them but for me it's Indy Matilda at around the $5.50 mark with top greyhound bookmakers.
Selections: 3-5-2-6
Race 8 Ladbrokes Paws of Thunder Final Paws of Thunder 520m
Read our Paws of Thunder runner by runner analysis and free tips article.
Race 9 Rooster's Traffic Control 5th Grade 520m
Leading trainer Andrew Bell has a strong hand to play in this race with three runners engaged. Cartel Master has been a model of consistency of late and was a very good second in his derby heat last week and he will appreciate the drop in class. He was unlucky on Wednesday night here when going for the winner run and was severely checked. He should get a very nice cart into the race from his kennel mate Canya Zeus who is a good beginner and likes to head to the fence. Bell's third runner Smokey Cape loves the inside and will need some luck from there as his record at Wenty is not great. Chasing Fernando might be the one to catch as he can run sections on the night and if he nails the start may lead for a long time. Powder Finger also drops back from the derby heats and must be respected but is very risky at box rise while Taw General must be given a chance after beating the promising Bruce Mick Glenn last start here.
Selections: 8-6-3-7
Race 10 Cash Connect Atm Plus Masters M1/M2/M3 520m
Time for the masters to show their wares and outside of the group and listed races there will probably be more interest in this race than any other on the card. Can the old marvel Sunburnt Highway (who is have start number 101 at Wentworth Park and 143 for his career) break Bessy Boo's record of 34 wins here at H.Q? They share that number and with the prime box surely no one can begrudge this five and a half year old that one more win which would etch him into the record books on his own. A massive congratulation to the Richardsons and he can get the job done. The party poopers may well come in the form of Tradie's Mate who loves it out wide and gets the 8 box. He is a slow beginner though and may find it hard to get across and won't want to be giving the red a start. Vintage Special is the one to watch. In the astute hands of Ken Chappelow, she hasn't raced for a while and is coming back from a distance campaign but has a slick P.B around here and is competing in a Masters race for the first time. Again is not quick early but is strong but I'll be cheering for the old boy.
Selections: 1-4-8-3
Race 11 Where Else but Wenty? Free For All 520m
Another top quality race to close out an outstanding program. The free for all features quite a few dogs who were unlucky in the Paws Of Thunder heats last week that are now looking for redemption. It's very hard to go past the flying bitch of Jodie Lord, Coast Model, who is a model of consistency and was going to the front in her heat last week before being dragged down and put out of the race. With a vacant box under her I expect her to ping the lids and lead all the way. Compliance however might beg to differ. He ran a good sectional and was only the victim of a strong dog, Springview Noah, getting a dream run to sit on him and run him down. That was his first look at Wenty and is currently in the hand of Jason Magri so you know he will have improved and may be the testing material. Zulu Warlord is no slouch early either and may have visions of leading this race as well. If he begins like he can he can cause some real trouble and maybe even pinch it. While Redshift Seven has the best P.B time of any runner in the race he will be looking to use box one to enhance his chances. Overall a quality race to finish what will have been a quality night of chasing.
Selections: 6-3-7-1
More greyhound tips