Royal Turbo too slick for rivals in Golden Easter Egg heat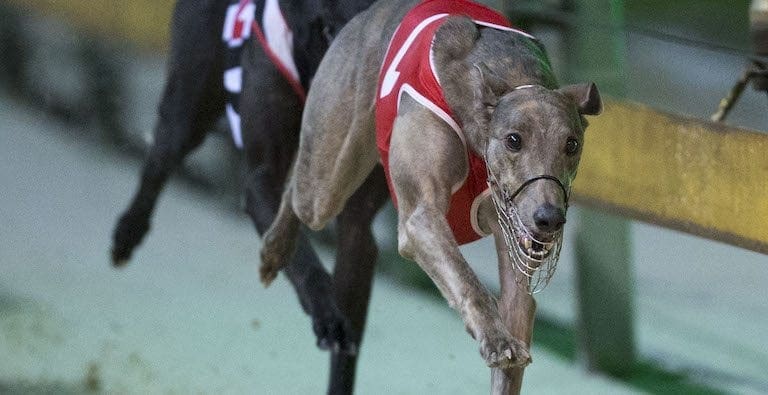 ROYAL Turbo (Swift Fancy x Addiction Jan '15) produced a brilliant front-running performance to win his heat of the Group 1 Golden Easter Egg (520m) at Wentworth Park on Saturday night.
The blue brindle dog, trained at Agnes Banks by Glen McKinley, was the first to leave the traps in the sixth heat and was able to hold off a late challenge from Bombshell Bandit (Collision x J's Robin Jul '15) to win by three quarters of a length in 29.90.
Victorian Pants On Fire (Bralyn County x Erin Norris Jun '15) finished third, with race favourite Poke The Bear (Fernando Bale x Nicki Fields Dec '15) running fifth after finding trouble.
McKinley said he went into the race giving his charge a big chance, despite being drawn in the middle of the pack.
"He was in the right race, he got to the front and he won well," McKinley told Australian Racing Greyhound.
"There also didn't seem to be a lot of pace in the race on paper so I wasn't too worried about box five – it normally isn't a bad draw if you are a quick beginner and he has a good record off box five."
Royal Turbo has now won 21 races from 68 starts with a further 17 placings and almost $140,000 in prize money.
His major career wins have been in the 2016 Group 3 Christmas Gift and the Listed 2018 Collerson, both of which were held at Wentworth Park where he owns a 29.77 personal best.
"He has won 15 at Wentworth Park now and he has only just turned three – there aren't too many dogs that can do that," McKinley said.
"He is starting to get a bit stronger too – once he broke away from them down the back on Saturday I was confident he'd be able to hang on and he seemed to kick again in the home straight.
"He won his heat of the Easter Egg last year – so he is back for another go which says a lot about the dog and I think he is probably racing a bit better this time around."


It wont be an easy assignment for Royal Turbo which progresses through to the semi-finals where he will meet some of the best chasers from around the country.
Plenty of big names made it through to the second round of the $250,000 to the winner series including Group performers Up Hill Jill, Out Of Range, Striker Light, Cosmic Bonus, Miss Splendamiro and Slick.
"There is no doubt he will be up against it this week, but if he can draw well he should be competitive," McKinley said.
"Obviously he needs to lead – he isn't the type of dog which can come from behind – but if he can get to the front easily I think he is capable of running around 29.70 which will put him right in it."
Semi-finals of the Group 1 Golden Easter Egg will be run this Saturday night.
2018 Group 1 Golden Easter Egg heat results
Heat one: 1st Miss Splendamiro (3), 2nd Up Hill Jill (2), 3rd Two Jay (6). Margins: 1.25 x 0.75. Time: 29.72.
Heat two: 1st Aston Frankel (1), 2nd Champion Model (2), 3rd Out Of Range (5). Margins: 1.75 x 5.75. Time: 29.96.
Heat three: 1st Crash Bandicoot (2), 2nd Ritza Lenny (8), 3rd Striker Light (6). Margins: Neck x 1.25. Time: 29.65.
Heat four: 1st Alpha Georgiou (7), 2nd Falcon's Fury (8), 3rd Two Times Twice (3). Margins: Nose x 1.25. Time: 29.80.
Heat five: 1st Dual Keroma (8), 2nd Little Digger (6), 3rd Tilikum (4). Margins: 0.75 x 3.0. Time: 29.87.
Heat six: 1st Royal Turbo (5), 2nd Bombshell Bandit (7), 3rd Pants On Fire (8). Margins: 0.75 x 1.00. Time: 29.90.
Heat seven: 1st Cosmic Bonus (8), 2nd Sound Advice (1), 3rd Surfing Dyno (5). Margins: 1.75 x 1.50. Time: 29.78.
Heat eight: 1st Dreaming Time (1), 2nd Big Black (7), 3rd Fernando Express (3). Margins: 0.75 x 2.75. Time: 30.29.
Heat nine: 1st Rohan Hill (8), 2nd Poco Dorado (4), 3rd Slick (3). Margins: 3.25 x 1.00. Time: 29.79.
Heat ten: 1st Aston Duke (6), 2nd Ritza Rossi (1), 3rd Mount Brown (3). Margins: 4.50 x 1.50. Time: 29.67.
Similar Greyhound Racing News