TopBetta offers two winners promotion for Dapto Megastar meeting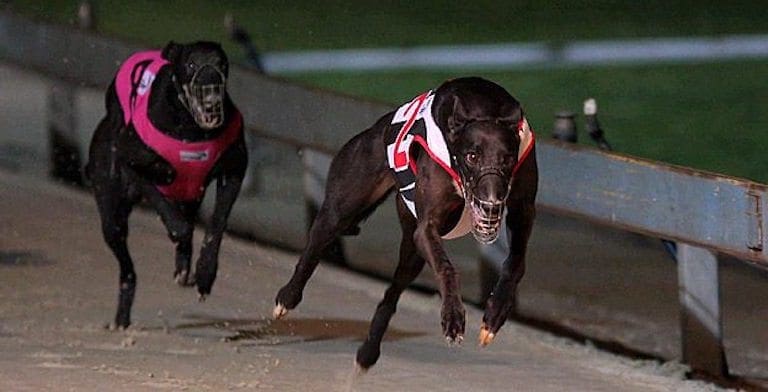 THE Group 1 Megastar (520m) at Dapto highlights a sensational Thursday night of racing around the country, featuring some of the best greyhounds competing in pursuit of the $75,000 winner's prize.
The early favourite is Victorian visitor Aqua Cheetah (Cosmic Rumble x Dalta Bale Mar '14), which has drawn favourably in box eight and will be looking for his second win at the highest level, having taken out last year's Group 1 Adelaide Cup.
However, if you don't fancy taking the short odds about the Jason and Seona Thompson-trained greyhound, you may be interested in the exclusive two winners promotion available through TopBetta.
The promotion is simple – all you have to do is place a TopBetta Mid-tote win bet on any greyhound engaged at tonight's Dapto meeting and if your chosen greyhound runs second to the favourite you will be paid out as a winner.
The favourite for each race will be determined by TopBetta's fixed price SP and the bookie will pay out up to $50 profit to each customer per race – however it is important to note that only win bets placed with the Mid-tote are eligible through this promotion. For full terms and conditions be sure to check out the promotions page of the TopBetta website.

So, who will win? There is no doubt Aqua Cheetah is the class runner of the race, being a 10-time group finalist, however, if he starts favourite, as expected, we are going to take advantage of the TopBetta offer and look for a bit of value elsewhere.

In a race lacking an abundance of pace we reckon Where Art Thou (Where's Pedro x Amnesia Mar '14) could run a cheeky race at big odds.

Trained by Kayla Coleman, Where Art Thou is ideally drawn in box two and we think she is capable of holding her spot on the fence and featuring prominently at the finish.

There are some powerhouse greyhounds in this race, but this girl has raced over 700 throughout her career, so if she can find a nice spot early she will be finishing strongly and there won't be any greyhounds going past her in the run to the line.

Also representing value is Zambora Cross (Barcia Bale x Benden Snap Jan '15) which looks to be the leader if she can get away well off box seven. If she can find the front without having to do too much work in the early stages they'll find it hard to reel her in as she can run around the 29.60 mark on the bunny.

The Group 1 Megastar is race six at Dapto and is set to jump at 8.58pm.

Additionally, if you want extra bang for your buck be sure to check out the free bet offers exclusive to readers of Australian Racing Greyhound prior to placing a bet on tonight's big race.

Tips: 8 – 2 – 7 – 1


Notice: Trying to get property of non-object in /home/australianracinggreyhound/public_html/wpress/wp-content/plugins/Odds-Compare/Views/odds_table/odd_single.php on line 31

Notice: Trying to get property of non-object in /home/australianracinggreyhound/public_html/wpress/wp-content/plugins/Odds-Compare/Views/odds_table/odd_single.php on line 36

Notice: Trying to get property of non-object in /home/australianracinggreyhound/public_html/wpress/wp-content/plugins/Odds-Compare/Views/odds_table/odd_single.php on line 37

Notice: Trying to get property of non-object in /home/australianracinggreyhound/public_html/wpress/wp-content/plugins/Odds-Compare/Views/odds_table/odd_single.php on line 39

Notice: Trying to get property of non-object in /home/australianracinggreyhound/public_html/wpress/wp-content/plugins/Odds-Compare/Views/odds_table/odd_single.php on line 42

Warning: in_array() expects parameter 2 to be array, null given in /home/australianracinggreyhound/public_html/wpress/wp-content/plugins/Odds-Compare/lib/utility.php on line 97

Warning: in_array() expects parameter 2 to be array, null given in /home/australianracinggreyhound/public_html/wpress/wp-content/plugins/Odds-Compare/lib/utility.php on line 97

Warning: in_array() expects parameter 2 to be array, null given in /home/australianracinggreyhound/public_html/wpress/wp-content/plugins/Odds-Compare/lib/utility.php on line 97

Warning: in_array() expects parameter 2 to be array, null given in /home/australianracinggreyhound/public_html/wpress/wp-content/plugins/Odds-Compare/lib/utility.php on line 97

Warning: in_array() expects parameter 2 to be array, null given in /home/australianracinggreyhound/public_html/wpress/wp-content/plugins/Odds-Compare/lib/utility.php on line 97

Warning: in_array() expects parameter 2 to be array, null given in /home/australianracinggreyhound/public_html/wpress/wp-content/plugins/Odds-Compare/lib/utility.php on line 97

Warning: in_array() expects parameter 2 to be array, null given in /home/australianracinggreyhound/public_html/wpress/wp-content/plugins/Odds-Compare/lib/utility.php on line 97

Warning: in_array() expects parameter 2 to be array, null given in /home/australianracinggreyhound/public_html/wpress/wp-content/plugins/Odds-Compare/lib/utility.php on line 97

Warning: in_array() expects parameter 2 to be array, null given in /home/australianracinggreyhound/public_html/wpress/wp-content/plugins/Odds-Compare/lib/utility.php on line 97

Warning: in_array() expects parameter 2 to be array, null given in /home/australianracinggreyhound/public_html/wpress/wp-content/plugins/Odds-Compare/lib/utility.php on line 97

Warning: in_array() expects parameter 2 to be array, null given in /home/australianracinggreyhound/public_html/wpress/wp-content/plugins/Odds-Compare/lib/utility.php on line 97

Warning: in_array() expects parameter 2 to be array, null given in /home/australianracinggreyhound/public_html/wpress/wp-content/plugins/Odds-Compare/lib/utility.php on line 97

Warning: in_array() expects parameter 2 to be array, null given in /home/australianracinggreyhound/public_html/wpress/wp-content/plugins/Odds-Compare/lib/utility.php on line 97

Warning: in_array() expects parameter 2 to be array, null given in /home/australianracinggreyhound/public_html/wpress/wp-content/plugins/Odds-Compare/lib/utility.php on line 97

Warning: in_array() expects parameter 2 to be array, null given in /home/australianracinggreyhound/public_html/wpress/wp-content/plugins/Odds-Compare/lib/utility.php on line 97

Warning: in_array() expects parameter 2 to be array, null given in /home/australianracinggreyhound/public_html/wpress/wp-content/plugins/Odds-Compare/lib/utility.php on line 97

Warning: in_array() expects parameter 2 to be array, null given in /home/australianracinggreyhound/public_html/wpress/wp-content/plugins/Odds-Compare/lib/utility.php on line 97

Warning: in_array() expects parameter 2 to be array, null given in /home/australianracinggreyhound/public_html/wpress/wp-content/plugins/Odds-Compare/lib/utility.php on line 97

Warning: in_array() expects parameter 2 to be array, null given in /home/australianracinggreyhound/public_html/wpress/wp-content/plugins/Odds-Compare/lib/utility.php on line 97

Warning: in_array() expects parameter 2 to be array, null given in /home/australianracinggreyhound/public_html/wpress/wp-content/plugins/Odds-Compare/lib/utility.php on line 97

Warning: in_array() expects parameter 2 to be array, null given in /home/australianracinggreyhound/public_html/wpress/wp-content/plugins/Odds-Compare/lib/utility.php on line 97

Warning: in_array() expects parameter 2 to be array, null given in /home/australianracinggreyhound/public_html/wpress/wp-content/plugins/Odds-Compare/lib/utility.php on line 97

Warning: in_array() expects parameter 2 to be array, null given in /home/australianracinggreyhound/public_html/wpress/wp-content/plugins/Odds-Compare/lib/utility.php on line 97

Warning: in_array() expects parameter 2 to be array, null given in /home/australianracinggreyhound/public_html/wpress/wp-content/plugins/Odds-Compare/lib/utility.php on line 97

Warning: in_array() expects parameter 2 to be array, null given in /home/australianracinggreyhound/public_html/wpress/wp-content/plugins/Odds-Compare/lib/utility.php on line 97

Warning: in_array() expects parameter 2 to be array, null given in /home/australianracinggreyhound/public_html/wpress/wp-content/plugins/Odds-Compare/lib/utility.php on line 97

Warning: in_array() expects parameter 2 to be array, null given in /home/australianracinggreyhound/public_html/wpress/wp-content/plugins/Odds-Compare/lib/utility.php on line 97

Warning: in_array() expects parameter 2 to be array, null given in /home/australianracinggreyhound/public_html/wpress/wp-content/plugins/Odds-Compare/lib/utility.php on line 97

Warning: in_array() expects parameter 2 to be array, null given in /home/australianracinggreyhound/public_html/wpress/wp-content/plugins/Odds-Compare/lib/utility.php on line 97

Warning: in_array() expects parameter 2 to be array, null given in /home/australianracinggreyhound/public_html/wpress/wp-content/plugins/Odds-Compare/lib/utility.php on line 97

Warning: in_array() expects parameter 2 to be array, null given in /home/australianracinggreyhound/public_html/wpress/wp-content/plugins/Odds-Compare/lib/utility.php on line 97

Warning: in_array() expects parameter 2 to be array, null given in /home/australianracinggreyhound/public_html/wpress/wp-content/plugins/Odds-Compare/lib/utility.php on line 97

Warning: in_array() expects parameter 2 to be array, null given in /home/australianracinggreyhound/public_html/wpress/wp-content/plugins/Odds-Compare/lib/utility.php on line 97

Warning: in_array() expects parameter 2 to be array, null given in /home/australianracinggreyhound/public_html/wpress/wp-content/plugins/Odds-Compare/lib/utility.php on line 97

Warning: in_array() expects parameter 2 to be array, null given in /home/australianracinggreyhound/public_html/wpress/wp-content/plugins/Odds-Compare/lib/utility.php on line 97

Warning: in_array() expects parameter 2 to be array, null given in /home/australianracinggreyhound/public_html/wpress/wp-content/plugins/Odds-Compare/lib/utility.php on line 97

Warning: in_array() expects parameter 2 to be array, null given in /home/australianracinggreyhound/public_html/wpress/wp-content/plugins/Odds-Compare/lib/utility.php on line 97

Warning: in_array() expects parameter 2 to be array, null given in /home/australianracinggreyhound/public_html/wpress/wp-content/plugins/Odds-Compare/lib/utility.php on line 97

Warning: in_array() expects parameter 2 to be array, null given in /home/australianracinggreyhound/public_html/wpress/wp-content/plugins/Odds-Compare/lib/utility.php on line 97

Warning: in_array() expects parameter 2 to be array, null given in /home/australianracinggreyhound/public_html/wpress/wp-content/plugins/Odds-Compare/lib/utility.php on line 97

Warning: in_array() expects parameter 2 to be array, null given in /home/australianracinggreyhound/public_html/wpress/wp-content/plugins/Odds-Compare/lib/utility.php on line 97

Warning: in_array() expects parameter 2 to be array, null given in /home/australianracinggreyhound/public_html/wpress/wp-content/plugins/Odds-Compare/lib/utility.php on line 97

Warning: in_array() expects parameter 2 to be array, null given in /home/australianracinggreyhound/public_html/wpress/wp-content/plugins/Odds-Compare/lib/utility.php on line 97

Warning: in_array() expects parameter 2 to be array, null given in /home/australianracinggreyhound/public_html/wpress/wp-content/plugins/Odds-Compare/lib/utility.php on line 97

Warning: in_array() expects parameter 2 to be array, null given in /home/australianracinggreyhound/public_html/wpress/wp-content/plugins/Odds-Compare/lib/utility.php on line 97

Warning: in_array() expects parameter 2 to be array, null given in /home/australianracinggreyhound/public_html/wpress/wp-content/plugins/Odds-Compare/lib/utility.php on line 97

Warning: in_array() expects parameter 2 to be array, null given in /home/australianracinggreyhound/public_html/wpress/wp-content/plugins/Odds-Compare/lib/utility.php on line 97

Warning: in_array() expects parameter 2 to be array, null given in /home/australianracinggreyhound/public_html/wpress/wp-content/plugins/Odds-Compare/lib/utility.php on line 97

Warning: in_array() expects parameter 2 to be array, null given in /home/australianracinggreyhound/public_html/wpress/wp-content/plugins/Odds-Compare/lib/utility.php on line 97

Warning: in_array() expects parameter 2 to be array, null given in /home/australianracinggreyhound/public_html/wpress/wp-content/plugins/Odds-Compare/lib/utility.php on line 97

Warning: in_array() expects parameter 2 to be array, null given in /home/australianracinggreyhound/public_html/wpress/wp-content/plugins/Odds-Compare/lib/utility.php on line 97

Warning: in_array() expects parameter 2 to be array, null given in /home/australianracinggreyhound/public_html/wpress/wp-content/plugins/Odds-Compare/lib/utility.php on line 97

Warning: in_array() expects parameter 2 to be array, null given in /home/australianracinggreyhound/public_html/wpress/wp-content/plugins/Odds-Compare/lib/utility.php on line 97

Warning: in_array() expects parameter 2 to be array, null given in /home/australianracinggreyhound/public_html/wpress/wp-content/plugins/Odds-Compare/lib/utility.php on line 97

Warning: in_array() expects parameter 2 to be array, null given in /home/australianracinggreyhound/public_html/wpress/wp-content/plugins/Odds-Compare/lib/utility.php on line 97

Warning: in_array() expects parameter 2 to be array, null given in /home/australianracinggreyhound/public_html/wpress/wp-content/plugins/Odds-Compare/lib/utility.php on line 97

Warning: in_array() expects parameter 2 to be array, null given in /home/australianracinggreyhound/public_html/wpress/wp-content/plugins/Odds-Compare/lib/utility.php on line 97

Warning: in_array() expects parameter 2 to be array, null given in /home/australianracinggreyhound/public_html/wpress/wp-content/plugins/Odds-Compare/lib/utility.php on line 97

Warning: in_array() expects parameter 2 to be array, null given in /home/australianracinggreyhound/public_html/wpress/wp-content/plugins/Odds-Compare/lib/utility.php on line 97

Warning: in_array() expects parameter 2 to be array, null given in /home/australianracinggreyhound/public_html/wpress/wp-content/plugins/Odds-Compare/lib/utility.php on line 97

Warning: in_array() expects parameter 2 to be array, null given in /home/australianracinggreyhound/public_html/wpress/wp-content/plugins/Odds-Compare/lib/utility.php on line 97

Warning: in_array() expects parameter 2 to be array, null given in /home/australianracinggreyhound/public_html/wpress/wp-content/plugins/Odds-Compare/lib/utility.php on line 97

Warning: in_array() expects parameter 2 to be array, null given in /home/australianracinggreyhound/public_html/wpress/wp-content/plugins/Odds-Compare/lib/utility.php on line 97

Warning: in_array() expects parameter 2 to be array, null given in /home/australianracinggreyhound/public_html/wpress/wp-content/plugins/Odds-Compare/lib/utility.php on line 97

Warning: in_array() expects parameter 2 to be array, null given in /home/australianracinggreyhound/public_html/wpress/wp-content/plugins/Odds-Compare/lib/utility.php on line 97

Warning: in_array() expects parameter 2 to be array, null given in /home/australianracinggreyhound/public_html/wpress/wp-content/plugins/Odds-Compare/lib/utility.php on line 97

Warning: in_array() expects parameter 2 to be array, null given in /home/australianracinggreyhound/public_html/wpress/wp-content/plugins/Odds-Compare/lib/utility.php on line 97

Warning: in_array() expects parameter 2 to be array, null given in /home/australianracinggreyhound/public_html/wpress/wp-content/plugins/Odds-Compare/lib/utility.php on line 97

Warning: in_array() expects parameter 2 to be array, null given in /home/australianracinggreyhound/public_html/wpress/wp-content/plugins/Odds-Compare/lib/utility.php on line 97

Warning: in_array() expects parameter 2 to be array, null given in /home/australianracinggreyhound/public_html/wpress/wp-content/plugins/Odds-Compare/lib/utility.php on line 97

Warning: in_array() expects parameter 2 to be array, null given in /home/australianracinggreyhound/public_html/wpress/wp-content/plugins/Odds-Compare/lib/utility.php on line 97

Warning: in_array() expects parameter 2 to be array, null given in /home/australianracinggreyhound/public_html/wpress/wp-content/plugins/Odds-Compare/lib/utility.php on line 97

Warning: in_array() expects parameter 2 to be array, null given in /home/australianracinggreyhound/public_html/wpress/wp-content/plugins/Odds-Compare/lib/utility.php on line 97

Warning: in_array() expects parameter 2 to be array, null given in /home/australianracinggreyhound/public_html/wpress/wp-content/plugins/Odds-Compare/lib/utility.php on line 97

Warning: in_array() expects parameter 2 to be array, null given in /home/australianracinggreyhound/public_html/wpress/wp-content/plugins/Odds-Compare/lib/utility.php on line 97

Warning: in_array() expects parameter 2 to be array, null given in /home/australianracinggreyhound/public_html/wpress/wp-content/plugins/Odds-Compare/lib/utility.php on line 97

Warning: in_array() expects parameter 2 to be array, null given in /home/australianracinggreyhound/public_html/wpress/wp-content/plugins/Odds-Compare/lib/utility.php on line 97

Warning: in_array() expects parameter 2 to be array, null given in /home/australianracinggreyhound/public_html/wpress/wp-content/plugins/Odds-Compare/lib/utility.php on line 97

Warning: in_array() expects parameter 2 to be array, null given in /home/australianracinggreyhound/public_html/wpress/wp-content/plugins/Odds-Compare/lib/utility.php on line 97

Warning: in_array() expects parameter 2 to be array, null given in /home/australianracinggreyhound/public_html/wpress/wp-content/plugins/Odds-Compare/lib/utility.php on line 97

Warning: in_array() expects parameter 2 to be array, null given in /home/australianracinggreyhound/public_html/wpress/wp-content/plugins/Odds-Compare/lib/utility.php on line 97

Warning: in_array() expects parameter 2 to be array, null given in /home/australianracinggreyhound/public_html/wpress/wp-content/plugins/Odds-Compare/lib/utility.php on line 97

Warning: in_array() expects parameter 2 to be array, null given in /home/australianracinggreyhound/public_html/wpress/wp-content/plugins/Odds-Compare/lib/utility.php on line 97

Warning: in_array() expects parameter 2 to be array, null given in /home/australianracinggreyhound/public_html/wpress/wp-content/plugins/Odds-Compare/lib/utility.php on line 97

Warning: in_array() expects parameter 2 to be array, null given in /home/australianracinggreyhound/public_html/wpress/wp-content/plugins/Odds-Compare/lib/utility.php on line 97

Warning: in_array() expects parameter 2 to be array, null given in /home/australianracinggreyhound/public_html/wpress/wp-content/plugins/Odds-Compare/lib/utility.php on line 97

Warning: in_array() expects parameter 2 to be array, null given in /home/australianracinggreyhound/public_html/wpress/wp-content/plugins/Odds-Compare/lib/utility.php on line 97

Warning: in_array() expects parameter 2 to be array, null given in /home/australianracinggreyhound/public_html/wpress/wp-content/plugins/Odds-Compare/lib/utility.php on line 97

Warning: in_array() expects parameter 2 to be array, null given in /home/australianracinggreyhound/public_html/wpress/wp-content/plugins/Odds-Compare/lib/utility.php on line 97

Warning: in_array() expects parameter 2 to be array, null given in /home/australianracinggreyhound/public_html/wpress/wp-content/plugins/Odds-Compare/lib/utility.php on line 97

Notice: Trying to get property of non-object in /home/australianracinggreyhound/public_html/wpress/wp-content/plugins/Odds-Compare/Views/odds_table/odd_single.php on line 57


Notice: Trying to get property of non-object in /home/australianracinggreyhound/public_html/wpress/wp-content/plugins/Odds-Compare/Views/odds_table/odd_single.php on line 67
- Race

Notice: Trying to get property of non-object in /home/australianracinggreyhound/public_html/wpress/wp-content/plugins/Odds-Compare/Views/odds_table/odd_single.php on line 68


Notice: Trying to get property of non-object in /home/australianracinggreyhound/public_html/wpress/wp-content/plugins/Odds-Compare/Views/odds_table/odd_single.php on line 69

Class:
Notice: Trying to get property of non-object in /home/australianracinggreyhound/public_html/wpress/wp-content/plugins/Odds-Compare/Views/odds_table/odd_single.php on line 70


Notice: Trying to get property of non-object in /home/australianracinggreyhound/public_html/wpress/wp-content/plugins/Odds-Compare/Views/odds_table/odd_single.php on line 72

Track Rating:
Notice: Trying to get property of non-object in /home/australianracinggreyhound/public_html/wpress/wp-content/plugins/Odds-Compare/Views/odds_table/odd_single.php on line 73


Notice: Trying to get property of non-object in /home/australianracinggreyhound/public_html/wpress/wp-content/plugins/Odds-Compare/Views/odds_table/odd_single.php on line 75
10:00am

Notice: Trying to get property of non-object in /home/australianracinggreyhound/public_html/wpress/wp-content/plugins/Odds-Compare/Views/odds_table/odd_single.php on line 102


Notice: Trying to get property of non-object in /home/australianracinggreyhound/public_html/wpress/wp-content/plugins/Odds-Compare/Views/odds_table/odd_single.php on line 102
m

Notice: Trying to get property of non-object in /home/australianracinggreyhound/public_html/wpress/wp-content/plugins/Odds-Compare/Views/odds_table/odd_single.php on line 105
m

Notice: Trying to get property of non-object in /home/australianracinggreyhound/public_html/wpress/wp-content/plugins/Odds-Compare/Views/odds_table/odd_single.php on line 107
Tuesday 4:08am

Notice: Trying to get property of non-object in /home/australianracinggreyhound/public_html/wpress/wp-content/plugins/Odds-Compare/Views/odds_table/odd_rows_section.php on line 10

Warning: Invalid argument supplied for foreach() in /home/australianracinggreyhound/public_html/wpress/wp-content/plugins/Odds-Compare/Views/odds_table/odd_rows_section.php on line 10